Police have identified the man found inside a burning vehicle in Olney early Sunday morning.
Juan Caraballo, 60, was discovered by firefighters responding to a report of a car fire on Marshall Street near Roosevelt Boulevard, police said. Carraballo's body was found in the passenger seat of a 1988 Toyota 4Runner at the location, according to reports.
Medics on the scene pronounced him dead at 3:39 a.m. A later analysis ruled blunt-force trauma to the head and a stab wound as the cause of death.
She made her list, and checked it twice, but it's easy to see that she's naughty, not nice.
Marie Amari, 45, was arrested at her home on Cantrell Street near 11th on Saturday, according to police.
Last month, surveillance footage captured Amari stealing Christmas decorations from a home a few blocks away on Fitzgerald near 11th, and then returning about an hour later with an unidentified male to take even more decorations from the home.
A South Philadelphia man told police armed thugs kidnapped, robbed and shot him after he left the SugarHouse Casino late last night with his winnings. But police now believe he's lying and are investigating the incident as a drug-related shooting, a police spokeswoman said.
The 38-year-old man, whose name wasn't released, was shot multiple times in the neck, buttocks and lower leg on Springfield Avenue near 49th Street in Southwest Philadelphia around 10 p.m., Officer Jillian Russell said. He is recovering at Aria Health's Torresdale campus.
Check back for updates.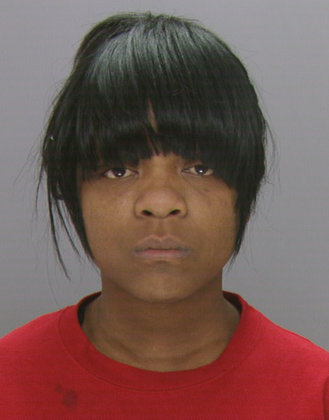 Police arrested a Frankford woman after she allegedly stabbed her cousin to death during a weekend argument.
Shaliyah M. Snipe, 19, of Leiper Street near Orthodox, was charged yesterday with murder and possession of an instrument of crime after police say she stabbed her cousin Daneeka Snipe, 19, of Rockland Street near 11th in Logan, in the neck during an argument late Saturday night.
Daneeka Snipe died at Albert Einstein Medical Center about 1 a.m. yesterday, an hour after she was attacked a block from her home, said Officer Jillian Russell, a police spokeswoman. Shaliyah Snipe is being held without bail pending a Dec. 24 preliminary hearing.
A blaze at a North Philadelphia housing complex was put out quickly without any injury, police on the scene said last night.
The fire broke out about 8:30 p.m. on the 16th floor of a Public Housing Authority building on 11th near Cumberland, police said. Approximately 160 housing units were damaged in the fire, which was believed to have been started by a burning mattress.
Fire crews on the scene were seen evacuating residents, who will be relocated in the coming days by the Office of Emergency Management.
Police today released footage of the robbery of William Anderson, a delivery driver for a Wynnefield pizzeria.
Anderson, 30, was shot three times during the incident early Thursday, and is currently in critical but stable condition at the Hospital of University of Pennsylvania.
Anyone with information is asked to contact police at 215-686-3183 or 215-686-TIPS (8477).
A South Philly woman learned the hard way yesterday that Santa isn't the only one watching.
Police say Amanda Beason, 28, turned herself in early this morning after surveillance footage of her and an unidentified accomplice stealing packages last night from outside two homes on 17th Street near Bigler made the rounds on social media.
"People saw the video, recognized her, and told her face was all over the place," said Capt. Laurence Nodiff of South Detectives.
This post has been updated.
The owner of a South Philly sushi restaurant finally made his point yesterday, teaching a suspected serial robber one sharp lesson.
Tishon Jones, 19, entered the Terryin Sushi Bar on Snyder Avenue near 4th Street about 2:48 p.m., armed with a gun and ready to clean out the register, according to Capt. Laurence Nodiff of South Detective Division