Well-wishers have raised more than $5,700 to help pay funeral costs for the newborn who died earlier this week after her pregnant mother caught a suspected drug dealer's stray bullet.
Megan Doto, 25, of Frankford, died Sunday after a gunman blasting bullets at a car nearby instead hit her as she sat outside in the sunshine babysitting a neighbor's child. She was eight months pregnant, and doctors delivered her baby girl in an emergency c-section before her death. But the baby didn't survive the day.
"Baby girl Nicoletta Rose survived, but due to the amount of time she lacked oxygen to the brain, she could not live," a family friend wrote on a fundraising appeal posted Tuesday on gofundme.com. "Nicoletta fell asleep in her paternal grandmother's arms, joining her mother in heaven. Family members and friends are left deeply grieving their loss."
A man walked into a South Philadelphia employment agency this morning, assaulted two employees and repeatedly stabbed one in the chest, police said.
The incident began around 9:30 a.m. when the man entered the Trinity Staffing Services on Broad Street near Ritner to ask about getting work, police said. When a 54-year-old employee there told him she had nothing available, he "grew irate," stole her purse and stabbed her several times, police said.
He moved on to a second staffer, 49, repeatedly punched her as she tried to call 9-1-1 and unsuccessfully tried to steal her purse, police said. He then ran away.
Investigators believe a 15-year-old girl found unconscious in Pennypack Park got sick and passed out - and wasn't assaulted, as originally feared.
Police spokeswoman Officer Jillian Russell said special-victims investigators found no evidence of physical or sexual assault, and the girl doesn't recall any assault. Instead, they suspect she had "some medical issue" that made her collapse unconscious in the park as she walked in the area, Russell said.
A man walking on the sidewalk along the northbound lanes of Roosevelt Boulevard near Brous Avenue about 7:45 p.m. spotted the girl, who was wearing a school uniform, lying unconscious in brush about three feet inside a guardrail, police said.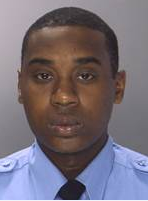 A Philadelphia police officer was arrested today and will be fired for leaving the scene of a car accident - twice - in University City.
Officer Tayon Moore, 31, a seven-year veteran assigned to the 35th District in Ogontz, was off-duty and driving his mother's Chrysler 300 shortly after 1 a.m. June 24 when he rear-ended a car driven by a Drexel University student on Chestnut Street near 34th, police and the District Attorney's Office said. He allegedly fled the scene - but the other driver followed him, police said. When Moore stopped again on Chestnut Street near 30th, both drivers began to exchange information, and the Drexel student began to dial 9-1-1, police said.
But Moore allegedly "became agitated," grabbed the cellphone and hurled it over the bridge, police and the DA's Office said. The phone broke, and Moore then sped off again without giving the other driver his information. The student got his license plate number, though, and investigators were able to trace the car to Moore. They found the vehicle, with front-end damage consistent with the crash, parked outside his home, according to the DA's Office.
Police are hunting a suspected drug dealer they say shot and killed a pregnant woman and her newborn Sunday.
An arrest warrant has been issued for Devon Guisherd, 26, of Penn Street near Arrott, who's accused of killing Megan Doto, 25, and her newborn baby girl. Homicide Capt. James Clark said yesterday that Doto was an innocent bystander who caught a bullet intended for someone else.
Doto, who was eight months pregnant and had two other children ages 6 and 4, was babysitting a neighbor's 7-year-old daughter outside her home on Adams Avenue near Griscom Street just before noon Sunday when a gunman blasted a barrage of bullets at a white sedan nearby.
A Northeast Philadelphia father who found a man in his daughter's bedroom last night shot and killed him.
The daughter, 20, later told police the man, 32, was her boyfriend - but the father, 41, apparently believed him to be an intruder, police said.
Detectives are trying to sort the details out this morning, said Officer Christine O'Brien, a police spokeswoman.
A 16-year-old boy shot his 13-year-old friend in the stomach as the pair walked to a Hunting Park corner store last night.
No charges have been filed as investigators sort out the details this morning.
The incident happened just before 8 p.m. at Erie Avenue and Marvine Street, said Officer Christine O'Brien, a police spokeswoman. The 13-year-old victim remains in stable condition at St. Christopher's Hospital for Children, O'Brien added. The 16-year-old, who had pulled the gun from his waistband, remained on the scene after the shooting, she said.
Police are seeking suspects in the overnight shooting death of a Juniata Park man.
Gevanny Fabian, 28, of Lawndale Street near Luzerne, was shot twice in the back of the head and once in the chest about 11 p.m. at the Family Tavern on Luzerne Street near J, said Officer Christine O'Brien, a police spokeswoman. Police responding to a report of a shooting found Fabian collapsed on the tavern's floor. Fabian died shortly after at Temple University Hospital.
Police reported no motive or suspects. Court records show Fabian is a repeat offender with a history of drug- and alcohol-related arrests. Tipsters, call homicide detectives at (215) 686-3334 or -3335.