A man shot dead late Tuesday, a victim in a period of violence that saw two others killed, has been identified.
Jerome Johnson, 31, was shot several times in the chest and back on Limekiln Pike near Ridley Street about 11:30 p.m. Tuesday, police spokeswoman Officer Jillian Russell said.
Johnson, who lived on Matthews Street near Wister, died about a half-hour later at Albert Einstein Medical Center. He was shot alongside two other men, a 36-year-old man who was hit in the leg and a 19-year-old shot in his left foot, police said. Their identities have not been released.
A high-school senior was arrested for bringing a weapon to school after a school police officer noticed a knife in her purse as she went through a security scanner yesterday morning.
The incident happened at 8:15 a.m. at the Kensington High School for the Creative and Performing Arts on Front Street near Berks, said Officer Christine O'Brien, a police spokeswoman. The female student, 18, had a 3.5-inch knife in her purse, O'Brien said.
District Spokesman Fernando Gallard said the teen's father placed the knife in his daughter's bag for an unknown reason, and the teen didn't know it was there. "She's a good student, about to go to college," Gallard said. "She has no disciplinary history and had no knowledge of the blade and no intent to use it in any way. It was a mistake."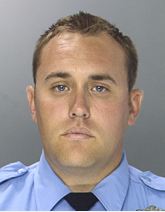 A Philadelphia police officer has been suspended and criminally charged after he allegedly yanked a war veteran off a Center City corner, handcuffed him and drove him around in his SUV, irked that the man and his friends had criticized his driving.
The 16-minute saga started when Officer Kevin Corcoran, 33, a nine-year veteran of the force, was patrolling in his SUV near 13th and Lombard streets at about 2 a.m. last March 31, according to the District Attorney's Office. A pedestrian, part of a group of people on the sidewalk nearby, yelled to Corcoran that he'd made an illegal turn, prompting the officer to get out of his car and yell at them, according to the D.A.'s Office.
As onlookers began recording the incident on their cell phones, Corcoran allegedly slapped a device out of Roderick King's hands and confronted him, saying: "Don't f***ing touch me." The officer allegedly kept walking toward King, "who was backing up with his hands out in front of him making no contact with the officer," the statement from the D.A.'s Office said.
Philadelphia experienced a brutal 12-hour period from yesterday afternoon to today's early-morning hours in which nine people were shot - three of whom were killed - bringing the city's murder tally to 52 this year.
Last week, I wrote this piece on how we've already had more murders in Philadelphia this year than in all of New York City, which has 6.8 million more people. At this rate, I don't even want summer to come because it always means more dead bodies, more broken hearts and more families asking "Why?" when there is no reason. It's all so damn senseless.
Here's a chronological breakdown, in reverse order, of the senseless violence that occurred between 3:54 p.m. yesterday and 3:06 a.m. this morning, according to police.
Police have identified two men slain in unrelated homicides yesterday.
Adrian Wills, 22, of Boyer Street near Church Lane in East Germantown, died about 4:40 p.m. yesterday at the Albert Einstein Medical Center after someone shot him in the left side a half hour earlier in an alley near Olney Avenue and 19th Street just off La Salle University's campus. Police said an argument prompted the gunfire. The suspects is described as a light-complected black man, about 5-foot-10 and with a scruffy beard. He was wearing a white thermal top, black pants and a black skull cap.
In the second case, Khoeum Roeun, 24, of Marvine Street near Duncannon Avenue in Logan, died at Einstein at 6:30 p.m. after getting shot in the neck a half hour earlier on Ruscomb Street near 13th. A second man, 23, was taken to Einstein with a gunshot wound to his right ankle. The incident led to a standoff with police after authorities tracked the alleged assailants to a nearby home; those suspects now are in custody and charges are expected.
The late rapper Tupac Shakur has a song called "Hit 'Em Up," and early this morning, an unstable fan apparently took those words to heart.
Armed with a hammer, the half-naked man attacked 14 police cars parked outside the Sixth Police District at 11th and Winter streets in Chinatown at about 5:20 a.m., smashing their windshields and side windows. The man, wearing just shoes and boxer shorts, was muttering as he swung at the cars, although district commander Capt. Brian Korn couldn't confirm earlier reports that he claimed to be Shakur. "He was saying something like: 'I want to make a point,'" Korn said. The man smashed the station's front glass doors as well. When officers ordered him to drop the hammer, he did and was taken into custody without incident, Korn said.
The man, whose name hasn't been released, appeared to be mentally impaired or under the influence of drugs, Korn said. Police took him to Thomas Jefferson University Hospital for a mental evaluation and treatment of a small cut on his finger he sustained while breaking all that glass, Korn said. Charges of criminal mischief are pending.
A 31-year-old man is dead tonight after a shooting in West Oak Lane, the third in a violent night that saw two other men die.
Just before 11:30, police found two men shot on Limekiln Pike near Ridley Street, Chief Inspector Scott Small said. One male, 31, had been shot multiple times in the chest and back. The other, 36, was shot in the left leg.
Both were taken to Albert Einstein Medical Center. The 31-year-old was pronounced dead there at 12:15 a.m., and the other is still at the hospital in "very critical condition," Small said. He's undergoing surgery.
This post has been updated.
Seven men are being questioned following a fatal shooting and police standoff outside a home in Logan.
Just before 6 p.m., police received numerous reports of gunfire on Ruscomb Street near Old York Road, Chief Inspector Scott Small said. When they arrived, the officers found two men, who both live in the area, shot in front of a house on the block.