Archive: August, 2012
William Bender
Maybe it's cause to celebrate from, say, a neighborhood sports bar in Folcroft, but the relatives of the more than 1,800 victims probably aren't wishing Hurricane Katrina a Happy Birthday seven years after it struck the Gulf Coast. I was in New Orleans as the water was receding in 2005. It wasn't a particularly joyous occasion.
Stephanie Farr
In the early-morning hours after his latest album dropped and two weeks before he's to report to federal prison for failure to pay taxes, state police arrested rapper Beanie Sigel and a friend early this morning on gun and drug charges following a traffic stop on I-95 in Tinicum Township, according to a news release.
Around 3:14 a.m., troopers pulled over a Ford Fusion driven by Gerald Andrews of Philadelphia for following another car too closely and swerving out of his lane.
According to the news release, the passenger in Andrews' car was identified as "Dwight E. Grant AKA famous hip hop rapper 'Beanie Sigel,' of Philadelphia."
Stephanie Farr
A man who was naked from the waist down broke in to a Radnor apartment early Saturday morning and assaulted a female resident, according to police.
Around 3:25 a.m., a woman was awake in her apartment on Landover Road near Gaynor in the Bryn Mawr section of Radnor when she received a knock on her bedroom door, police said.
Thinking it was her roommate, the woman answered the door and was "suddenly rushed" by an unknown man who was wearing only a gray t-shirt and a piece of red clothing on his face, police said. He was not wearing any pants, shoes or underwear.
Stephanie Farr
A Colwyn cop claims in a federal civil rights law suit that officers from neighboring Darby Borough, including the police chief, assaulted him and called him racially-derogatory names because he assisted a man who was beaten in their jurisdiction and held the assailant until Darby police arrived.
The March 18, 2011 incident was captured on video by a civilian, and though much of the action is obscured by a vehicle, at one point in the video an officer can be heard repeatedly yelling "Get the f*** out of Darby!"
Colwyn Ofc. Clinton Craddock said he was in a marked car in Colwyn when a woman flagged him down and told him a man had been assaulted and was unconscious two blocks away, according to the suit.
Video streaming by Ustream
William Bender
Sometimes, a bystander with a cellphone captures police brutality. Sometimes, they just record people acting like idiots, then post it on YouTube as "police brutality." Which one do you think this is?
William Bender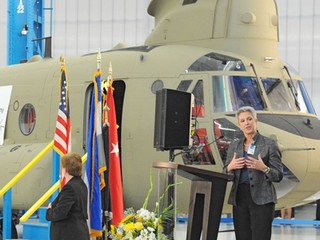 The top post at United Aerospace Workers Local 1069, the union that represents employees who build military helicopters at Boeing's Ridley plant, is becoming a stepping stone to prison.
Two years after Anthony Forte Jr., the former president of UAW 1069, reported to a federal prison in Kentucky for running a kickback scheme out of the Boeing Helicopters Credit Union, the guy who replaced him as president, Michael Patterson, was sentenced to six months in prison.
Patterson pleaded guilty in March to attempted possession of prescription painkillers following a four-year federal probe that led to the arrest of 37 people – including 23 Boeing workers – on drug charges. Authorities say they were buying and selling Oxys, Xanax, fentanyl and Suboxone, among other drugs.
Stephanie Farr
A woman more concerned with Big Macs than the big guy upstairs swiped a churchgoer's purse during mass Sunday and went on a spending spree at McDonald's, according to police.
When the 53-year-old victim went up to receive communion during noon mass at St. Laurence Parish on West Chester Pike in Upper Darby, she left her purse behind on the pew, said Upper Darby Police Superintendent Michael Chitwood.
When she came back, her purse was gone.
Stephanie Farr
Tow be or not tow be?
One suburban towing company found out that to continue to be Yeadon borough's contracted towing service, an old-fashioned bribe of the borough's council president was in order, according to court documents.
Unfortunately for council President John Holden, the proprietors of Seiple's Collision refused to tow the line and worked with police to nab him on charges of extortion and bribery yesterday afternoon.