Archive: July, 2013
William Bender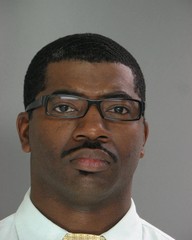 A Darby Township cop was busted today for allegedly taking two 23-year-old women to a secluded Springfield park, on separate nights, and trying to talk them into performing sex acts on him in exchange for releasing them, Delaware County District Attorney Jack Whelan announced this morning.
Christopher Scott, 34, a part-time officer who was hired about a year ago, has been charged with assault, harassment, stalking, kidnapping and related offenses. He declined to comment as he was led out of the Media courthouse in handcuffs.
Whelan said Scott, while on duty around 1:30 a.m. Saturday morning, pulled the first woman over, then instructed her to follow him to Crowell Park in Springfield, where he repeatedly asked her "what she could do to get out of this." He made a similar stop with a second woman the following night, Whelan said.
William Bender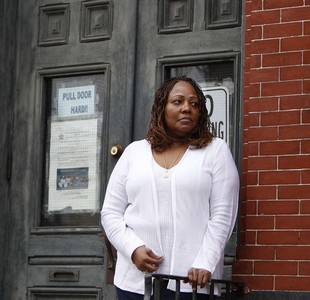 Don't know if this is good news or bad news out of Colwyn Borough. It's hard to tell with that place sometimes.
Delaware County District Attorney Jack Whelan just announced that it is withdrawing theft charges against Rochelle Bilal, the former Philly cop who serves as Colwyn's public safety director, due to a lack of probable cause.
Bilal, president of the black police officers' Guardian Civic League, was arrested on Sunday by Taser-happy Colwyn Police Officer Trevor Parham, who claimed that Bilal and her assistant, Wanda Davis, were intercepting police officers' mail.
Stephanie Farr
A Delaware County lawyer who ran a "rescue" operation for German Shepherds out of her Marcus Hook law office was found guilty of 43 counts of animal cruelty in district court today after Pennsylvania SPCA officers found conditions at the facility were "horrendous," according to a news release from the PSPCA.
Terry Silva, 53, owner of Sixth Angel Shepherd Rescue, was sentenced to pay a fine of $5,900 plus court costs for her crimes.
In February, PSPCA raided Silva's law office following complaints from residents and Marcus Hook officials. Inside, officers found 28 German Shepherds and shepherd mixes in closets and crates who were in need of veterinary care.
Stephanie Farr
A bullet fired from outside of Crozer-Chester Medical Center in Upland late last night struck a patient inside of the hospital, according to officials.
Around midnight, shots were reported outside the hospital, possibly coming from the area of the helipad, according to the Breaking News Network, which monitors police and fire scanners.
The bullet went through a first-floor window at the hospital and struck an adult female patient in the abdomen, said Grant Gegwich, spokesman for Crozer-Chester Medical Center.
Stephanie Farr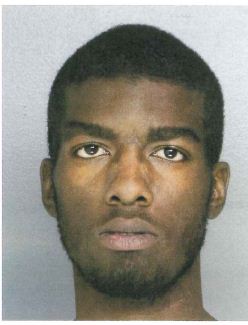 An 18-year-old "career criminal" tried to carjack a 90-year-old Upper Darby man yesterday, but was taken in to custody after being chased and tased by police, according to authorities.
The elderly victim, who obviously sweats moxie, at first didn't want to go to the police station to be interviewed because he feared he would miss his rumba dance class, said Upper Darby Police Superintendent Michael Chitwood.
The victim had just gotten in to his 2004 Buick at his home on Glenco Road near Chestnut Street at around 5:15 p.m., when Keith Alexander approached his open driver's side window and brandished what the elderly gentleman believed to be a knife, police said.