Archive: July, 2011
William Bender
How hot is it? Too hot for horses, apparently.
Harrah's Chester Casino & Racetrack just announced that it has cancelled live harness racing today due to extreme heat.
"Our concern today is with the safety of the horses," said Barry Brown, the Director of Racing Operations.
William Bender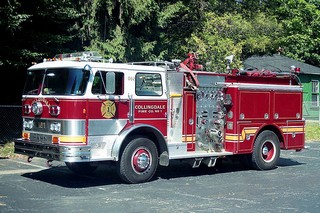 Collingdale's two fire departments appear to be dueling for bigger headlines this month. And not the kind you get from rescuing children from burning buildings.
Colin Patrick McCann, the chief of Collingdale Fire Co. No. 1, was busted for DUI July 4 after he allegedly activated the emergency lights on his pickup and, according to Glenolden police, claimed that he was "showing my new lights to my family." But McCann, who has a previous DUI arrest, was alone in the pickup, according to the Delco Times. His blood-alcohol content was 0.13, over the legal limit.
Not to be outdone, firefighter Joseph Phillips, a life member of Collingdale Fire Co. No. 2, went out and got himself arrested the following week for allegedly soliciting sex from some dude walking down MacDade Boulevard. Police say Phillips – who was charged this year with masturbating in front of a woman in a Walgreen's parking lot and pleaded guilty to open lewdness and harassment charges – pulled up in his Explorer and started licking his lips, offering money for sex and generally just being an all-around perv.
William Bender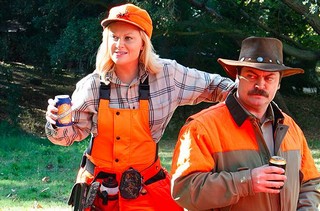 Swarthmore's police blotter this week contains the standard fare for a leafy borough in Delaware County. Stolen mountain bike, egged car, BB-gun antics.
But this caught my eye: For the past six weeks, someone has been stealing plants from Centennial Park, right in downtown Swarthmore. Police say the plant bandit is snatching them from the park in the dead of night. And, get this: "The plants are removed and the holes filled in with dirt."
One, who goes on a six-week plant-poaching spree? Two, who takes the time to fill in the holes? A professional. That's who.
Stephanie Farr
An arrest warrant has been issued for a Philadelphia man already on parole for murder who is believed to be responsible for the shooting death of a patron outside of an Upper Darby bar early yesterday morning, police said.
Upper Darby Police believe John Gordon, 37, of Bellford Street near Buist Avenue in Southwest Philadelphia, shot and killed Randy Campbell, 23, outside of the Venue bar on Garrett Road around 2:40 a.m. after the two got in to a fight in the bathroom of the establishment, police said.
Gordon is on state parole until 2029 for a 1992 robbery and murder, police said. The exact circumstances of that case were not immediately clear.
Stephanie Farr
A 23-year-old man was killed early this morning outside of a nuisance bar in Upper Darby that Police Superintendent Michael Chitwood said is "a huge toilet."
"Any of these bars, I don't care what community you are in, if they are a toilet, eventually they overflow," Chitwood said. "If they overflow, someone dies, like we had last night."
Police said that two men, including victim Randy Campbell, 23, got in to a fight in the bathroom of the Venue bar on Garrett Road and Fairfield Avenue sometime last night. The man Campbell was fighting with got kicked out of the club and he laid in wait until Campbell exited around 2:40 a.m. The man then opened fire on Campbell, Chitwood said.
Stephanie Farr
Here's a couple of stupid criminals to brighten your Monday morning.
Jersey boys Ryan Letchford, 21, and Jeffrey Olsen, 22, were attending a party at a condominium in Radnor when they wandered down to the parking lot and broke into a constable's van to take stupid photos, according to police.
The trouble came when the drunk men locked themselves inside, police said. Read the full story from today's Daily News here.
William Bender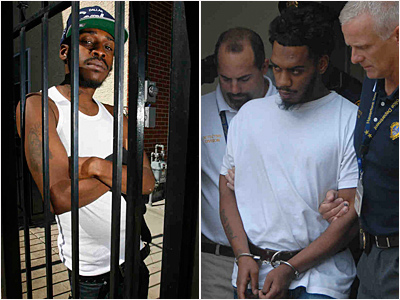 Take a few minutes and read this story by Daily News reporter Dana DiFilippo about Kenny Woods, 22, the West Philly father who was wrongfully arrested last year after a hit-and-run death in Delaware County. Then read Dana's short sidebar about how inaccurate eyewitness identification can be.
Now, tell me how you can support the death penalty as part of such an error-prone system? From today's story:
No one tracks how often erroneous arrests occur, or how often they result in wrongful convictions. But they happen frequently enough that the National Institute of Justice has funded a major study, now under way at American University in Washington, in which researchers will create a database of wrongful arrests and convictions and recommend ways authorities can avoid them. Woods' case is part of the study ...
William Bender
Let me preface this by saying Chadds Ford is one of those Delaware County towns that doesn't have its own police department. That means it's patrolled by state police, which means every taxpayer in Pennsylvania chipped in a little bit for this investigation:
Here are the verbatim "incident details" from a state police report from Trooper McMurray that was faxed to the Daily News yesterday: "The actor entered WaWa and bought a sandwich. After purchasing the sandwich, the actor went and got a fountain drink. When asked twice if he was going to pay for it, the actor said no, it was water and fled the scene."
That is all.