Archive: June, 2013
Stephanie Farr
These cops needed this image burned into their minds like a fish needs a bicycle.
A pack of 25 police officers who were participating in an Upper Darby bicycle school for cops were shocked when they rode up on a man and woman having sex on a bench near the baseball diamond at Naylor's Run Park yesterday afternoon, said Upper Darby Police Superintendent Michael Chitwood.
"Imagine being arrested by 25 cops," Chitwood said."They were as shocked as the police were."
Stephanie Farr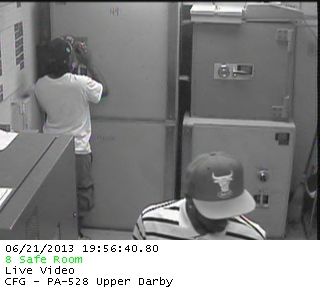 A Lansdowne janitor hoping for a clean break invited his cousin to the Upper Darby bank he was cleaning to rob the place, but the two were caught by surveillance cameras doing their dirty work, according to police.
Brandon Bennett, 24, was employed by Premier Cleaning Services and assigned to clean the Citizens Bank branch on Glendale Road near Ludlow Street, said Upper Darby Police Superintendent Michael Chitwood.
After finding a piece of paper on a desk that he believed contained the combination to the tellers' vault, Bennett invited his cousin, Jamal Gregory, 21, to the bank around 8 p.m. Friday while he was cleaning, police said.
Stephanie Farr
Why did he have to be from Delco?
A Ridley Park man was arrested outside of the Toby Keith concert at the Susquehanna Bank Center in Camden, N.J., Saturday for shouting racial slurs and waving a Confederate flag at residents of a nearby apartment complex.
Darren T. Walp, 33, was tailgating in the parking lot of the concert venue when around 6:30 p.m. he decided to scale the large, wrought iron fence that separates the parking lot from the nearby Royal Court apartment complex, according to the Camden County Police Department.
Stephanie Farr
I'm not lovin' it.
Two women who were kicked out of the McDonald's on 69th Street in Upper Darby Wednesday afternoon for engaging in sexual relations in the bathroom were jumped by a group of customers once they exited the restaurant, according to police.
Shortly before 5 p.m. a group of customers went to the manager of the McDonald's and told her that there were two women engaging in sex in the restaurant's second-floor bathroom, said Upper Darby Police Superintendent Michael Chitwood.
William bender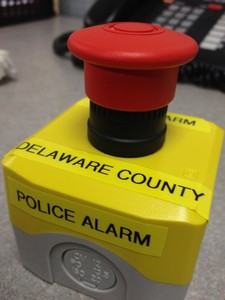 In response to the Sandy Hook massacre, Delaware County District Attorney Jack Whelan and other county officials will announce tomorrow that silent-alarm panic buttons will be installed in all public, parochial and private schools, kindergarten through 12th grade, in time for the next school year.
School superintendents will be briefed tomorrow on the Delaware County Panic Alarm School System (DelPASS). The system will be funded by a state grant.
This sounds like a good start to preventing or mitigating school tragedies. Certainly better than just throwing pens at the shooter, as some universities recommend.
William Bender
Who says people don't read newspapers anymore? This guy was stealing them before sunrise. By the bundle!
In a piece of meta-journalism, Kathleen Carey, my former co-worker at the Delaware County Daily Times, reports today that an early-morning bandit who had been snagging newspapers from businesses before they open allegedly assaulted a Brookhaven cop Saturday after a stakeout went bad.
Police say when they tried to arrest the guy, he "played it off like he's now delivering the papers." Then, they say, he jumped into his truck and took off – while dragging and punching an officer.
William Bender
If you're into heroin, morphine, oxy, etc., now might be the time to quit. Delaware County authorities say there's a batch of the powerful painkiller Fentanyl going around that recently caused two fatal overdoses and has also surfaced elsewhere in the state.
The local version that authorities are seeing comes in a small package stamped "Flashback" with red ink. I hesitate to say that, because some opiate addicts will hear that and actually seek out the drug, thinking it might result in a better high.
Here's a better idea. Kick the habit. Now.
Stephanie Farr
A thief made a clean getaway after stealing a man's wallet at an Upper Darby car wash on Sunday.
The 55-year-old victim had just gotten his car cleaned at the 69th Street Car Wash around 10:30 a.m. and had his wallet out to tip the employees when another driver, whose car had also just emerged from the wash, snatched the man's wallet right out of his hand, said Upper Darby Police Superintendent Michael Chitwood. The wallet contained $1,500, police said.
Instead of writing down the thief's license plate number, the victim tried to get into the man's car, a white Toyota Camry, but was eventually pushed out by the wallet snatcher.