Archive: April, 2013
William Bender
I love Swarthmore. Strike that. I love the press releases that the borough's police department send me. Now, I get a lot of press releases. These are among my favorite.
Today's press release from Swarthmore PD is a nice reminder that this cozy nook of Delaware County is not Philadelphia, where you might walk into the police station with your face on fire and get turned away. Also, the shootings in Swarthmore are not real.
According to Swarthmore cops, some guy parked his car in his driveway on Ogden Avenue and left it unlocked, like a whole lot of people still insist on doing. He later discovered that the car had been "ransacked," police said.
Stephanie Farr
A Parkside man who was showing his wife how to properly use a gun after the couple had been drinking lemonade and vodka for six hours was killed when his wife allegedly misfired one of the guns while handling it, according to police.
Parkside Chief John Egan said police were called to the couple's home shortly before 4 a.m. Saturday and found 43-year-old William Wanko at the bottom of a set of a basement stairs with a single gunshot wound to his upper chest, just below his Adam's apple.
He was transported to Crozer-Chester Medical Center, where he was pronounced dead at 4:21 a.m. Egan said.
Stephanie Farr
The city of Chester has marked more murders in the last two weeks than it has all year and the latest shooting killed a teenager and injured three others in broad daylight.
Around 5:44 p.m. yesterday, a person or persons opened fire on Upland Street near Rose, killing 17-year-old Jesse Burton, according to police. Also injured in that gunfire was a 16-year-old who was shot in both of his legs, an 18-year-old who was shot in his right leg and a 40-year-old man who was shot in his chest. Those three are listed in stable condition at Crozer-Chester Medical Center.
Earlier Saturday, around 3:34 a.m. on Clover Street near 9th, a 40-year-old man, whose identity has not yet been released, was shot once in the face and pronounced dead on scene.
Stephanie Farr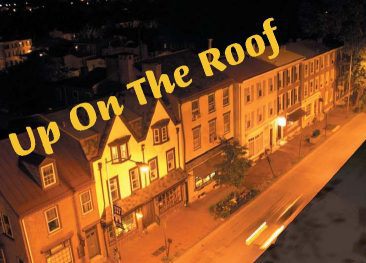 I wonder when this teen's "oh crap" moment came. You know, that moment when you realize you've been caught and there's nothing you can do about it.
Was it when the cops pulled him over and he decided to run? Was it when he realized he was stuck on a roof, surrounded by police officers? Or was it when the fire department came and he had to climb down a ladder into the outstretched arms of authorities?
This tale of teenage stupidity begins around 1:30 p.m. yesterday, when a 16-year-old was pulled over at 63rd Street near Hazel Avenue in West Philadelphia for a motor vehicle violation, according to police.
Stephanie Farr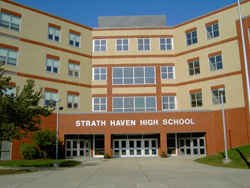 A message found in a bathroom at Strath Haven High School in Wallingford has caused all after-school activities to be canceled today, according to a message on the Wallingford-Swarthmore School District website.
Around 1 p.m., a student allegedly discovered an anonymous note in a restroom at the school that said there was a bomb in the principal's third-floor conference room.
The student brought the note to the main office and police were called to the scene, but found no suspicious devices inside, according to the district's message.
Stephanie Farr
A 15-year-old boy is on the run and his 17-year-old brother is serious condition following a "Cain-and-Abel" stabbing in Upper Darby Saturday, said police Superintendent Michael Chitwood.
Police said the brothers were alone in their house on St. Laurence Road near West Chester Pike around 4:30 p.m. when they began fighting about money the 17-year-old allegedly owed to his 15-year-old brother.
At some point, the younger teen retrieved a butcher knife and began swinging it at the 17-year-old, telling him he was going to kill him, Chitwood said. The elder boy put up his left arm in a defensive move and almost had his hand severed off, police said. He then put up his other arm and the 15-year-old caused a significant gash to that as well, Chitwood said.
Stephanie Farr
Arson fires, stray bullets and stomach viruses have ripped through Delaware County this week, making it an even more dangerous and bizarre place than usual.
On Wednesday, four people were shot in Chester, one of them an 82-year-old woman who was hit by a stray bullet that went through her window while she was watching television.
Then today, before the sun was up, someone apparently broke into Penn Wood High School in Lansdowne and set two fires inside, shutting the school down for the rest of the week.
Stephanie Farr
An 82-year-old woman was critically injured by gunfire in Chester this afternoon when a stray bullet went through the window of her home, according to police.
The woman was in the living room of her home on Crozer Street near 21st when a bullet tore through her window and struck her in the upper torso, Chester Police Commissioner Joseph Bail Jr. said.
"She apparently was the victim of just random violence," he said.