Archive: February, 2013
Stephanie Farr
A 25-year-old man who was released from jail last week after serving time for exposing himself to a teen girl was arrested this morning in Upper Darby for allegedly masturbating in front of three teens on their way to school.
"He's a sick bastard," said Upper Darby Police Superintendent Michael Chitwood.
Around 7:30 a.m., three teen girls, ages 13 and 14, were walking to Beverly Hills Middle School when they saw a man in front of them on the sidewalk along Springton Road near Bradford who kept looking at them over his shoulder, police said.
Stephanie Farr
A Pittsburgh-area man who allegedly assaulted his ex and kidnapped their baby was tracked to Upper Darby early this morning via his cell phone and Google Earth, according to police.
Around 1:30 a.m., Upper Darby police received a call from police in North Versailles, a town about 13 miles southeast of Pittsburgh, who were trying to locate Edward Johnson, a 36-year-old man who had allegedly assaulted his ex and kidnapped their 6-month-old baby boy, said Upper Darby Superintendent Michael Chitwood.
North Versailles authorities were able to develop two coordinates on Johnson using recent calls he had made on his cell phone, and the coordinates indicated that Johnson was in the Upper Darby area, Chitwood said.
Stephanie Farr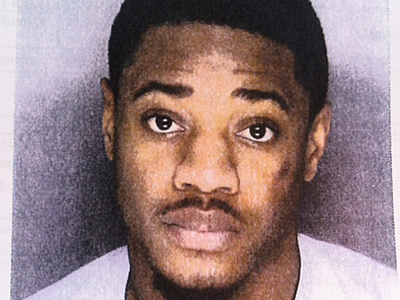 Instead of giving a teacher an apple, one man allegedly stole a teacher's Apple after breaking in to Upper Darby High School yesterday afternoon and threatening her with a hammer - and police said it wasn't the first time the man attempted such a brazen theft.
Upper Darby Police Superintendent Michael Chitwood said Darlington James, 19, an Upper Darby resident who does not attend the high school, got in to the building through a back door yesterday during dismissal and went to the 32-year-old teacher's second-floor classroom around 3:20 p.m., where she was working alone behind a locked door.
James knocked on the door and the teacher let him in, asking how she could help him, police said. That's when James pushed the woman, pulled a claw hammer from his pocket and began swinging at her as swiped her Apple laptop computer, Chitwood said.
Stephanie Farr
Well, this isn't standard.
A 12-year-old boy who broke in to an Enterprise rental car business in Upper Darby on Friday and stole a 2011 Mazda, returned two days later to try to steal another set of wheels, police said.
Workers at the business on Garrett Road near Larchwood Avenue first noticed something was amiss when they opened Saturday morning and found the 2011 Mazda CX-7 missing and couldn't find the keys, said Upper Darby Police Superintendent Michael Chitwood.
William Bender
You'd be amazed at what shows up in my "Delco" stream on Twitter. Meet The Delco Kids, the self-described "Two White Boy Hip-Rock artists from outside of Philadelphia Pennsylvania."
Stephanie Farr
A 13-year-old girl allegedly assaulted a 76-year-old crossing guard in Drexel Hill yesterday afternoon and when police responded to the scene, she fought with them too, said Upper Darby Police Superintendent Michael Chitwood.
The crossing guard, who has helped students from Garrettford Elementary School for the last 13 years, had just left her post at Edmunds Avenue and McCoy Street shortly after 3 p.m., when she felt something in her back and heard someone say, "Get out of my way or I'll kill you."
When she turned around, the woman saw what she believed to be a young man, but was actually a 13-year-old girl dressed as a boy, Chitwood said. She again threatened the crossing guard, this time by saying, "I'm going to shoot you."