Archive: December, 2012
Stephanie Farr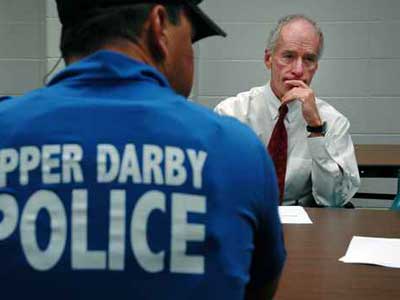 A young woman's Christmas - and her life - was shattered Tuesday when she was kidnapped, raped, robbed and beaten in her own car by three teenagers over the course of five hours, according to police.
"You'll get sick in the stomach," said Upper Darby Police Superintendent Michael Chitwood, before reciting the facts of the case.
Around 11:40 p.m. Christmas night, the 22-year-old victim was in her Jeep Cherokee in the parking lot of George's Water Ice at Grace and Marshall roads, waiting for her boyfriend to come out of a nearby bar, when three men - one of whom had a gun - forced their way inside of her vehicle, Chitwood said.
William Bender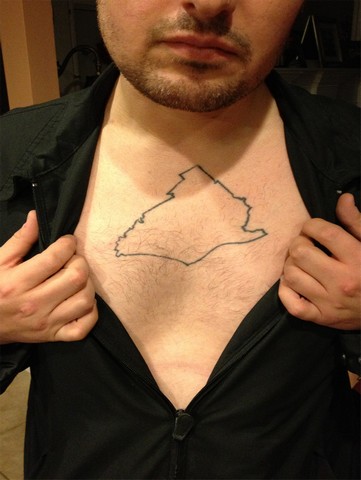 I ran into Mark DeVito II, a friend of a friend, at a bar in Secane around Thanksgiving, but figured I'd save this quintessentially Daily Delco item as an early Christmas present.
Mark knows his way around Delaware County. Why? Because there's a freaking map of Delco tattooed on this damn chest. After this was brought to my attention, I asked Mark – an actor/writer/musician and co-owner of the indie film company Average Superstar Films – to explain how this came to be.
He said he met a girl named Rachel who had a small Delco tattoo on her arm with a heart showing her hometown (now that's sweet, isn't it?), which led to a discussion with his friend who said (jokingly, I think, but not sure) that he'd get it inked over his heart.
William Bender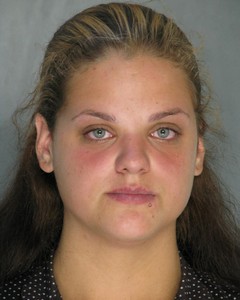 Upper Darby police are searching for a 21-year-old woman who allegedly attacked her mother while she was bathing by biting her on the hand and both legs. Part of the mother's thumb is missing. She is in serious condition at the Hospital of the University of Pennsylvania.
"It's domestic cannibalism," said police Superintendent Michael Chitwood. "We never found the tip of the finger. We don't know whether she ate it or swallowed it. Totally out of control. We don't know if she was high on drugs or what."
Kirstie L. Foley, 21, who lives in an apartment with her mother on Marshall Road near Long Lane, is wanted for aggravated assault, simple assault and harassment.
Stephanie Farr
The year is winding down, but one man snuck in his application for parent of the year this afternoon when he brought his two toddlers to a shooting in Upper Darby and then led police on a high-speed chase with his kids in the car, police said.
The chase ended when the suspect crashed his car in to a building and tried to flee on foot with the children in his arms, said Upper Darby police Superintendent Michael Chitwood.
Around 12:20 p.m., police responded to a report of a shooting on Sheffield Street near Guilford Road and found a 19-year-old man with a gunshot wound to his shoulder.
Stephanie Farr
A supervisor in the Chester Police Department has sued the mayor, the police commissioner and the city for slander, defamation and libel because, he says, the mayor and commissioner have been spreading rumors that he's under investigation by the FBI.
According to the suit, which was filed this morning in the Delaware County Court of Common Pleas, Lt. Col. Darren Alston first learned of the rumors after he was demoted to his current position from that of chief of police when new Mayor John Linder took office early this year.
Linder appointed Joseph Bail Jr., who had retired from the department as a major in 2010, as the new chief of police.
Stephanie Farr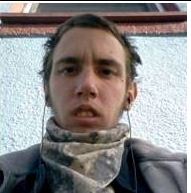 A 20-year-old man who convinced a 13-year-old girl he met online to run away with him has been hit with sexual assault charges after both admitted to having an inappropriate relationship, police said.
When the 13-year-old girl went missing from her Radnor home on Dec. 3, police and her parents immediately suspected Ashley Ryan Hareford, 20, who had been stopped by police near the girl's house the previous night for appearing suspicious, police said.
According to court documents, Hareford and the girl met on an online game called Party in My Dorm about a month ago and at the end of November, Hareford hitchhiked his way from Virginia to meet the girl, whom he knew to be 13.
Stephanie Farr
THIS STORY HAS BEEN UPDATED:
A 13-YEAR-OLD Radnor girl who went missing on Monday was found safe late Tuesday night at a bus station in Washington, D.C., with a 20-year-old creep who police say the girl met via social media.
Savanna Marie MacMullett was reported missing Tuesday after she was last seen at 4 p.m. Monday when she left her house and told her parents that she was attending an after-school activity, said Radnor Lt. Chris Flanagan.