Archive: August, 2013
Stephanie Farr
A former coach for the Delaware County Christian School in Newtown has been accused of having a sexual relationship for two years with a girl she coached.
Lana Trotter, 27, of West Chester, allegedly began the relationship in 2011 and it turned sexual in 2012 when the juvenile was 16, police said. Trotter repeatedly told the girl she loved her and even bought her an iPhone when her parents took her cell phone away, according to court documents.
The victim told police she and Trotter had sexual contact on at least 20 occasions in 2012, but that she ended the relationship with Trotter in the fall because she was uncomfortable, court documents said.
William Bender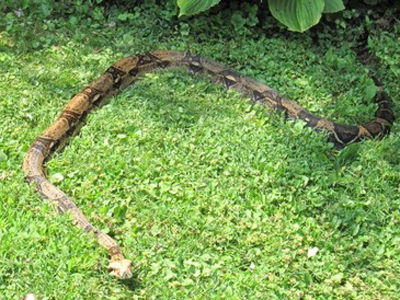 Rest easy, Swarthmoreans. You can stop checking under your bed at night. Bring the family back from "vacation."
Police report that the escaped 7-foot boa constrictor was recovered around 1:30 p.m. today on the 300 block of Vassar Avenue.
The pet snake – appropriately and brilliantly named "Snakey" – "appeared to be healthy," said police Chief Brian Craig. It had escaped from its owners on Aug. 11.
Stephanie Farr
When MacCaulay Caulkin was left home alone and had to fight off Joe Pesci and Daniel Stern, it was funny because there was no question the kid would outwit the bad guys in the end.
But the safety of a 13-year-old-boy who found himself at the mercy of three armed home invaders yesterday morning in Upper Darby wasn't so assured. Police said it was only thanks to the quick-thinking actions of a concerned neighbor and the quick response of police that the boy made it out alive.
And, according to authorities, it wasn't the only time the teen has faced down the robbers.
Stephanie Farr
Three men were injured by gunfire - two fatally - in separate incidents in Chester last night, according to police.
Around 11:26 p.m. on 7th Street near Lamokin, an 18-year-old old man and a 22-year-old man were shot in the back multiple times, police said. The 18-year-old was pronounced dead at the scene and the 22-year-old was later pronounced dead at Crozer-Chester Medical Center.
At 12:12 a.m., a 20-year-old man was shot in the head while driving on McDowell Avenue near 9th Street, police said. Initial reports indicated there may have been as many as 15 to 40 shots fired during the incident. As a result of the gunshot wound to his head, the victim lost control of his car and crashed into several parked vehicles.
Stephanie Farr
Bookkeeper Ruth Phillips may be crying in her mugshot but Delaware County authorities said she wasn't crying when she stole more than $852,000 from her employer to live a "lavish life style.".
Phillips, 54, was a family friend of John and Vince D'Annuzio, who own Pop Tuna Builders of Aston, which was formerly known as D'Annuzio & Sons, and was hired by the company as a bookkeeper in 2005, according to court documents.
Beginning in 2007 and continuing through this year, Phillips, of Aston, allegedly wrote 687 checks to herself or other companies - including Verizon, Chase Card Services and PECO - that were not authorized, police said. The amount of the allegedly stolen money totaled $852,777.
William Bender
A week after an escaped pet python strangled two Canadian boys, Swarthmore police said this morning that a 7-foot boa constrictor could be on the loose in their borough.
Cops say a resident of the 300 block of Park Avenue reported the pet snake missing on Sunday afternoon, after it could not be found in the house or on the property.
"Anyone seeing the snake should IMMEDIATELY call 911 and advise police of its location," police said in a release.
William Bender
Joshua Ward is still recovering from the injuries he sustained when he wrecked his 2013 BMW 335is on I-95 in Tinicum Township July 6 and killed a 67-year-old Boyertown man who was stranded on the side of the road in his Chrysler.
Ward's rehabilitation will have to be moved to the Delaware County Prison.
After getting his toxicology results back from the lab, state police headed over to Taylor Hospital in Ridley Park today and charged Ward, 26, with homicide by vehicle, DUI and related offenses.