Archive: April, 2011
Stephanie Farr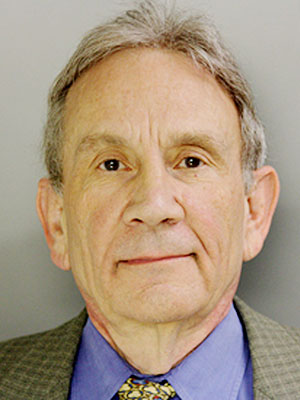 After serving less than three weeks of his six-month sentence, a former Delaware County judge is free on $200,000 cash bail while his lawyer appeals his sentence, according to court records.
Former Haverford District Judge Gerald Liberace, who was sentenced to 6-to-12 months in prison on March 29 for inappropriately touching a 12-year-old girl in his care, posted the $200,000 cash bail yesterday, according to court records.
Philadelphia Senior Judge John L. Braxton, who presided over the case because of Liberace's Delaware County connections, set the cash bail Tuesday following a petition from Liberace's lawyer.
William Bender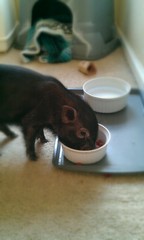 We are going to find this dang pig.
This is Steve's situation. Police won't give him back. Or even say where he's being held. Apparently, you can't have pigs in Ridley, but his owners just want to know where he is so they can find him a new home of their choosing. Also, Steve cost $424 at the pet store.
Do we have any Daily News readers in Reading? Keep your eyes peeled. Ask around. Scope the farms. (But don't trespass because this is Pennsylvania and you will be shot on site).
William Bender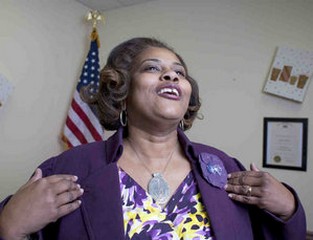 Yesterday's gun-rights debate in Harrisburg ventured into fairly ridiculous territory, culminating with Upper Darby Democratic state Rep. Margo Davidson posing this preposterous hypothetical involving her and Republican state Rep. Daryl Metcalfe:
"If the gentleman from Butler County stood yelling, knowing that he's a gun-toter, and I felt threatened, would I be protected under court law if I blew his brains out?" Davidson asked.
Maybe if he "stood yelling" in your bedroom after he broke into your house. Otherwise, probably not. And you thought Davidson's predecessor, Mario Civera, had a big mouth ...
Stephanie Farr
Here's your alleged DelCo drunk of the day:
James David Hughes, 26, of Media, walked in to the Concord Township Target around 9:30 p.m. Saturday drinking a bottle of Budweiser, according to state police. When an employee asked if he could help him, Hughes allegedly said "How about you give me a f------ job," according to a news release.
Instead of being given an application, Hughes was asked to leave the store, at which time he became angry and threw his beer bottle at the front door, police said.
William Bender
I'm confused.
Former U.S. Rep. Curt Weldon says he was invited to Libya by Moammar Gadhafi's chief of staff to meet with Gadhafi. The goal was to persuade Gadhafi to step down. But Weldon went home without that meeting. What kind of invitation is that? It's like being invited to a party and forced to sit at the kids table.
Then Weldon, who lost his bid for an 11th term in 2006 amid an FBI influence-peddling probe, says the trip was "paid for by the team of Steve Payne and Brian Ettinger of Houston," who the NYT describe as "two Houston businessmen whose firm brokers oil and gas deals in unstable countries." Payne and Ettinger joined Weldon on the trip. (Larry Mendte was there, too, just to make the whole situation completely surreal).
Stephanie Farr
An Upper Darby man allegedly abused his wheelchair-bound grandmother and at times, disabled her electronic stair chair so he could smoke crack without being bothered, police said.
Upper Darby police responded to the Westpark Lane house where Edward Malm, 40, lives with his 87-year-old grandmother around 8 p.m. last night after receiving complaints that the house was unkempt and there was possibly abuse occurring inside, Upper Darby Police Superintendent Michael Chitwood said.
Once inside, police and health inspectors found the 87-year-old woman, who is confined to a wheelchair, in her bedroom in the basement of the house. Chitwood said she told police that her grandson smacks her around and mistreats her. She also said that on occasion, he will disable her stair chair lift - her only way of getting out of the basement - so he can party without being interrupted, Chitwood said.
Stephanie Farr
A Philly woman was arrested in Upper Darby this week for selling fentanyl patches in the parking lot of a Kentucky Fried Chicken.
"She wasn't selling chicken and fries, that's for sure," said Upper Darby Police Superintendent Michael Chitwood.
Through an undercover operation, it was discovered that Angela Levin, 32, was selling the patches, Chitwood said. An undercover cop made a buy from her in the parking lot of the KFC on West Chester pike around 8:30 p.m. Tuesday, he said.
William Bender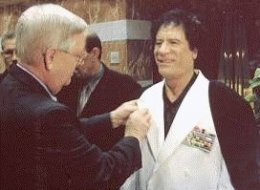 Former Delaware County Congressman Curt Weldon, joined by veteran newsman/newsmaker Larry Mendte, said he was supposed to meet with Moammar Gadhafi yesterday. Apparently that didn't happen, according to CNN:
Curt Weldon, the former U.S. congressman who intends to meet with Moammar Gadhafi and persuade him to step aside, told CNN on Thursday he hasn't yet but still hopes to sit down with Libya's defiant strongman.
If and when he does have the sitdown, Weldon said he plans "to reinforce the message of the Obama administration."