Archive: October, 2010
William Bender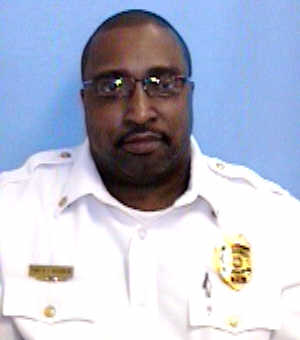 Booker T., why'd you do it, man?
Former Chester Township Police Chief Booker T. Wilson, previously known as a "good dude" with a cool name, has joined the crowded list of esteemed Delaware Countians to make the transition from public servant to felon.
Wilson, who was scheduled to go on trial today, instead pleaded guilty to felony charges of forgery and receiving stolen property, according to state prosecutors.
William Bender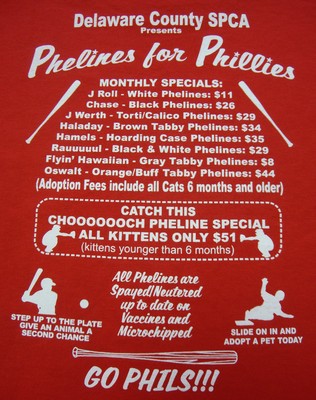 The Delaware County SPCA is running a Phillies-themed special through the end of their playoff run. Adoption fee includes spay/neuter surgery, appropriate inoculations, microchip ID and lifetime registration, a cat carrier and a complimentary vet visit. (See list to the right).
So what's stopping you from heading down there to pick up a Flyin' Hawaiian tabby or a Chooooooch kitten? They even have some of the cats that were taken last month from Upper Darby cat hoarder Denise Merget, who did not part with them willingly, according to police. The "Hamels Hoarding Case" cats are $35 each (prices match the players' numbers).
For information visit www.delcospca.org. The Delco SPCA is located at 555 Sandy Bank Road, Media.

William Bender
One of those weird wine vending machines run by the Pennsylvania Liquor Control Board is coming to Upper Darby tomorrow. It'll be the first in southeastern Pennsylvania. Why are they weird? Because you have to blow into a built-in breathalyzer to get your booze. And if your blood-alcohol content is .02 or higher ... no wine for you! They confirm your ID by video camera.
Your thoughts?
It sounds like something out of the movie Brazil to me. Having said that, there's an outside chance that curiosity will get the best of me and I'll be at the Fresh Grocer in Drexel Hill at 10:59 a.m. tomorrow doing pushups to get my BAC below .02 so I can buy a bottle of pinot noir.
William Bender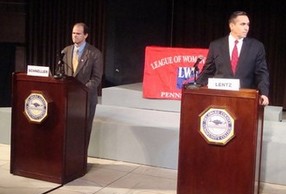 Delaware County Community College offered a free, one-hour class in Farcical Politics 101 last night by hosting the 7th Congressional District debate between Bryan Lentz and Jim Schneller.
There they were, side by side. Lentz, the Democratic state representative, and Schneller, the conservative "birther" that Lentz's folks helped place on the ballot. In what could be a very tight race, Schneller, who barely registers in polls, is expected to snag some votes from Republican frontrunner Pat Meehan, the former U.S. Attorney who backed out of last night's debate after Schneller was invited.
It was an amicable debate, as you'd expect from such a symbiotic relationship. But it was a strange bit of political theater in a high-stakes election.
William Bender
If there's a Republican "wave" washing over the nation, it has yet to arrive in Delaware County's 7th Congressional District, according to a new poll out this morning.
The race between Republican former U.S. Attorney Pat Meehan and Democratic state Rep. Bryan Lentz is essentially tied, says today's The Hill 2010 Midterm Election Poll, which has Meehan leading Lentz by a single percentage point, 40-39. They're running to replace outgoing Democratic U.S. Rep. Joe Sestak.
The survey of 405 likely voters was conducted between Oct. 2 and Oct. 7. Meehan's edge is well within the poll's margin of error of 4.9 percent.
William Bender
Should drivers be fined $25 if they leave their cars unlocked? That's under consideration in Upper Moreland, whose residents, like those in so many other suburban Philadelphia towns, have not fully grasped the notion that their iPods and wallets are not safe inside an unlocked vehicle. That apparently includes two Upper Moreland commissioners. From today's story in the Courier Times:
After an outcry from some who feel the initiative would be an invasion of privacy, township police Chief Thomas Nestel, who proposed the ordinance, explained to the commissioners' public safety committee Monday why he thinks Upper Moreland needs it.
From 2008 to the present, three-quarters or more of each year's reported thefts from cars were from those left unlocked, Nestel said. This year so far, for example, thefts were reported from 81 cars, 75 percent of them unsecured. ...

Stephanie Farr
A woman was killed in Chester this morning when she was riddled with more than a half dozen bullets while riding her bicycle.
The victim, who was in her 20s, was riding along 8th Street near Sproul around 2:20 a.m. when an unknown gunman opened fire, hitting her seven times in the torso, police said. When cops arrived on the scene they found the woman still on her bike, which was lying half on the street and half on the curb, according to Capt. Stephen Fox.
She was pronounced dead on scene.
Stephanie Farr
An elderly woman had her wedding and engagement rings stolen off of her finger as she lay ill in Riddle Memorial Hospital this month, state police said.
The woman, a 70-year-old Media resident, was a patient at the hospital on Oct. 3, when around 3 a.m. two women walked into her room and took her wedding and engagement rings - which were yellow-and-white gold with diamonds - from her left finger, police said.
It was not immediately clear from a state police report whether the victim was sleeping or incapacitated at the time of the theft.