William Bender
Delaware County's Heroin Task Force is urging people to avoid the drug stamped "Black Dahlia," which is sold in a small blue packet like heroin, but is actually pure Fentanyl, a powerful synthetic opioid.
A tad too much and you might as well call your own hearse before you nod off for good.
Dr. Fredric Hellman, the county's medical examiner, said toxicology results returned yesterday indicate that the recent death of a 30-year-old Marcus Hook woman was cause by injecting Black Dahlia.
Stephanie Farr
Yesterday, I lamented that Delaware County was the only Philly suburb not mentioned in this story on where the wealthiest of the region live.
Delco often gets painted as the blue-collar suburb but what it lacks in wealth it makes up for in heart. Remember this story about how Delco cops led a massive police escort for Brayden Chandler, a 3-year-old Springfield boy who is battling terminal kidney tumors?
That showed Delco has a wealth of people who give a damn, and that's more important than any dollar figure.
Stephanie Farr
Upper Darby residents who found a 2-year-old girl running naked down their street yesterday called police, who discovered that the girl and her three brothers - ages 3,6 and 8 - had been left home alone, said police Superintendent Michael Chitwood.
When police arrived on scene at Clover Lane near Church, neighbors pointed officers to a house the little girl had run into, Chitwood said. A 6-year-old boy answered the door and cops found the 2- and-3-year-old children inside. The 8-year-old boy arrived home a short time later, police said.
Police called the children's mother, Christina Staley, on her cell phone. Staley, 32, claimed to have been out shopping for food and medicine but when she returned she had neither in her possession, Chitwood said.
William Bender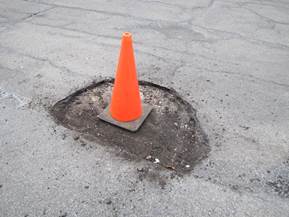 Delaware County council is planning tomorrow to announce a grant program called Operation PAT (Pothole Assistance for Taxpayers) that will help municipalities fix snow-ravaged roads by diverting cash from the Liquid Fuels Funds.
Sounds like a good idea. But the announcement itself could be legendary.
County officials plan to gather around a "pizza-sized pothole" in Ridley Park tomorrow afternoon for the press conference at Thayer and Barker streets. Reporters are being told to "go left onto Thayer and park at the pothole."
Stephanie Farr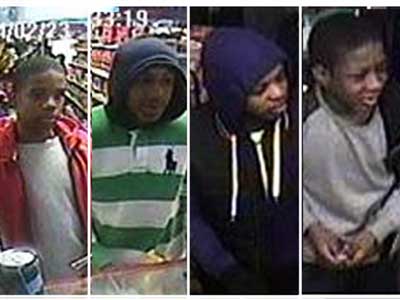 A 12-year-old boy was jumped, assaulted and robbed by four teens who stole his sandwich and French fries in Upper Darby on Friday, according to police.
Upper Darby police Superintendent Michael Chitwood said the 12-year-old victim, who is a "real nice neighborhood kid," was coming out of a convenience store on Long Lane near Clinton Road around 5 p.m. when four "morons" hit him, knocked him to the ground and "thumped" him. They stole from the boy the only possessions he had - his sandwich and fries, Chitwood said.
The teens - two 13-year-old boys and two 15-year-old boys - then ran away from the scene but their images were captured by several surveillance cameras at the store and in the area, police said.
Stephanie Farr
Police responded to a homicide scene in Upper Darby today where the victim appears to have been stabbed to death with a pair of scissors, said Upper Darby police Superintendent Michael Chitwood.
This afternoon a homeless man went up to a parking lot attendant who was in his shack across the street from the Upper Darby township building on Garrett Road near Chestnut Street, and told the worker that there was a man dead in apartment 144 at the Richfield Garden Apartments on Richfield Road near Chestnut Street, Chitwood said.
The worker called police and authorities discovered the dead body of 60-year-old Robert Diclemente in the apartment with scissors sticking out of his chest, according to police.
Stephanie Farr
A fatal car crash that killed an 18-year-old old pedestrian last month in Clifton Heights turned from a tragedy to an alleged criminal act today.
Police have charged Jonathan Vanderhost, 45, of Lansdowne, with homicide by vehicle while driving under the influence and related offenses for the Jan. 12 car crash that claimed the life of recent Upper Darby High grad Dante DeSimone, 18.
DeSimone was on foot with two other friends near the McDonald's on Baltimore Pike near Lehann Circle in Clifton Heights at around 9:20 p.m. when a crash between Vanderhost and another driver caused the other driver's pickup truck to plow into DeSimone and one of his friends. DeSimone died as a result of his injuries and his friend suffered broken bones in his shoulder, leg and foot, as well as a lung injury.
Stephanie Farr
An Upper Darby man was "viciously bludgeoned to death" in his own home this weekend and his murder was only discovered this morning when his coworkers went to check on him, said Upper Darby Police Superintendent Michael Chitwood.
Michael Fanning, 59, was supposed to report for work as a painter at Haverford College this weekend and when he didn't show and didn't answer his phone, two of his coworkers went to his house on Ruskin Lane near Long around 8:15 a.m. today.
When they found the doors locked they called police, who discovered Fanning dead on his bed in his second floor bedroom. Chitwood declined to say whether police believe Fanning was beaten to death with an object or by someone's bare hands, though he did say officers have found "significant" forensic evidence.