Stephanie Farr
The tragedies just wouldn't end in Delaware County this weekend, where six people died and five others were wounded in separate incidents across the county.
In the most recent incident, a car wreck on Baltimore Pike near Lehann Circle in Clifton Heights claimed the life of a young pedestrian who was struck when one of the vehicles plowed into him and his friends around 9:35 p.m. Sunday, said Clifton Heights Police Chief Tim Rockenbach.
The victim, Donte Desimone, 18, of Upper Darby, was talking with two of his friends on the sidewalk when the collission sent one of the vehicles onto the sidewalk and into the group, police said. One of the teens walked away unharmed, but Desimone died from his injuries. The third boy remains in critical but stable condition at an area hospital, according to police.
Stephanie Farr
A 16-year-old girl fled her Collingdale house with her 3-year-old sister early this morning, right before Delaware County Children and Youth Services workers were slated to come and take them from their mother's home, police said.
A 15-year-old cousin later joined the two and now police are searching for all three and asking the public's help in finding these girls, said Collingdale Police Chief Robert Adams.
Adams said police have been in contact with the girls via cell phone, but they refuse to provide their location. Their most recent call sounded like it was made from a transproation terminal and both Amtrak and Septa police have been notified to keep a look out for the runaways.
William Bender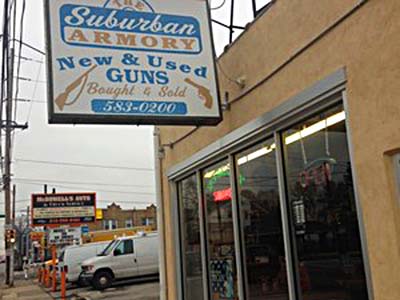 Most teenagers do dumb things. But not trying-to-rob-Joe-Galiano dumb.
Who is Joe Galiano? He's the owner of Suburban Armory, the gun shop on MacDade Boulevard in Collingdale Borough, Delaware County. He is surrounded by guns, including the one on his hip. Like his .45-caliber pistol. Can't miss it.
Despite this fact, police say two teenagers dressed in burkas walked into his store this afternoon, pulled a gun on Galiano and tried to stick him up. Galiano, less than thrilled about having a man in female Muslim garb pointing a silver handgun at him inside his own store, decided not to comply, but instead to make use of his own gun.
Stephanie Farr
Since their brilliant plan to conduct a drug transaction in front of a suburban police station at Christmastime fell through yesterday, these ding dongs are far from merrily on high.
Around 10 a.m., police said Bruno Gallo, 50, and his girlfriend, both of whom are from Philadelphia, pulled up in front of an Upper Darby police mini station on 69th Street near Market in their white BMW and parked in a spot marked for police vehicles only.
Two bicycle cops who were in the mini station watched from inside as a man, later identified as 21-year-old Joshua Ramirez, approached the vehicle, police said. The officers then watched as Gallo and Ramirez conducted a hand-to-hand drug transaction of seven bags of heroin, said police Superintendent Michael Chitwood.
Stephanie Farr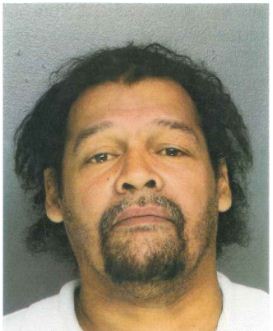 Police who responded to a domestic dispute at an Upper Darby home Tuesday were shocked to discover a 3-year-old autistic boy in the house with the burn print of a fork on his face.
The child's father, 48-year-old Miguel Sanchez, was arrested for the brutal act and the child's mother is now under investigation for cigarette burns found on the chest of another of the couple's four children, said Upper Darby Police Superintendent Michael Chitwood.
"These poor kids were treated like they were animals," Chitwood said.
Stephanie Farr
Gregory Kostomite walked into Johnny B's Place in Upper Darby around 9 p.m. yesterday and, without a word, began punching a bar patron in the stomach, police said.
"Then, the people realized he was punching him with a knife," said Upper Darby Police Superintendent Michael Chitwood.
When other patrons at the bar on Garrett Road near Drexel Avenue realized what was going on, four or five of them tackled Kostomite and held him until cops arrived, police said. Meanwhile the victim, whose "bowels had been eviscerated," according to Chitwood, was rushed to Crozer Chester Medical Center, where underwent immediate surgery.
Stephanie Farr
Two brothers each armed with .45-caliber guns busted a thief who had broken into one of their vehicles early yesterday morning and held him at gunpoint until police arrived, said Upper Darby Superintendent Michael Chitwood.
Police identified the thief, whose neck tattoos illustrate his affinity for the Rolling Stones and Philly's LOVE statue, as Ernest Lawton, 24, of Briarcliff Road near Radbourne.
Around 2:30 a.m., a man who lives on Briarcliff Road and has his car alarm synchronized with an alarm on his keychain, was awoken when the remote device went off, police said. He looked outside his window and saw someone breaking into his 2009 GMC Yukon.
Stephanie Farr
A Delaware County man who considered himself a big deal in the online hacking community called in a bomb, gun and hostage threat to 911 in September because he wanted to up his status among hackers, according to police.
Police have charged Michael Adams Jr., 22, of Marple, with falsely reporting weapons of mass destruction, false alarms to an agency of public safety, recklessly endangering another person and related offenses for the Sept. 16 incident.
Around 2:50 p.m. that day, Marple Township Police, Delaware County investigators, the county's bomb squad and its SWAT team went to Carlton Drive near Central Boulevard in Marple in response to a caller who had stated that he was on the second floor of a house there and was being held hostage by a man with an AR-15 rifle who had an IED strapped to his chest.