Stephanie Farr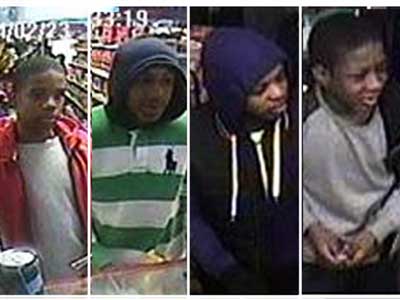 A 12-year-old boy was jumped, assaulted and robbed by four teens who stole his sandwich and French fries in Upper Darby on Friday, according to police.
Upper Darby police Superintendent Michael Chitwood said the 12-year-old victim, who is a "real nice neighborhood kid," was coming out of a convenience store on Long Lane near Clinton Road around 5 p.m. when four "morons" hit him, knocked him to the ground and "thumped" him. They stole from the boy the only possessions he had - his sandwich and fries, Chitwood said.
The teens - two 13-year-old boys and two 15-year-old boys - then ran away from the scene but their images were captured by several surveillance cameras at the store and in the area, police said.
Stephanie Farr
Police responded to a homicide scene in Upper Darby today where the victim appears to have been stabbed to death with a pair of scissors, said Upper Darby police Superintendent Michael Chitwood.
This afternoon a homeless man went up to a parking lot attendant who was in his shack across the street from the Upper Darby township building on Garrett Road near Chestnut Street, and told the worker that there was a man dead in apartment 144 at the Richfield Garden Apartments on Richfield Road near Chestnut Street, Chitwood said.
The worker called police and authorities discovered the dead body of 60-year-old Robert Diclemente in the apartment with scissors sticking out of his chest, according to police.
Stephanie Farr
A fatal car crash that killed an 18-year-old old pedestrian last month in Clifton Heights turned from a tragedy to an alleged criminal act today.
Police have charged Jonathan Vanderhost, 45, of Lansdowne, with homicide by vehicle while driving under the influence and related offenses for the Jan. 12 car crash that claimed the life of recent Upper Darby High grad Dante DeSimone, 18.
DeSimone was on foot with two other friends near the McDonald's on Baltimore Pike near Lehann Circle in Clifton Heights at around 9:20 p.m. when a crash between Vanderhost and another driver caused the other driver's pickup truck to plow into DeSimone and one of his friends. DeSimone died as a result of his injuries and his friend suffered broken bones in his shoulder, leg and foot, as well as a lung injury.
Stephanie Farr
An Upper Darby man was "viciously bludgeoned to death" in his own home this weekend and his murder was only discovered this morning when his coworkers went to check on him, said Upper Darby Police Superintendent Michael Chitwood.
Michael Fanning, 59, was supposed to report for work as a painter at Haverford College this weekend and when he didn't show and didn't answer his phone, two of his coworkers went to his house on Ruskin Lane near Long around 8:15 a.m. today.
When they found the doors locked they called police, who discovered Fanning dead on his bed in his second floor bedroom. Chitwood declined to say whether police believe Fanning was beaten to death with an object or by someone's bare hands, though he did say officers have found "significant" forensic evidence.
Stephanie Farr
Of Aldi reasons to start an argument with a stranger, this one is pretty absurd.
A confrontation between an off-duty Colwyn police officer and a civilian over who touched whose groceries at an Aldi supermarket Friday night has prompted an investigation by the Delaware County District Attorney's Office after the civilian alleged that the officer flashed his gun during the argument, said Collingdale Police Chief Bob Adams.
The off-duty officer, who has not been identified, and the civilian were in a check-out line at the Aldi on MacDade Boulevard near West Oak Lane in Collingdale shortly after 6 p.m. when an argument began over the touching of groceries, police said. It was inside the store that the off-duty allegedly identified himself as a police officer, for reasons that are not immediately clear.
William Bender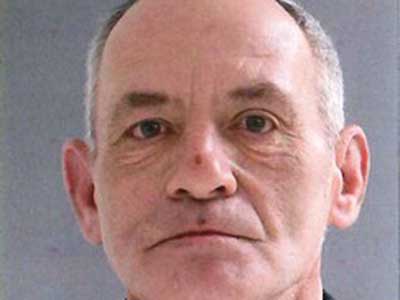 Delaware County authorities have arrested a Havertown man for allegedly viewing child pornography on his work computer at Allied Fence in Eddystone, then telling a shocked customer that it was "okay because they are Russian."
Robert Forst, 60, learned that it was not okay when he was charged today with possession of child pornography and related offenses.
Cops say they found more than a hundred images of child porn on Forst's Toshiba laptop. Some of the images were of infants and toddlers. According to the criminal complaint, Forst said that they are "pleasant to look at, and that they are like flowers."
Stephanie Farr
A stranded motorist whose car broke down in the middle of an Upper Darby road yesterday had an unusual reaction when a police officer stopped to help him - he ran away.
Upper Darby Ofc. Stephen Tarozzi was on patrol around 1:13 p.m. when he saw a car broken down in the middle of Marshall Road near Powell Lane that appeared to have a broken axle, police said.
As Tarozzi made a u-turn to help the stranded motorist, he saw the driver, who was later identified as Omar Quadar Hooks, walk away from his vehicle, according to court documents. As Tarozzi approached the car, Hooks picked up his pace and kept glancing over his shoulder at the cop, police said.
Stephanie Farr
A terminally-ill Delaware County boy will receive a hero's welcome when he returns home from his Make-A-Wish vacation tomorrow to a massive police escort that will take him from the Philadelphia International Airport to his front door in Springfield.
Brayden Chandler, 3, was diagnosed with a kidney tumor last January and this month, his parents were told that doctors could do no more for the boy. Instead of treatment, they told the Chandlers to enjoy their last bit of time with their son.
Right now, the Chandler family is at Walt Disney World, thanks to the Make-A-Wish Foundation, but the surprises won't end when they get home tomorrow.