Stephanie Farr
A 29-year-old teacher's aide who lives at home with his mother has been charged by the Delaware County District Attorney's Office with sending 32 pornographic images and eight pornographic videos to a 13-year-old boy from Chester.
Quasim Cunningham of Philadelphia, who was employed by the Philadelphia Opportunities Industrialization Center, met the 13-year-old boy when he was an after-school facilitator at the grade school the victim attended, police said.
Cunningham allegedly began Facebook messaging the boy in Sept. 2012. Along with sending the child dozens of pornographic still images and eight pornographic videos through Facebook, Cunningham also had "numerous sexually explicit conversations" with the boy via Facebook messaging, according to court documents.
Stephanie Farr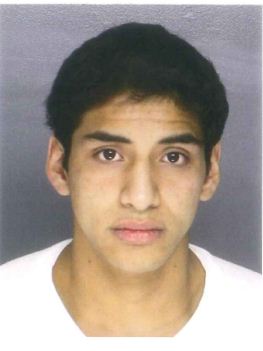 If the allegations against 18-year-old Luis Arevelo are true, there's not a circle in Hell that he's worthy of being banished to.
According to police, Arevelo sexually assaulted a 5-year-old relative several months ago.
When the girl's mother took the child to the Children's Hospital of Philadelphia yesterday, CHOP doctors quickly called police after realizing the little girl had chlamydia, a sexually transmitted disease, said Upper Darby police Superintendent Michael Chitwood.
Stephanie Farr
Update: The green keeps on flowing at City Blue, where another 30 pounds of marijuana was just delivered today to the Upper Darby clothing store that received 60 pounds of pot yesterday, according to Upper Darby police Superintendent Michael Chitwood. At this point, the store manager has to be very confused or very happy. Police are still investigating the origin of the special deliveries.
Just how high was the dazed-and-confused dude who sent 60 pounds of pot to an Upper Darby clothing store yesterday?
That's something the authorities are trying to weed out.
William Bender
This video from the latest Colwyn Borough Council meeting is what people with post-traumatic stress disorder might call a "trigger." It is for me, having been forced to cover these types of meetings while working at the Delaware County Daily Times.
People got hurt, OK?
I don't even really know what they're fighting about in Colwyn anymore. It's been a rough couple of years. But this video – which is only one of many – really puts things into perspective for Philadelphians who are fed up with City Council: It could be worse. Much worse.
Stephanie Farr
Five adults have been accused of perpetrating crimes against five children inside a Darby house that are so heinous it's difficult to stomach.
From shooting the kids with BB guns to forcing an adult woman to perform oral sex on a 2-year-old boy, the case is the stuff of nightmares - but police allege it was the reality in which these helpless children were forced to live.
Shakia Jackson, 31; Daryl Carter, 24; Danielle Hammond, 22; William Wade, 23 and Mark Isom, 22, have all been arrested in connection with the case. Their offenses range from endangering the welfare of children to corruption of minors and from simple assault to involuntary deviate sexual intercourse.
William Bender
Sounds like a cat burglar had himself a nice little night in Swarthmore Borough. And he's not going to apologize for it, thank you very much.
Cops say five homes were hit over a three-hour period Tuesday morning. Residents reported missing laptops computers, cash, jewelry, gift cards and personal items.
When a Woodbrook Avenue resident heard a noise in his home around 4:18 a.m., he looked out back and asked the unknown man what exactly he was doing on his property. He responded: "I'm robbing you."
Stephanie Farr
Upper Darby police Superintendent Michael Chitwood isn't known for being soft, but today he was quite squishy as he donned a Sponge Bob Square Pants costume to bring Halloween treats to elementary students in the township.
Chitwood has never been shy of taking one for the team. In 2008, when the department rolled out Taser guns, he held a press conference where he had his officers demonstrate the effects of the Taser - on himself.
This morning's outing involved less cursing, but Chitwood was still filled with electricity as he brought candy, coloring books on bullying and junior police officer badges to students at Bywood Elementary School and St. Bernadette of Lourdes School.
Stephanie Farr
Three enterprising sisters who opened a beauty salon with a unique concept in Upper Darby earlier this month will host a breast cancer awareness event tomorrow that will feature half-a-dozen Eagles players as well as breast cancer survivors and their caretakers.
The sisters had an in to secure the Eagles players: One of them dates LeSean McCoy and another is his personal assistant, according to Trania Stroud, the eldest of the sisters, who said she is McCoy's assistant.
Trania, 35, and her sisters Tacara Kellam, 30 and Tiara Kellam, 26, opened Emerge Salon and Boutique just three weeks ago on Terminal Square near West Chester Pike. The shop is a hair salon, a clothing boutique and a space for women's forums - a business concept which cultivates the talents of all three women.