Archive: May, 2011
William Bender
Victor Vasquez (12-5-1, 6 KOs) will take on Gustavo Dailey (4-11, 1 KO) in a lightweight boxing rematch next Friday at Harrah's Casino in Chester.
But I suspect some readers might think the "main event" is actually Wednesday's press conference, which will be held at ... the local strip club. And not any boobie bar. We're talking Lou Turk's.
Turk's, I'm told, happens to be a place of employment for reputed mob associate Nicholas "Nicky the Hat" Cimino, who pleaded guilty in 2009 to participating in a corrupt organization, money laundering, bookmaking and related counts.
William Bender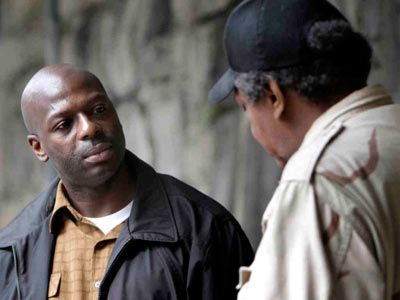 We sometimes get accused here of focusing too much on the negative. No argument there. This blog isn't about blowing sunshine where you don't need it to be blown.
But I want to direct you to Daily News reporter Natalie Pompilio's excellent profile of Fred Johnson, a 41-year-old Iraq war veteran and former crack addict who is helping Chester veterans. From Natalie's story:
In the VA hospital outside Baltimore, Johnson remembers watching fellow patients line up for the daily drug dispensings and feeling their stress choking him.
Stephanie Farr
Here's one out of Delco's neighbor, the fine state of Delaware.
A 63-year-old Long Neck, Del., woman awoke Tuesday morning to find a strange surprise on her couch - a sleeping, drunken 29-year-old man, according to police.
The woman told the napper, Bradley Furchak of Millsboro, that she was going to call police and he left the house running with a beer can in his hand, police said.
Stephanie Farr
Oh heli no!
A prisoner who was secured to a hospital bed in double locked handcuffs at Crozer-Chester Medical Center this weekend was able to escape his restraints and flee the hospital from its helicopter landing pad, according to court documents.
When Drakkar Green, 20, of Chester, was taken in to custody Saturday on an outstanding warrant, he complained of severe head pain and asked to see a doctor, police said.
Stephanie Farr
A Delaware man who allegedly robbed "escorts" he met online with a Taser gun while claiming to be a police officer was done in by his gambling habit Tuesday, when police took him to custody at Harrah's Casino in Chester.

David W. Jones, 35, of New Castle, met "escorts" online, some of whom later admitted to being prostitutes, and arranged to met the women at various locations, police said. The first two robberies took place on April 26 and April 29 at two different hotels in Newark, according to Delaware State Police.

When the meetings went down, Jones claimed to be a police officer and robbed both women of their cash, cell phones and personal belongings at point of Taser gun, police said. In the latter instance, the victim also claimed Jones touched her inappropriately.
Stephanie Farr
Two teens and a 54-year-old man are being credited with saving the life of their neighbor who, police said, set herself ablaze inside of her Upper Darby house last night.
"I would have never thought I could do something like this," said Kareem Avery, 17, one of the teens who jumped in to action.
Around 7:30 p.m. on Keystone Avenue near West Chester Pike, Raymond Joseph was sitting in his back yard when he saw a flame coming through his 44-year-old neighbor's kitchen door, said Upper Darby Police Superintendent Michael Chitwood. When Joseph went to look through her window, he saw that his neighbor was on fire and that there were several other small fires set in the living room, police said.
Stephanie Farr
A UPS driver who was making his rounds in Chester this morning was held up at gunpoint and forced to drive to another location, where he was robbed of all his packages, police said.
Around 11:46 a.m., the driver called police and said he was delivering a package at 7th and Engle streets, near Veterans Memorial Park, when two men jumped in his big, brown truck, held him at gunpoint and forced him to drive to Bunting Street near Front, where two other men were lying in wait, police said.
There, the four men unloaded the packages from his UPS truck and put them into an SUV, police said. The UPS worker did not get a good description of the vehicle and the car's plates were not visible, police said.
William Bender
Something tells me the this CBS News graphic is not representative of the guns that were stolen in Chester. Is that a rocket launcher?!?