Archive: March, 2011
Stephanie Farr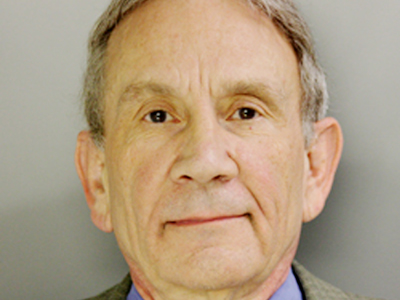 A former Delaware County district judge was sentenced to prison today for inappropriately touching a 12-year-old girl in his care, according to the state Attorney General's Office, which prosecuted the case.
Longtime Haverford District Judge Gerald Liberace, 69, was sentenced to 6-to-12 months in county prison for endangering the welfare of a child and corruption of a minor, said Attorney General spokesman Nils Frederiksen. Liberace was found guilty of those charges in a jury trial in January. He was found not guilty of an indecent assault charge during the same trial.
The victim, now 18, claimed in court that six years ago, while she was a child in his care, Liberace repeatedly touched her buttocks and he once rubbed her vagina.
William Bender
"This is a good place to be," C. Scott Shields posted on his Facebook page Tuesday, with the photo you see to the right.
This afternoon, Shields, the 45-year-old mayor of tiny Rutledge Borough in Delaware County, died in a skydiving accident in Monroe Township, N.J., according to the Gloucester County Prosecutor's Office. Officials say he apparently didn't deploy his main parachute and the automatic emergency chute never inflated.
Shields, a self-described "adrenalinaholic," was a staunch, red-meat Republican attorney who had challenged Philly's gun laws on behalf of the National Rifle Association. A gun-toting social conservative, his lawyerly brand of Bible-thumping drove Delco's liberal Democrats absolutely nuts. He knew how to push their buttons like nobody else.
William Bender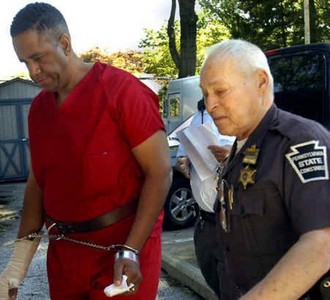 Sean Burton was either a peaceful business owner who was forced to kill in self-defense, or he was a jealous husband who hunted down his wife's lover with a global-positioning device and brutally stabbed him to death in a Springfield parking lot.
A Delaware County jury began deliberating this afternoon in Burton's first-degree murder case. Prosecutors says Burton, 43, the owner of the Final Impact car-stereo shop in Morton, used a GPS tracker and a laptop to follow Iraq war veteran James Stropas and kill him with a butcher knife last June as he got into his truck after leaving Dunkin' Donuts.
"The only reason the defendant stopped stabbing James Stropas is because the handle broke," Assistant District Attorney Stephanie Wills said of Burton, of Newark, Del. Burton was arrested minutes later at nearby Smedley Park. Police say Stropas was stabbed more than 70 times. He bled out almost immediately.
William Bender
Tensions rise around the 3:30 mark, when Darby Borough police Chief Bob Smythe arrives on the scene and gets tangled up with a Colwyn cop. The Delaware County District Attorney's Offfice is investigating the incident, which occurred Friday.
I don't know if there's any evidence of an assault here. But it doesn't look good for neighboring police departments to be feuding. That part of the county has enough problems already. Your thoughts?
William Bender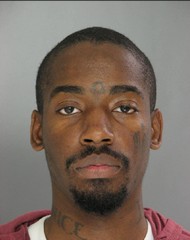 Not sure if this guy is really smart (allegedly) or really stupid (allegedly). Leaning toward the latter.
Delaware County authorities today announced the arrest of Philly resident Daryl Davis, 30, who they say stole a 2004 GMC Sierra pickup truck from a Springfield car dealership by getting a key made at another dealership in Woodbury, NJ. That's the smart part. No broken glass, car alarms and whatnot. Nice and clean.
Except police had no trouble tracking Davis down. Even though he went through the trouble of forging an owner's card to get the key cut, Davis also used his real name, photo and driver's license info, cops say.
William Bender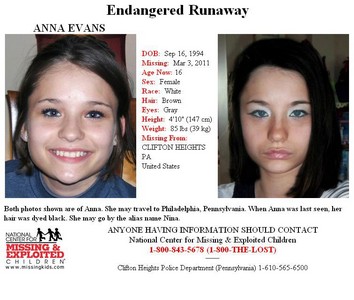 UPDATE: Anna was found this morning.
The parents of missing 16-year-old Anna Evans are asking for your help.
She ran away from her Clifton Heights home on March 3 and has not been seen since. She may be in the Upper Darby/Philadelphia area. Evans is 4-foot-10, 80-90 pounds, black hair, blue eyes, fair skin. She was last seen wearing a gray hoodie sweatshirt, black or gray skinny jeans, and possibly tan boots.
William Bender
Police have arrested an Upper Darby man who they say confessed to stoning to death 70-year-old Murray Seidman, a developmentally challenged hospital worker, because he claims Seidman was making "homosexual advances." In his interview with police this week, John Thomas, 28, cited the Old Testament in explaining the murder, police say. Seidman was found dead in his Lansdowne apartment in January.
"I stoned Murrary with a rock in a sock," Thomas told police, according to the criminal complaint.
The complaint states: "John Thomas stated that he read in the Old Testament that homosexuals should be stoned in certain situations. The answer John Thomas received from his prayers was to put an end to the victim's life. John Thomas stated that he struck the victim approximately 10 times in the head. After the final blow, John Thomas made sure the victim was dead."
William Bender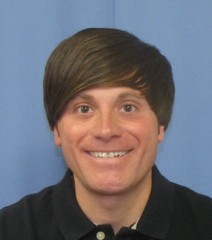 Charles Hurst, the former middle school vice principal with that creepy Justin Bieber look, has pleaded guilty to sexting teenage students.
Hurst, 37, of Lansdale, worked at Pennbrook Middle School in Montgomery County. He was arrested in September for (among other things) allegedly texting a 14-year-old male student: "Remember ur week is run, [masturbate] and read in that order! Love you - goodnight!" Police say Hurst initially insisted that his "cell phone had a virus and that inappropriate text messages were sent" because of the virus, Daily News reporter Regina Medina wrote at the time of his arrest.
He ended up pleading guilty today to two counts of corrupting a minor and one of cocaine possession. He was not charged with sexual assault. School officials say background checks conducted when Hurst was hired found no criminal or child-abuse history. Bonnie Cook at the Inquirer has more info.