Archive: December, 2011
Stephanie Farr

A former Darby Township police officer who is currently a Chester constable is accused of sexually assaulting and harassing several women, one of whom was pregnant, while he was working on duty as a cop, according to court documents.
Kevin Walker, 43, of Chester, was arrested yesterday on numerous charges including rape, sexual assault and stalking, according to the Delaware County District Attorney's Office.
In court documents, Walker is accused of stalking and harassing three women between 2010 and 2011.
William Bender
A Sharon Hill police officer was arrested today on charges of harassment, attempted assault, tampering with public records and official oppression stemming from an incident this month in which he allegedly tried to "body slam" a guy at the trolley station, among other over-the-top acts.
Delaware County District Attorney G. Michael Green says Officer Stephen Capizzi, 27, told colleagues he was going out for cigarettes Dec. 5, but ended up stopping two young males at the Sharon Hill Trolley Station, searched them and asked "where's the weed?" When a woman began saying that they weren't doing anything wrong, Capizzi allegedly grabbed her and shook her, called for backup, threw her to the ground and leaned his "entire body weight on her," Green said in a statement.
"One of the assisting officers instructed Officer Capizzi to stop, noting that the complainant was not resisting," the statement said. Capizzi then allegedly approached one of the males, slammed him against the wall and attempted to "body slam" him to the ground.
Stephanie Farr
Scrooge McGrinches continued their bah humbuggery reign in Delaware County this week by taking the steam out of Santa and stealing tip money from garbage men, according to police.
Some time overnight Sunday into Monday, a Heat Miser cut the electrical cord to a blow-up Santa doll a 41-year-old Concord Township resident had on his front lawn, according to state police. The total damages to the deflated Kris Kringle were $100 or 13.79 maids-a-milking.
Stephanie Farr
A 26-year-old man who used spyware on his cheating father, who later turned up dead, was charged with his dad's murder in Delaware County today, nearly four years after it occurred.
The Delaware County District Attorney's Office is holding a 2 p.m. news conference to discuss the murder charges against Parth Ingle for the beating and stabbing death of his father, Arunkumar Ingle, at the family's Middletown Township home on Jan. 21, 2008.
In Dec. 2008, Parth and his sister, Avnee, were each charged with computer crimes by state police for hacking into their dad's email account and placing a hidden GPS tracking unit on his car to track his extramarital affairs.
Stephanie Farr
Wanda Singleton's name, and all 31 of her aliases, are probably at the top of Santa's naughty list this year.
Singleton, 46, was caught with her hand in a cop's wife's purse when she tried stealing from the woman as a group of Upper Darby police officers and their spouses waited for a table in Center City last night to have a Christmas dinner, said Upper Darby Police Superintendent Michael Chitwood.
Chitwood said he had taken seven officers from his bike patrol unit and their guests out to a Christmas dinner at Ruth's Chris Steak House on Broad Street near Spruce, but they had a bit of a wait before being seated because the place was "mobbed."
Stephanie Farr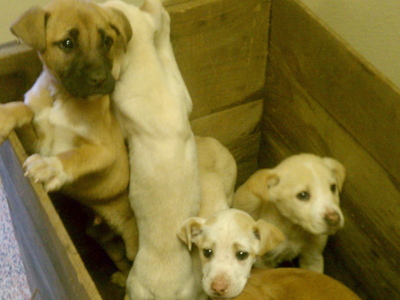 Even the Grinch wouldn't do this to Max.
Seven puppies who are no more than two months old were found abandoned in a crate on the side of Route 291 in Chester today, said Delaware County SPCA spokeswoman Justina Calgiano.
They were brought in to the SPCA shortly before noon by two good Samaritans who asked not to be identified, Calgiano said. The puppies were covered in feces when they were found, leaving SPCA officials to wonder how long they had been left out in the cold.
Stephanie Farr
A female guidance counselor at the Valley Forge Military Academy in Wayne has been terminated for "inappropriate actions" she had with two cadets Saturday night, according to a statement from the school.
Guidance counselor Symantha Hicks, who is in her 30s, is accused of supplying alcohol to the cadets and may have engaged in sexual acts with one of them, according to a source.
Radnor Police Chief William Colarulo confirmed an investigation is ongoing but declined further comment.