William Bender
Got an email last week from the Delaware County Democratic Committee, asking for a campaign contribution to help its slate of candidates this year. No, I'm not giving politicians money. I'd rather drink turpentine and piss on a brush fire. Plus, as John Baer will tell you, they already get enough free stuff (promo code: H47T).
What caught my attention was this email's subject line: "737." That's what the Republicans' voter-registration edge has been reduced to in the longtime GOP stronghold.
Delco Democrats have been saying for years that they would "soon" outnumber Republicans, but now it's actually about to happen. The most recent count shows there are 170,160 Republicans and 169,423 Democrats. Add in about 40,000 self-described independents, non-partisans and goofy-ass voters – a good chunk of which are probably liberal – and Democratic-minded voters probably already outnumber conservatives.
Stephanie Farr
Upper Darby Police Superintendent Michael Chitwood understands how someone can forget their car keys, or even their wife, but for the life of him he can't get over what happened in the township this weekend, when a father forgot his baby boy for more than 30 minutes in a locked vehicle on a day when temperatures rose in to the 70s.
"It boggles my mind that probably the most precious thing this guy has in his life is his child and how do you forget a child in a car?" he said. "You can forget your wife. You can forget your car keys. You can forget your car was running. But to forget your child?
Amir Chaudhery, 32, his wife and their 14-month-old son drove from Montgomery Village, Md., Saturday to visit family in Upper Darby, Chitwood said. Chaudhery dropped his wife off to go shopping along 69th Street and drove around looking for a parking space, with his son asleep in the back seat, according to police.
Stephanie Farr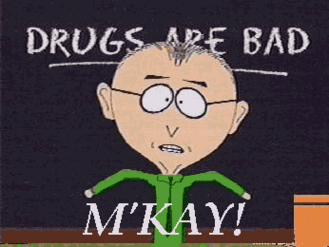 This stinks.
A Philadelphia man, Keith "Ameen" Dodson, who has allegedly sold heroin to an undercover officer in Upper Darby five times since March, had eight bags of the drug up his bum hole when police arrested and strip searched him last night, said Upper Darby Police Superintendent Michael Chitwood.
"Ameen is a true a--hole," Chitwood said.
William Bender
I love Swarthmore. Strike that. I love the press releases that the borough's police department send me. Now, I get a lot of press releases. These are among my favorite.
Today's press release from Swarthmore PD is a nice reminder that this cozy nook of Delaware County is not Philadelphia, where you might walk into the police station with your face on fire and get turned away. Also, the shootings in Swarthmore are not real.
According to Swarthmore cops, some guy parked his car in his driveway on Ogden Avenue and left it unlocked, like a whole lot of people still insist on doing. He later discovered that the car had been "ransacked," police said.
Stephanie Farr
A Parkside man who was showing his wife how to properly use a gun after the couple had been drinking lemonade and vodka for six hours was killed when his wife allegedly misfired one of the guns while handling it, according to police.
Parkside Chief John Egan said police were called to the couple's home shortly before 4 a.m. Saturday and found 43-year-old William Wanko at the bottom of a set of a basement stairs with a single gunshot wound to his upper chest, just below his Adam's apple.
He was transported to Crozer-Chester Medical Center, where he was pronounced dead at 4:21 a.m. Egan said.
Stephanie Farr
The city of Chester has marked more murders in the last two weeks than it has all year and the latest shooting killed a teenager and injured three others in broad daylight.
Around 5:44 p.m. yesterday, a person or persons opened fire on Upland Street near Rose, killing 17-year-old Jesse Burton, according to police. Also injured in that gunfire was a 16-year-old who was shot in both of his legs, an 18-year-old who was shot in his right leg and a 40-year-old man who was shot in his chest. Those three are listed in stable condition at Crozer-Chester Medical Center.
Earlier Saturday, around 3:34 a.m. on Clover Street near 9th, a 40-year-old man, whose identity has not yet been released, was shot once in the face and pronounced dead on scene.
Stephanie Farr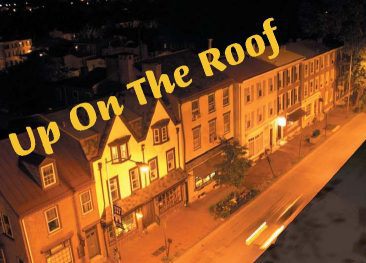 I wonder when this teen's "oh crap" moment came. You know, that moment when you realize you've been caught and there's nothing you can do about it.
Was it when the cops pulled him over and he decided to run? Was it when he realized he was stuck on a roof, surrounded by police officers? Or was it when the fire department came and he had to climb down a ladder into the outstretched arms of authorities?
This tale of teenage stupidity begins around 1:30 p.m. yesterday, when a 16-year-old was pulled over at 63rd Street near Hazel Avenue in West Philadelphia for a motor vehicle violation, according to police.
Stephanie Farr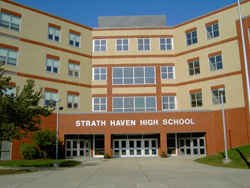 A message found in a bathroom at Strath Haven High School in Wallingford has caused all after-school activities to be canceled today, according to a message on the Wallingford-Swarthmore School District website.
Around 1 p.m., a student allegedly discovered an anonymous note in a restroom at the school that said there was a bomb in the principal's third-floor conference room.
The student brought the note to the main office and police were called to the scene, but found no suspicious devices inside, according to the district's message.