Archive: October, 2010
William Bender
One of those weird wine vending machines run by the Pennsylvania Liquor Control Board is coming to Upper Darby tomorrow. It'll be the first in southeastern Pennsylvania. Why are they weird? Because you have to blow into a built-in breathalyzer to get your booze. And if your blood-alcohol content is .02 or higher ... no wine for you! They confirm your ID by video camera.
Your thoughts?
It sounds like something out of the movie Brazil to me. Having said that, there's an outside chance that curiosity will get the best of me and I'll be at the Fresh Grocer in Drexel Hill at 10:59 a.m. tomorrow doing pushups to get my BAC below .02 so I can buy a bottle of pinot noir.
William Bender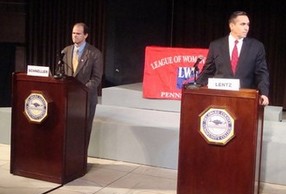 Delaware County Community College offered a free, one-hour class in Farcical Politics 101 last night by hosting the 7th Congressional District debate between Bryan Lentz and Jim Schneller.
There they were, side by side. Lentz, the Democratic state representative, and Schneller, the conservative "birther" that Lentz's folks helped place on the ballot. In what could be a very tight race, Schneller, who barely registers in polls, is expected to snag some votes from Republican frontrunner Pat Meehan, the former U.S. Attorney who backed out of last night's debate after Schneller was invited.
It was an amicable debate, as you'd expect from such a symbiotic relationship. But it was a strange bit of political theater in a high-stakes election.
About a minute before the debate began, Schneller hopped off the stage to chat with Rocco Polidoro, a Lentz supporter who was among the well-known Democrats to gather nominating signatures for Schneller. Yesterday, the Daily News ran this letter from Polidoro in which he frets that Republicans would repeal Obama's health-care reform bill if they gain control of Congress. Then, Schneller got on stage last night and said that he would vote to repeal the bill if elected to the House. Hmmm …
William Bender
If there's a Republican "wave" washing over the nation, it has yet to arrive in Delaware County's 7th Congressional District, according to a new poll out this morning.
The race between Republican former U.S. Attorney Pat Meehan and Democratic state Rep. Bryan Lentz is essentially tied, says today's The Hill 2010 Midterm Election Poll, which has Meehan leading Lentz by a single percentage point, 40-39. They're running to replace outgoing Democratic U.S. Rep. Joe Sestak.
The survey of 405 likely voters was conducted between Oct. 2 and Oct. 7. Meehan's edge is well within the poll's margin of error of 4.9 percent.
William Bender
Should drivers be fined $25 if they leave their cars unlocked? That's under consideration in Upper Moreland, whose residents, like those in so many other suburban Philadelphia towns, have not fully grasped the notion that their iPods and wallets are not safe inside an unlocked vehicle. That apparently includes two Upper Moreland commissioners. From today's story in the Courier Times:
After an outcry from some who feel the initiative would be an invasion of privacy, township police Chief Thomas Nestel, who proposed the ordinance, explained to the commissioners' public safety committee Monday why he thinks Upper Moreland needs it.
From 2008 to the present, three-quarters or more of each year's reported thefts from cars were from those left unlocked, Nestel said. This year so far, for example, thefts were reported from 81 cars, 75 percent of them unsecured. ...

Stephanie Farr
A woman was killed in Chester this morning when she was riddled with more than a half dozen bullets while riding her bicycle.
The victim, who was in her 20s, was riding along 8th Street near Sproul around 2:20 a.m. when an unknown gunman opened fire, hitting her seven times in the torso, police said. When cops arrived on the scene they found the woman still on her bike, which was lying half on the street and half on the curb, according to Capt. Stephen Fox.
She was pronounced dead on scene.
Stephanie Farr
An elderly woman had her wedding and engagement rings stolen off of her finger as she lay ill in Riddle Memorial Hospital this month, state police said.
The woman, a 70-year-old Media resident, was a patient at the hospital on Oct. 3, when around 3 a.m. two women walked into her room and took her wedding and engagement rings - which were yellow-and-white gold with diamonds - from her left finger, police said.
It was not immediately clear from a state police report whether the victim was sleeping or incapacitated at the time of the theft.
William Bender
Former CBS3 anchor Larry Mendte, now with WPIX in New York, sure has a lot to say these days about former U.S. Attorney Pat Meehan, the Republican candidate in Delaware County's 7th Congressional District race.
With Mendte's wife, former Fox29 anchor Dawn Stensland, having decided not to run in the race, Mendte is attacking Meehan with his keyboard. Last night, the hashtag-happy Mendte offered a Twitter review of last month's debate between Meehan and Democrat Bryan Lentz, linking to Lentz's Web ad featuring Meehan's lowlights of the debate.
"Maybe the worst debate performance ever," Mendte wrote of Meehan, who as U.S. Attorney approved the federal probe that led to Mendte's conviction for hacking into Alycia Lane's e-mail account. (I don't know about worst performance "ever." This 2-minute gem from Democratic state House candidate John DeFrancisco in 2008 is certainly up there).
William Bender
Someday, Colwyn Borough is going to get its act together. Not today.
The tiny borough (about 170 acres in between Cobbs and Darby creeks) has been struggling to stay afloat for the past couple years amid an ongoing Democrat-vs.-Republican, black-vs.-white political feud that just won't end.
Colwyn Fire Co. No 1 disbanded in 2008. Then council fired the borough manager after eight months on the job. Then they fired longtime police Chief Bryan Hills, sparking a large protest in support of the chief.
William Bender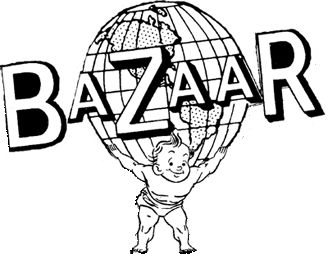 If you don't know what that question means, you're either too young to remember or didn't spend much time in eastern Delaware County back in the day.
My own memories are a bit foggy, which is why I can't wait to see "Bazaar of All Nations," the locally produced documentary that will be released next month. The tagline says it all: "Before malls, life was 'Bazaar.'"
The Bazaar, an indoor shopping center that opened in 1960, was a Delco institution. What kind of institution is open to interpretation. Unfortunately, it closed in 1993 and was demolished two years later.
William Bender
File this one under: "The cover-up is worse than the crime."
Actually, it's not a crime we have here, but a technical violation of the state House rules in Harrisburg. And maybe not even that, depending who you talk to.
Democratic state Rep. Bryan Lentz was called out today by Republican Pat Meehan, his opponent in Delaware County's bitter 7th Congressional District race, for repeatedly engaging in a mild form of "ghost voting," or voting on bills when you aren't in your seat on the House floor.