William Bender
Delaware County Republicans continue to dominate countywide politics, winning yesterday's races for county council, sheriff, register of wills and controller, despite the Democrats having the voter-registration advantage for the first time ever.
Maybe some Republicans were fired up by Newtown Township GOP leader Michael F.X. Gillin, who apparently rallied the troops with a pre-election "Dear Neighbor" letter claiming that the Philadelphia Democratic Party is attempting to "take over" the Delco government. The letter, which is basically the political equivalent of this Drexel frat bro's flag football speech (NSFW), went on to compare Democrats – some believe it's meant to refer to black Democrats in particular – to a disease that kills about half a million Americans a year.
"The Democrats are gaining strength in Upper Darby and have taken over Chester," reads the letter, which is written on Newtown Township Republican Executive Committee letterhead and concludes with Gillin's signature. "We cannot allow this cancer to enter the Courthouse."
William Bender
I'm getting sick of all this publicity surrounding Rob Ford, the crack-smoking booze hound whose day job includes being the mayor of Toronto. This guy is nothing but a watered-down, Canadian version of James "Jay" Schiliro, the cigar-chomping, OJ-drinking, possible "demon" mayor of Marcus Hook in Delaware County who is currently facing criminal charges for ... oh, one (allegedly) craaaazy night back in Februrary.
Also, they look identical. Never realized that.
Anyway, Schiliro had initially vowed to seek re-election after he was arrested, which was my favorite part of the whole story. But he later withdrew and two other, probably relatively boring guys are trying to get elected right now in Marcus Hook as I type.
Stephanie Farr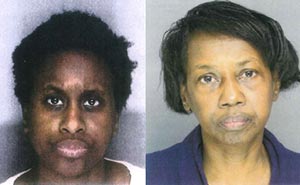 For five months, Delaware County Children and Youth Services workers tried to get into the Hardy house in Upper Darby to check on the condition of one and possibly two children inside, according to police.
But each visit, their knocks were met only with silence.
So yesterday, they went to the house on Lennox Road near Carol Boulevard armed with a court order. When they arrived, one of the two adult residents, 54-year-old Cosette Carter-Hardy, took off in her car, police said, so CYS workers called authorities for back up.
Stephanie Farr
In yesterday's Daily News cover story, I detailed how retired Philadelphia Police Inspector Leo Haley has managed to escape jail time in two separate cases involving crimes against children.
Today, Haley's luck finally ran out. This morning in Delaware County court he was sentenced to 3 1/2 to 7 years in state prison for vioalting his parole.
In the first case in 2011, Haley, now 73, received house arrest and probation from Delaware County authorities for possessing and disseminating hundreds of images of child pornography. As a result of his conviction, Haley was required to register for life as a violent sexual predator under Megan's Law.
William Bender
If something feels a bit different in Delaware County when you go to the polls next month, here's why: Democratic voters now outnumber Republican voters in the longtime GOP stronghold. For the first time ever.
The Democrats' new registration edge is only 664 voters, but we're talking about a place where the last time a Democrat beat a Republican in a countywide race, booze was still illegal. It was the 1933 sheriff's race and – oh, who cares?
Anyway, things are changing in Delco and the other suburban counties. I've been monitoring these changes for the past decade, since I covered politics at the Delaware County Daily Times, prior to arriving at the Daily News. Gotta admit, it took longer than I'd expected for the Democrats to gain a registration advantage. But, here we are.
Stephanie Farr
A 26-year-old man was stabbed in the stomach by his uncle for intervening in a fight between his uncle and his grandmother early Saturday morning in Upper Darby, according to police.
Officers responded to a disconnected 911 call around 3 a.m. on Clinton Road near Crosley Avenue and were met by Leslie Pettis, 39, who told police that he'd had "a little fight" with his nephew, said Upper Darby police Superintendent Michael Chitwood.
However, when police made their way in the house, Pettis' nephew was found bleeding from a stab wound to his stomach. He was rushed to the Hospital of the University of Pennsylvania in critical condition, but has since been upgraded to stable.
Stephanie Farr
While people in some areas of the country are pushing toward arming their teachers, I'm looking at you Arkansas and Texas, one Delaware County teacher was arrested last week for bringing a weapon to school.
Substitute teacher Amos Hyman was arrested at the Toby Farms Elementary School in Chester Township last Friday and was charged with possession of a weapon on school property and prohibited offensive weapons for having a switchblade knife in his bag, according to his arrest affidavit.
Chester Township police were initially called to the school for reports of a person with a gun. Students at the school believed they had seen Hyman, 53, with a gun and had reported what they thought they saw to a school security officer, police said.
Stephanie Farr
There's no pussyfooting around this crime - a Kitty Kat who stole a cell phone from Costco in Concord Township today was collared after fleeing the scene and becoming involved in a hit and run crash, state police said.
According to a press release from state police in Media, Kitty Kat Miller, 31, of Anaheim, Calif., stole a $250 cell phone from the Costco on Evergreen Avenue around noon and then fled to the Granite Run Mall, where police spotted her vehicle.
When a state trooper tried to initiate a traffic stop at the mall, Kitty Kat allegedly led him on a chase, which was eventually terminated by police due to safety concerns.