Stephanie Farr
A 66-year-old Vietnam veteran, former cop, former prison warden and former Darby Borough Council president was shot in the face by a stray bullet while he was driving on the streets of Chester Monday afternoon.
Although Nick DiGregorio was released from the hospital yesterday, he said the bullet remains lodged in his left cheek.
"I don't think it's really hit me altogether yet but another couple inches the bullet would have hit my throat, or my brain or my heart," DiGregorio said in a phone interview today. "I don't think I really feel the magnitude of what happened yet."
Stephanie Farr
Several officers from the Upper Darby Police Department and their scumbag-hating chief, Michael Chitwood, will host the department's first ever "Coffee with a Cop" from 10 to 11 a.m. tomorrow at the McDonald's on State Road near Lansdowne Avenue in Upper Darby.
Coffee with a Cop is a national program that was started in 2012 by officers in Hawthorne, Calif., who wanted to open the lines of communication between citizens and police officers. Since then, more than 175 departments in 36 states have adopted the program.
"It's kind of like a meet-and-greet," Chitwood said. "It allows a relaxed and informal one-on-one interaction between the police and community members."
Stephanie Farr
A jogger in Radnor yesterday afternoon gave a whole new meaning to the phrase naked ambition.
Around 4:15 p.m., Radnor police started receiving 911 calls about a man who was running stark naked along Church Road, said Lt. Andy Block.
When police responded they found the 30-something man completely nude and running down the road without shoes on, said Block.
Stephanie Farr
"He's only 3."
Those words, spoken by 3-year-old Brayden Chandler's grandmother, Dolly, keep going through my head this morning. Word came in late last night that little Brayden, who received a massive multi-agency police escort from the airport to his home in Springfield last month, died yesterday following his battle with cancer.
It doesn't make sense.
William Bender
Delaware County's Heroin Task Force is urging people to avoid the drug stamped "Black Dahlia," which is sold in a small blue packet like heroin, but is actually pure Fentanyl, a powerful synthetic opioid.
A tad too much and you might as well call your own hearse before you nod off for good.
Dr. Fredric Hellman, the county's medical examiner, said toxicology results returned yesterday indicate that the recent death of a 30-year-old Marcus Hook woman was cause by injecting Black Dahlia.
Stephanie Farr
Yesterday, I lamented that Delaware County was the only Philly suburb not mentioned in this story on where the wealthiest of the region live.
Delco often gets painted as the blue-collar suburb but what it lacks in wealth it makes up for in heart. Remember this story about how Delco cops led a massive police escort for Brayden Chandler, a 3-year-old Springfield boy who is battling terminal kidney tumors?
That showed Delco has a wealth of people who give a damn, and that's more important than any dollar figure.
Stephanie Farr
Upper Darby residents who found a 2-year-old girl running naked down their street yesterday called police, who discovered that the girl and her three brothers - ages 3,6 and 8 - had been left home alone, said police Superintendent Michael Chitwood.
When police arrived on scene at Clover Lane near Church, neighbors pointed officers to a house the little girl had run into, Chitwood said. A 6-year-old boy answered the door and cops found the 2- and-3-year-old children inside. The 8-year-old boy arrived home a short time later, police said.
Police called the children's mother, Christina Staley, on her cell phone. Staley, 32, claimed to have been out shopping for food and medicine but when she returned she had neither in her possession, Chitwood said.
William Bender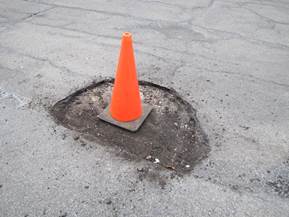 Delaware County council is planning tomorrow to announce a grant program called Operation PAT (Pothole Assistance for Taxpayers) that will help municipalities fix snow-ravaged roads by diverting cash from the Liquid Fuels Funds.
Sounds like a good idea. But the announcement itself could be legendary.
County officials plan to gather around a "pizza-sized pothole" in Ridley Park tomorrow afternoon for the press conference at Thayer and Barker streets. Reporters are being told to "go left onto Thayer and park at the pothole."