Stephanie Farr
A Philadelphia man who was at the Delaware County Courthouse to face charges of aggravated assault last year conned another defendant's girlfriend into believing he was an attorney and ran off with $1,300 of her money, according to the Delaware County District Attorney's Office.
Kyle Arnold, 42, has been charged with theft and receiving stolen property in relation to the March 31st incident.
According to prosecutors, the female victim was at the courthouse for her boyfriend's case and while there met Arnold, who told her he was a lawyer and that he'd represent her beau.
William Bender
This is Jason Morgan. He was in my grade at Cardinal O'Hara High School and the goalie of our hockey team.
Now he's the face of Giorgio Armani. Whatever.
At least they went with a Delco guy. That's how I see it. I got a lot going on right now, ya know? So I just wouldn't have the time to be doing all this anyway. It's a real commitment.
Stephanie Farr
An Upper Darby police officer is under investigation for allegedly stealing items from the department's evidence room, a spokeswoman for the Delaware County District Attorney's Office confirmed.
The District Attorney's Special Investigation Unit is conducting the independent investigation of the officer at the request of the police department, said Emily Harris, D.A. spokeswoman, but she declined to detail what items are believed to have been stolen. Upper Darby police asked the District Attorney's Office to conduct their own investigation on Friday.
A report on 6ABC's website said the 15-year veteran cop is believed to have to stolen cash and drugs from the evidence room and that he checked himself into rehab once he learned of the investigation into his alleged actions.
Stephanie Farr
A would-be robber carrying a replica gun was shot and killed by the man he tried to rob in Cobbs Creek Park on Wednesday afternoon, according to police.
Upper Darby police Superintendent Michael Chitwood said the 67-year-old victim was walking in the park when he heard someone behind him and turned around to find a masked man pointing what he believed was a gun in his face.
The victim grabbed the robber's gun and the two struggled, police said. As the victim felt himself falling back, he pulled out his legally-owned weapon, for which he has a concealed carry permit, and shot the robber one time, Chitwood said.
Stephanie Farr
An elderly Havertown doctor and his secretary handed out oxycodone prescriptions like candy and even taped the prescriptions to the office door when the business was closed, according to the Delaware County District Attorney's Office.
Steven Friedman, 74, of Newtown Square, and Margaret McGowan, 78, of Broomall, face numerous charges of illegal administration and distribution of drugs under the Controlled Substances Act for handing out prescriptions of oxycodone out of their office on West Chester Pike near Country Club Lane in Havertown without conducting physical exams, authorities said.
Police began an undercover investigation into the office in June. When an undercover officer approached the secretary's desk for the first time, McGowan asked his name and asked if she'd ever written him a prescription before, according to the affidavit. The undercover provided a false name and told McGowan she'd previously written him a prescription for oxycodone.
Stephanie Farr
A failed robbery attempt on an Upper Darby man led police to the victim's apartment, where they found him in possession of three pounds of marijuana, packaging material and $1,200, police said.
Last night around 8:20 p.m., Kenneth Jeffcoat, 35, was driven to Delaware County Memorial Hospital by his wife, Alicia, because he had a gunshot wound to his left leg, said Upper Darby police Superintendent Michael Chitwood.
Hospital staff called Upper Darby detectives, who interviewed the couple, Chitwood said. The pair gave conflicting statements about what occurred and then stopped cooperating, according to police. Kenneth Jeffcoat allegedly told officers he was approached by two men who mumbled something he was not able to hear and then they shot him in the leg.
Stephanie Farr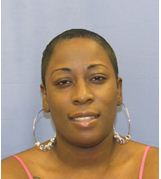 A cold-hearted Upper Darby mother punished her intellectually-disabled son last week by locking him outside in freezing temperatures for five hours, according to police.
Upper Darby police have a warrant out for the arrest of Karima S. Tolbert, 34, of Hartley Road near McKinley Avenue, for recklessly endangering another person.
According to Upper Darby police Superintendent Michael Chitwood, police responded to a report of a domestic disturbance at Tolbert's house around 12:15 p.m. Jan. 7.
William Bender
Upper Darby police are searching for a third man who was involved in what Superintendent Michael Chitwood described as a brutal "wolf pack" robbery inside 69th Street Terminal on Christmas morning.
The 48-year-old victim was returning from work and waiting for the bus around 1:40 a.m. Thursday when three males approached him and demanded his SEPTA TransPass, according to police. They punched and kicked him and threw him down the steps.
"These guys were at the terminal for one reason only, to rob and steal something," Chitwood said.