Patchwork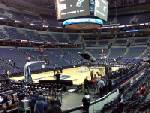 At this point, you almost want to take a win like this, put it in your pocket, and just walk away. Afterall, the Washington Wizards are 4-20. Take the win, bump the record to 12-14, and look ahead to tomorrow night's game against the Indiana Pacers and then the grueling start of a West Coast swing that begins before Christmas against the Celtics. (I recognize this isn't the start of the swing, but, mentally, it's the beginning of it ...)
Patchwork

At this point, you almost want to take a win like this, put it in your pocket, and just walk away. Afterall, the Washington Wizards are 4-20. Take the win, bump the record to 12-14, and look ahead to tomorrow night's game against the Indiana Pacers and then the grueling start of a West Coast swing that begins before Christmas against the Celtics. (I recognize this isn't the start of the swing, but, mentally, it's the beginning of it ...)
But what came from tonight's 109-103 win in Washington D.C.? A lot of the usual, some of the ususual. Let's look at both. First, the usual.
1.) Andre Iguodala. Tonight's game is similar to how he's played all season. Starts off shooting 3 for 3, then goes 1 for 6. He can't keep that shot consistent over 48 minutes, but he finishes with 18 points, nine rebounds, and four assists. I think if any player represented the Sixers overall effort tonight, it was Iguodala: He scrapped together 18 points on four field goals and nine free throws. He took a couple of bad shots, but mostly just ran around the court trying to get a win.
2.) Samuel Dalembert. It's hard to explain, at this point, why Sammy's sitting on the bench. You can't say it's because there aren't enough minutes. Heck, Elton Brand's 35 minutes are floating about. I know he picked up two quick fouls, but 11 minutes, 53 seconds for the starting center? He only finished with three fouls. That's not what kept him off the floor in the second half.
3.) Marreese Speights. I know, you might be thinking, it's USUAL for Speights to score 17 points? No, technically that's not usual (it is his career-high afterall). But I put forth that this is what Speights would do every night, if he played 20-plus minutes every night. I don't think we saw anything unusual from Speights, except that he got enough minutes to do his thing.
Now, for what's ususual.
1.) Lou Williams. I don't think it's unusual for Lou Williams to be a factor off the bench, I think it's unusual for Williams to carry the Sixers from off the bench. 26 points? Career high. Fadeaway three-pointer from the corner? Check. Nice dishes to Speights in transition? Check. Four three-pointers? Check. Without Lou tonight, the Sixers don't win this game.
2.) Kareem Rush. Before the game new head coach Tony DiLeo said the only thing keeping Rush from contributing was an opportunity. And DiLeo promised to find Rush an opportunity. Rush hit two 3-pointers tonight and finished 2 for 3. One of his treys, as DiLeo mentioned post game, pushed the Sixers to within four points in the second half. It was an important three. Now, I did notice that defensively Rush didn't exactly put the clamps on his defender, but these things happen when you haven't gotten any run lately. Rush's productivity leads to unusual point numero three ...
3.) 9 for 21 from beyond the arc. I refuse to say anything more about this than one word: unusual.
What the Sixers did tonight was patch together a win against a not-very-good NBA team. That's what happened. And that's what they need to do, as often as they can, over the next month while Elton Brand is rehabilitating his right shoulder. There are people who believe this team is better without Brand, but, as columnist Bob Ford wrote yesterday, that is merely a sugar high. It's fun to watch this run-and-gun style, but they do need Brand as a solid half-court option.
--Kate
p.s. The photo is of the cavernous Verizon Center, located in downtown Washington D.C. at the corners of F and 6th Streets.