New Orleans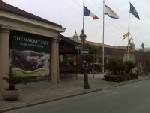 News blogs, sports blogs, entertainment blogs, and more from Philly.com, The Philadelphia Inquirer and the Philadelphia Daily News.
New Orleans
Here are a few photos I promised. Fear not basketball junkies, there are a few hoops ones sprinkled into the mix. If you're looking for strictly X's and O's about tonight's game against the New Orleans Hornets, check out my blog from early this afternoon. Should be right before this slideshow.
I call this photo essay "New Orleans" ... and I remind everyone that I claim no photography skills.
--Kate