NBA, union break off talks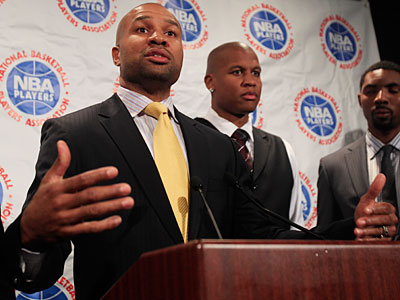 To follow Live from NYC, click here: Deep Sixer.
NBA, union break off talks

To follow Live from NYC, click here: Deep Sixer.
The NBA and the union have ended their bargaining session here in New York after making very little progress. Federal mediators were involved in the talks, but after about 5 1/2 hours of negotiating today (and about 30 hours over the last three days), the two sides became stuck on the split of revenue and decided they were going nowhere.
Each side had a very different perspective on what happened inside this New York hotel. And it's very possible that tonight -- the rhetoric and anger -- has set this bargaining process back an indefinite length of time and money.
The two sides have not set a date for their next meeting. NBA deputy commissioner Adam Silver, speaking alongside San Antonio Spurs owner Peter Holt, side the two sides were "very far apart" on pretty much all of the important issues, thus leading to both sides halting the session. NBA commissioner David Stern was not in attendance because he was sick with the flu, but Silver said the owners were in contact with him throughout the session.
Holt likened the ongoing, lengthy meetings as "banging our heads against one another" and said both sides agreed fresh air and fresh thoughts were necessary if they were going to ever close the gap.
Silver said tonight's talks broke down when it became apparent that the NBA was unwilling to go above a 50-50 split of revenue (at this time), while the union only came down from an offer of 53-47 to an offer of 52.5-47.5. Once it became clear that the BRI was still the major issue, and no progress was being made, the two sides decided not to continue meeting or negotiating at this time.
Silver said the NBA will not cancel additional games tonight. (But with no additional meetings scheduled, those additional cancelations are clearly on the horizon.)
The union spoke a few minutes after the NBA, and union president Derek Fisher called Silver's statements "lies." Fisher and union chief Billy Hunter, along with attorney Jeffrey Kessler, maintained a very different version of Thursday's events. It would be accurate to characterize the union as frustrated, bordering on angry. The gloves, as they say, came off.
Hunter said that the NBA owners told the union that unless the union accepted a 50-50 split of revenue, there was no reason to continue negotiating. Hunter characterized this as a "pre-condition," saying the NBA made it clear that there would be no further bargaining unless the union accepted a 50-50 BRI. Hunter and Kessler said that federal mediators encouraged them to remain at the bargaining table, but essentially no negotiating was done during the 5-plus hours. Hunter said he asked the owners to "park" the BRI issue and continue negotiating the system issues, but the owners maintained their stance: accept the 50-50, take it or leave it, no further bargaining until you do.
Kessler called it a "sad day" and said he believed something happened at last night's Board of Governors meeting, suggesting that owner Paul Allen rallied his troops to take a harder stance on what the owners feel is a necessary, crucial overhaul to the current system. Kessler says the owners came into today's session with a "mandate" and then refused to negotiate.
Silver and Holt made reference to wanting a system similar to that of the NHL (hard cap), while Hunter said there was "no way in the world" the NBA players would ever agree to such a system.
And the beat goes on.
--Kate
---
Each week, Kate will check in from the road and answer fan questions about the Sixers. Click here to ask Kate a question or e-mail her at kfagan@phillynews.com.