Four 76ers on All-Star Ballot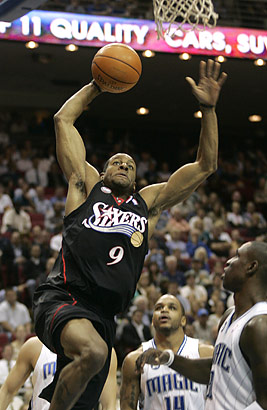 The NBA today announced the official ballot for this season's All-Star game, to be held Feb. 15 at US Airways Center in Phoenix, Ariz.
Four 76ers on All-Star Ballot

The NBA today announced the official ballot for this season's All-Star game, to be held Feb. 15 at US Airways Center in Phoenix, Ariz.
The ballot includes 60 players from the Eastern Conference, 60 players from the Western Conference.
Last season, the Sixers were the only playoff team without representation at the All-Star Game.
Will it change this season?
Here are the four Sixers on the ballot: Elton Brand, Samuel Dalembert, Andre Iguodala, and Andre Miller.
Here are their numbers:
PF Elton Brand: 14.7 points, 11.8 rebounds, shooting 46.1 percent from the field.
C Samuel Dalembert: 7.7 points, 10.8 rebounds, shooting 47.6 percent from the field.
SG Andre Iguodala: 11.0 points, 5.3 rebounds, 4.8 assists per game, shooting 37.7 percent from the field, 18.8 percent from three.
PG Andre Miller: 13.7 points, 5.7 assists, 3.7 rebounds, assist-turnover ratio is 34/8, shooting 38.6 percent from the field.
The NBA All-Star balloting will officially begin on Thursday, Nov. 13 in NBA Arenas, on NBA.com and through mobile phones.
The ballots include 24 guards, 24 forwards, and 12 centers. Voters pick two guards, two forwards, and one center from each conference. A panel of basketball experts selected the 120 players represented on the ballot.
Okay, so that's the nuts and bolts information. I don't think any of the 76ers, with the way they are currently playing, will make the All-Star Game. But we're only six games into the season and things have a way of changing.
For whom will you vote?
The bigger question: Where is Thaddeus Young? He leads the Sixers with a 16.5 average, 4.3 rebounds and 47.8 percent shooting beyond the arc.
Tonight's Game: Sixers (2-4) vs. Jazz (5-1)
Probable starters:
Sixers: Miller, Iguodala, Thaddeus Young, Brand, Dalembert
Jazz: Carlos Boozer, Ronnie Brewer, Ronnie Price, C.J. Miles, Kosta Koufos
Note: Utah guard Deron Williams is doubtful due to a left-ankle sprain.
Tonight's game is important for the Sixers, who have been off since Thursday night's loss to the Orlando Magic. The Sixers have said they are working out the kinks in their offensive spacing.
If the Sixers accomplish these three goals, I believe they will win tonight. ("If" being the key word.)
1.) Have 12 or fewer turnovers. Through six games, the Sixers have 110 turnovers (compared to 75 for opponents). That's an average of 18.3 a game. That's a high number for a high school team, which the Sixers are not. This isn't just a number, the number reflects offensive discord, lack of rhythm and player confusion. If the Sixers limit to 12 or fewer turnovers, that means they are running a smoother offense and getting more shots.
2.) Shoot 40.0 percent from the three-point line. We know the big talk this week has been spacing the floor for Elton Brand. Head coach Maurice Cheeks put taped X's on the practice court to ensure the weak-side spacing did not crowd each other, or Brand. Currently, the Sixers are shooting .38.4 percent from beyond the arc. That's strong (last season they were 31.7 percent). But in games they have lost (like against the Raptors) they shot 5 for 20. Specifically, Lou Williams (5 for 17) and Kareem Rush (4 for 9) need to make a couple of threes.
3.) Score 20 fast-break points. The Sixers need easy baskets. Last season, this team reached the playoffs by running the lanes, forcing turnovers, dunking in transition, etc. Through six games, that game has been sporadic, at best. Tonight, the Sixers need defensive pressure to get Miller and Williams in the open court. Both those guys are best in transition, and aren't as effective in half-court sets.
Those are my three keys to the game ...
--Kate