Archive: September, 2011
After today's five-hour bargaining session at a Manhattan hotel, the NBA Player's Association held a press conference. Player representative Derek Fisher was flanked by more than a dozen NBA stars, including the 76ers' Andre Iguodala. After Fisher answered questions -- the two sides don't have a deal, no formal proposals were made, they'll meet again tomorrow morning -- we caught up with Iguodala to ask him his thoughts about the labor situation.
Did anything that took place today switch things for you?
"It's pretty much the same: we're just negotiating. Like Derek said before, nothing was set in stone as far as any movement on any specific proposals either side made. Nothing was written in stone. Just a lot of ideas out there."
This is basketball without the NBA: an overheated Palestra filling with thousands of fans.
At 6 p.m., the "Battle for I-95" will tip off inside The Palestra on the University of Pennsylvania campus. Right now, there are two players warming up on the court: Team Philly's Lou Williams (76ers), Jason Thompson (Sacramento Kings). We know that Carmelo Anthony, LeBron James, and Chris Paul of Team Melo are already in Philly because all of them were spotted on the Eagles' sideline this afternoon at Lincoln Financial.
Here's what we know for sure (we're not yet ruling out a surprise appearance by Allen Iverson). Team Philly: Lou Williams, Jason Thompson, Lynn Greer, Ronald Murray, Wayne Ellington, John Salmons, Aaron Owens, Hakim Warrick, Tyreke Evans, Markieff Morris, Marcus Morris, and Kyle Lowry. Team Melo: Anthony, James, Paul, Kevin Durant, Gary Neal, Donte Green, and Josh Selby.
SI.com, Sports Illustrated's website, will stream real-time video of Sunday's "Battle for I-95" at the Palestra. The charity basketball game features 16 NBA players, including stars LeBron James, Carmelo Anthony, Kevin Durant, and Chris Paul.
The game is scheduled to begin at 6 p.m. on Sunday and pits "Team Melo" against "Team Philly." The Philly side includes 76ers combo guard Lou Williams, former Chester star Tyreke Evans, Hakim Warrick, The Morris twins, Kyle Lowry, and others. Team Melo includes Anthony, LeBron, Durant, and Paul, making them the heavy favorites.
The game is not scheduled to be broadcast on TV, meaning SI.com's live production is -- as of now -- the exclusive stream of the event.
As the days creep closer to Sunday's anticipated "Battle For I-95," it's only natural that rumors would begin to swirl.
The latest rumbling is that former-76ers guard Allen Iverson may join Team Philly as they take on Team Melo at the Palestra. One of the most popular athletes in city history, Iverson will be in town Saturday night to host "The Return", a VIP event at the Vault Ultra Lounge at 460 N. 2nd Street, near Christopher Columbus Blvd.
When reached by The Inquirer's Kate Fagan, game organizer Rahim Thompson said "no comment." He also tweeted that response when asked by someone else. Iverson has the same agent, Leon Rose, as fellow game participants Carmello Anthony, LeBron James and Chris Paul. Rose' receptionist said she had no information on that matter and directed an inquiry via email.
You know things are dire when I'm linking articles from New York City Fashion Week. I apologize in advance, but it's actually somewhat interesting and gives you an idea what some of the players (in this case Andre Iguodala) do with their down time. Dre is especially involved in fashion, as anyone who watches Comcast's post-game reports knows. I've never seen him wear the same thing twice. This week he was in Manhattan for the Simon Spurr Spring 2012 show. Here are the details from upscalehype.com: Dre in NYC.
Hard hitting journalism, I know.
Here's something a little more important in terms of the pending NBA season: yesterday's bargaining session in New York between the NBA Player's Association and team owners. Yeah, on the surface it didn't go so well. But maybe there was more progress made than we think? Some of you have emailed asking for details about what's the biggest sticking point in the negotiations. I'll say upfront that I think some lawyers/business insiders/expert lockout writers have done an awesome job outlining the major issues. You can find one such article here: NBA lockout details.
As the Team Melo received a shot in the arm on Monday night, Team Philadelphia is still without one of the area's all-time basketball talents, Kobe Bryant. The game's brain trust, Hakim Warrick, said calls have been put out to the Lower Merion product.
"I think he may have other obligations, but we're definitely reaching out to him," said Warrick, who has spent the majority of his summer in Philadelphia. "I know to have him there would be big for the city."
Growing up in West Philly, Hakim Warrick lived in the shadows of the Palestra. But, the future national champion and first round draft pick never played an actual game at the Penn's historic gym. He'll finally get his chance on Sept. 25 when the Team Philly vs. Team Melo game rolls into town.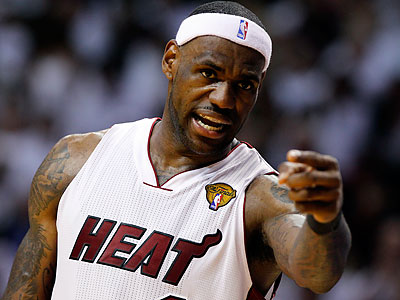 As covered in an earlier blog post (you can find all of that information here: exhibition game) a game between "Team Philly" and "Team Melo" is scheduled for Sept. 25 at 6 p.m. at The Palestra. The game already included all-NBA rosters for both sides, plus Carmelo Anthony, plus 76ers combo guard Lou Williams, plus a bunch of solid NBA names.
Now it includes LeBron James, Chris Paul, and Kevin Durant -- four of basketball's biggest names (including Anthony) will be playing in Philly in two weeks.
Tickets for the game will go on *pre-sale tomorrow (Tuesday). For more information email Rahim Thompson at contact@thechosenleague.com*. Prices are currently set between $30 and $50. The game will be broadcast on the web on The Basketball Channel.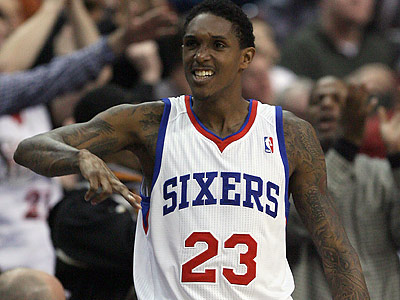 While the NBA player's association and owners negotiate the next collective bargaining agreement, a star-studded basketball game has been arranged -- Team Melo vs. Team Philly -- for later this month at The Palestra on the UPENN campus.
The game is set for Sunday, Sept. 25 at 6 p.m. Tickets will be $35 for 200-level seats and $50 for 100-level seats. Tickets will be available online and at the Palestra box office starting Tuesday.
Rahim Thompson, who in 2002 founded a basketball league in Philly called "The Chosen League", organized the event and released the details on his Twitter account, @RTChosenLeague.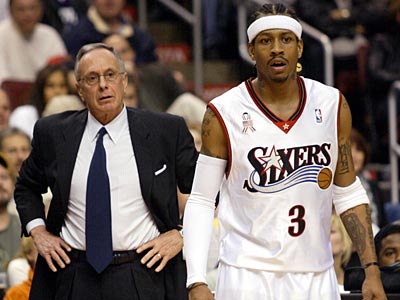 I was in Boulder, Colorado on Sept. 11, 2001.
What follows below are a few personal accounts from 76ers' personnel about that day, the 10-year anniversary of which – as we all know – is Sunday. Much of the team's current coaching staff was beginning its first year with the Washington Wizards. Current general manager Ed Stefanski was working for the New Jersey Nets. Comcast-Spectacor's Peter Luukko was involved with both the Flyers and the Sixers. It's not particularly important where I was, except it's somewhat therapeutic to recall the tiny details of a moment that touched as all.
I was a junior at the University of Colorado. On Monday night, Sept. 10, I stayed up late to watch the season-opening game of Monday Night Football: the New York Giants vs. the Denver Broncos. At first, I thought I'd remember this game because Denver wide receiver Ed McCaffrey (a local favorite in Denver and a former New York Giant!) suffered a broken leg in what was a horrific collision going across the middle. The next morning, we had a 6 a.m. agility workout – that year we had early workouts every day of the week. I had the agility workout followed directly by an individual workout, which I didn't mind because that meant by 8 a.m. I was done with that day's workouts. After the first workout, which would be about 7 a.m. mountain time, 9 a.m. eastern, one of my assistant coaches mentioned that a plane had inadvertently crashed into the World Trade Center. We were tying our sneakers and taking some shots before the basketball drills started. A few minutes later – I'm not sure if she was looking at her smart phone, I don't remember the extent of the technology then – this same coach upgraded the situation in New York.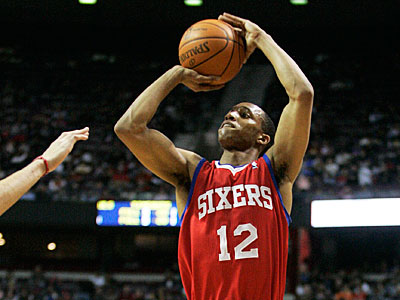 Evan Turner, the 76ers soon-to-be sophomore guard/forward, has spent this summer splitting time between Philadelphia, Chicago, and Columbus. He also met his teammates in Los Angeles the weekend before last and traveled to China for his shoe company, Li-Ning. In the middle of all of that, Turner has been working on his jumper with local shot doctor and Hall of Famer, Herb Magee. If you missed our blog post earlier this summer about the X's and O's of this "shot tweaking," you can find that here: Evan's guide hand.
ET was kind enough to give me a call from Chicago, where he's working out this week (and maybe next) with Sixers' swingman Andre Iguodala. What's new with Turner? He wants the ball. He's confident. He's ready for this season. He says he's more explosive. Basically, it sounds like the worst thing that could happen to Turner this year is a lingering lockout. During his rookie season, Turner played in 78 games and averaged 7.2 points and 3.9 rebounds in 23.0 minutes a game. Those numbers were, well, disappointing for many Sixers' fans because Turner was the No. 2 overall selection in the 2010 NBA Draft. But the franchise believes that Turner is going to make a significant leap from that rookie season performance.
Here goes.