Archive: September, 2010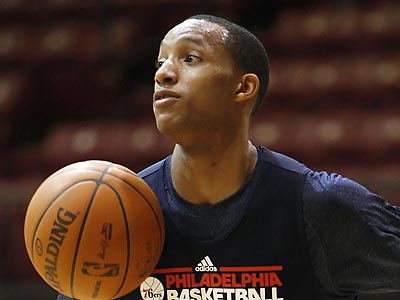 The NBA season comes so quickly, and with so little preseason camp, that even a scrimmage on the second day of camp is worthy of analysis. We've talked about a lot of items already – Spencer Hawes' passing ability, Elton Brand's slimmer physique, Jrue Holiday's skyrocketing potential – but there are still so many holes to fill in as 76ers coach Doug Collins works to make this 27-win team something much better.
It wasn't much, but we watched about the last 15-20 minutes of the team's night scrimmage on Wednesday. We're just beginning to form answers to some major questions – will Evan Turner make an impact? What kind of offense is Collins running? Who looks good right now? – and Wednesday night provided a solid amount of information.
Plus, it's the best we can do right now.
Collins had the team broken into a Blue Team (by all accounts the first team) and a White Team. Here were the sides:
Blue: Jrue Holiday, Andre Iguodala (not playing, resting due to USA), Jason Kapono, Thaddeus Young, Elton Brand, Spencer Hawes, Darius Songaila, and Chris Quinn.
White: Lou Williams, Evan Turner, Jodie Meeks, James Florence, Marreese Speights, Craig Brackins, Andres Nocioni (not playing, ankle), Trent Plaisted, and Tony Battie (not playing, right knee synovitis).
Not surprisingly, the blue team dominated and won the scrimmage by about 10-15 points. Some of the key takeaways from watching:
1.) When we walked into the gym, Turner was matched up against Holiday. Now, let me preface the rest of this section by saying, again, that we only watched this last section of the scrimmage. In talking to assistant coach Aaron McKie afterwards, he said Turner did well off the pick-and-roll and hit a couple of three pointers/a few outside shots. McKie said Turner is exactly where the coaching staff wants him. In the section we watched, Turner did not score and he had trouble with Holiday defending him. He just could not shake Holiday, either while he had the ball, or in trying to get a handoff back on the elbow, or in trying to free himself on the wing.
We've been hearing from Collins all week that Turner is "hard on himself," and you could see some of that coming through in his frustration with not being able to get open or get past his man. Again, it's so early, and perhaps the rest of the scrimmage was more productive. Lou, who was often running the backcourt with Turner, seemed to be making an extra effort in explaining certain offensive items to Turner. In the segment we watched, Turner brought the ball down the floor.
2.) A few people, and some on Twitter, have been calling for a Jodie Meeks update. Well, here it is. The guy can shoot! He made about three long three-pointers while we were watching. When Meeks came to the team at the trade deadline last season, he struggled in his first few games. Towards the end of the year, he was making almost every shot. It was tough to gauge if that was something we'd see more of, or if that was just bad end-of-season NBA defense. Ok, so it's too early to say for sure, but he looked darn good in the scrimmage. The good thing with Meeks is his long-range shot is difficult to stop because his release is quick, he can jump, and his range is so deep. Realistically, Meeks isn't battling for a starting spot, but he looked very much like a guy who could play solid minutes and drain shots like he did at the end of last season.
For that matter, let's toss Jason Kapono into that mix as well. Those were the two peripheral guys that stood out the most in the scrimmage (yes, Holiday looked good, and we could post another blog entirely about what the PG has going for him). Kapono hit two three-pointers and looked more like the player the Sixers thought they had last season.
3.) Just to get a little bit into the offense, as best we can from that quick glance, here are a few samples of what happened during the scrimmage. We've been talking about the "cluster" movement/action on the midblock. It appears the cluster is a three-man read for the point guard, with the action happening between a post and two wings/guards. Early in the scrimmage, here's what happened: Darius Songaila was the big man, with Kapono and Thaddeus running the reads off of Songaila. Kapono's read was first and he took his man back door, cutting towards the rim and then (when he didn't get the ball) clearing out to the weakside. Thad popped out off Songaila and caught the ball on the left wing, which seemed to trigger a pick-and-roll play with Thad and Songaila. Thad penetrated baseline, drew the defense, and found Kapono wide-open on the weakside baseline. Kapono nailed the three. Tough to say how much of that was within the offense and how much was freelance.
On another occasion, the blue lineup was Chris Quinn at point guard, (Perhaps we'll talk later about how Quinn actually wouldn't be a bad addition to this team), Kapono at shooting guard, Young at small forward, Brand at power forward, and Hawes at center. The play was called "Stack" and Quinn brought the ball to the right side, where he and Hawes ran a pick-and-roll. While that was happening, Kapono and Young were running their "cluster" cuts off EB on the mid-lane/block area of the left side. That's the basic framework of the set.
You could see how with a complementary pair running the cluster set (i.e. a shooter and a slasher) it could work quite nicely. If Kapono is making the first read off of EB, he's going to force EB's defender to help in one way or another. Then, right off his heels, Thaddeus or Iguodala can take advantage. If the order is reversed, same thing happens, except it's Kapono freeing himself for a nice jumper.
OK, we're getting ahead of ourselves. But it was good to see some of the sets – and new players – in action. This team is five days away from playing the New Jersey Nets in the first preseason game. As far as importance, the game is totally meaningless, but as the preseason schedule wears on – especially in the last two games of preseason – it's going to be a clear indication of where this team is headed. Collins has used the word "connectedness" to convey how his team – without a real superstar – will need to play this season if it's going to compete for a playoff spot. Even in a preseason game, you can sense whether the team is building that connection. As Collins often says, "you can't fake that."
Sixers have only one practice today, a night session at St. Joseph's. If you want more updates on Twitter, click here:
Deep Sixer
.
--Kate
Can Jrue Holiday take a big leap in his second season? The Inquirer's Kate Fagan answers that question in today's video.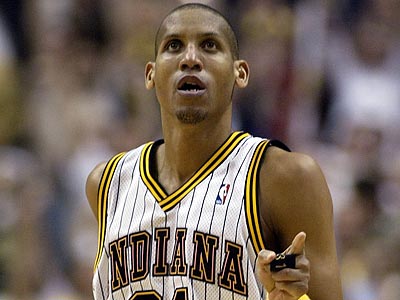 The 76ers just finished their morning practice here at St. Joseph's University. Practice was scheduled to run from 10 a.m. to 1 p.m., but Sixers coach Doug Collins cut it short a little before noon. Usually we're in there for about 30 minutes watching a few drills and getting a feel for who's playing where and what sets are going to be used. That's not the case today, so we'll have to wait for a more in-depth update later, but here's the news from the morning session:

Reggie Miller was at practice. It looked like he was shooting some video for NBATV and Collins had Miller teach a few pointers for an offensive set that Miller ran effectively and Collins is hoping his guys can run effectively. Collins said he had Miller come onto the court to teach.

"We have a couple little sets that we're going to use that he thrived in," Collins said. "So I asked him to talk to our guys about how he played with that offense, the different things he did. I thought he was really great for Dre, and Thad, and Evan, and Lou, and guys who are going to be playing out of that set ... I thought we got a lot of good work done. And then I asked Reggie to come out and teach a little bit and when he did, our guys cooled off. And it's been my experience that once they cool off, that's it, because you can't get them going again. That's how guys get hurt and they mentally shut down a little bit."

As for the sets Collins is referring to, the assumption (from having watched Miller kill the Knicks year after year) is they require the main guy to make decisions off of screens, coming from under the basket and choosing to either curl, slip backdoor, or bust off the screen for a jumpshot. Now, the gut reaction to such a play -- and a guy like Miller teaching it -- is, 'But do the Sixers have anyone you'd actually want coming off a screen for a jumper?" Maybe not someone like Miller, but Lou is effective in that roll, Turner should get better and better at reading the situation, and Young and Iguodala can make the most of the to-the-basket options.

When asked it the Sixers need a legitimate shooting guard, Miller said, "How many real shooting guards are there left? A lot of guys are slashers now."

In other nuts-and-bolts news, big man Tony Battie (right knee synovitis) did not practice and Andres Nocioni (ankle sprain) is practicing but not participating in contact drills. Also present at today's morning practice was Syracuse coach Jim Boeheim.

Collins also offered this explanation for the light morning workout: "I thought they were sloppy yesterday in our drills and today they came back and they really focused. We got our work done and I don't believe in just keeping them around once we get our stuff done."

With no observations or scrimmages to assess (hopefully we'll have that access tonight), here are a couple of topics worth noting:

1.) Lou Williams. One of the main storylines entering last season was the potential emergence of Sweet Lou as the team's future starting point guard. We all know the eventual saga: strong scoring in the early season, broken jaw at Washington, quick return, and then a yo-yo final few months. In talking to Williams throughout last year, you could tell there was some frustration about his role, mostly because there wasn't one. Should he still try to be a facilitating point guard? Was he back to his role as off-the-bench sparkplug?

(Williams' assessment of last season's confusion: "Jobs were in the air and it was an opportunity for me to do something different and then it was like, 'OK, not so much.' Like I said, the communication here is key now.")

This year (despite comments from Collins that competition is open), Williams is almost certainly back to his role as a 6th-man scorer and Jrue Holiday will be the team's starting point guard. To his credit, when asked about the shifting role, Williams said, "I think Jrue's earned it. He's earned the right to be the starting point guard. He did an incredible job last year at the end."

Williams said Collins has made his role very clear: "He's asking me to do something that's very natural for me, that comes second nature: score the basketball. I think the term was, 'hired assassin,' something like that, so I've been there before. I've been one of those before ... It's understood from Day 1. It's not any confusion, he's not asking me to do anything outside of my comfort zone. He told me from Day 1, this is what I want you to do. There's no confusion on our parts. And that's all we ask is communication, for us to know what's expected of us. And coach has done that, so I'm all good."

Collins said Williams scores as easily as anyone on the team. And his following quote is the dead giveaway that Williams is penciled in (if not markered in) as the team's backup guard: "I don't know who's going to start, but if he comes off the bench, I've said it before: He could be our Jamal Crawford. I think he would be in the mix to be 6th Man of the Year. If he can do that and be effective for our team, he can really, really help us."

Continued Collins: "A lot of these guys have so much coaching fatigue. They've heard so many different voices and so many different things and the one thing I'm trying to do is come in here and just let them know by the way we do things on a daily basis, the actions of the way we do things are far greater than anything we say. They can pick up the vibes of whether it's going to be different or not. You can't trick them. And I think he feels good about that."

2.) Elton Brand. Brand's role, his lower weight, where his game might be ...

"He's lighter now than he probably even was in college," Collins said. "I think it's important because it takes a stress off that Achilles. I always used to talk to Patrick Ewing about this when I was broadcasting games. As Patrick got older, he was getting so heavy and I said, 'Patrick, you just can't carry that kind of weight as you get older.' Especially the way we want to play, we're not going to play a muscle game. We're going to play a skilled game. I think that's really going to help Elton."

You can somewhat get a sense of where certain players are headed by watching even just the end of practice, and by reading into what coaches and other players are saying. And the vibe around Elton is that Collins is going to use him effectively, but the 20-point/10-rebound averages are a thing of the past. This isn't shattering news, but the previous two seasons the questions posed to Brand were more, "So do you think you're going to get back to previous form?" What the Sixers are concentrating on now, it appears, is getting strong rebounding, defense, and high shooting percentages from Brand, as well as making sure he adds to the transition game as best he can.
It feels like we'll see the effectiveness from Brand that we saw during stretches last season, effectiveness that never quite blossomed because Brand was, let's face it, in the doghouse for much of 2009-10.

"I felt good earlier in the summer last year, but burnt out with all the rehab," Brand explained. "So I needed to start a little later, on the court playing, and I feel the effects now. Because training camp – I'm not going to say it's easy because if coach sees that in the paper it'll never be easy again -- but I'm doing pretty well."

It's early in the season, but the reality is that the first preseason game is less than a week away: Tuesday vs. the New Jersey Nets in Roanoke, VA. There isn't a month of training camp to go back-and-forth about who might be starting. It seems like a safe bet at this point that the working starting five is as follows: Holiday, Iguodala, Thaddeus Young, Brand, and Spencer Hawes. The second team is anchored by the backcourt of Williams and rookie Evan Turner, who by all accounts play quite well together.

Hopefully we'll have more x's and o's after tonight's practice. There should be a video of Reggie Miller embedded in this post. There's also a Cinesport video from today's practice. And if you want everything instantly, click here: Deep Sixer.

--Kate
*Note: Both Craig Brackins and Darius Songaila, formerly of the New Orleans Hornets, did not practice this morning. They were sitting on the sidelines in sweats. There was some concern that one of the four trade members, Willie Green and Jason Smith were sent to New Orleans, was holding up the conclusion of the deal. As of a few minutes ago, Brackins and Songaila are officially members of the Sixers. Both will practice during tonight's session. The Sixers officially said that there was an "undisclosed amendment" to the deal with New Orleans, but the trade is now complete. More details as we get them.
The Sixers are on the court herat St. Joseph's University. It's the first practice of the 2010-11 season and the first of two practices today.
Here is the training camp roster: Jrue Holiday, Evan Turner, Jodie Meeks, Lou Williams, Andre Iguodala, Jason Kapono, Thaddeus Young, Darius Songaila, Elton Brand, Tony Battie, Andres Nocioni, Marreese Speights, Spencer Hawes, Craig Brackins, guard James Florence (Mercer), 6-foot 11 F/C Trent Plaisted (BYU), and Chris Quinn (former guard for the Miami Heat).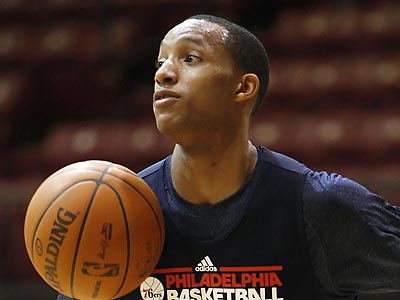 Join the Inquirer's Kate Fagan as she answers all of your Sixers questions.
On a mobile device? Click here.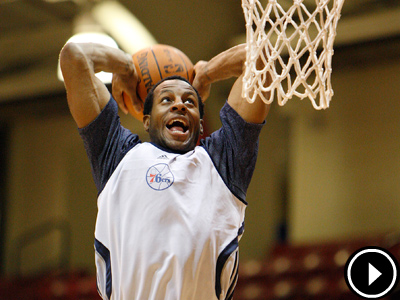 Video: Coach Doug Collins is trying to instill core winning values into the new, very young Sixers team. The Inquirer's Kate Fagan reports.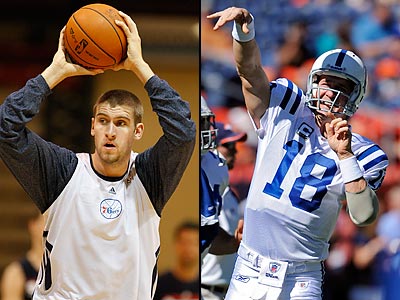 First things first, here's the news coming from today's first 76ers practice at St. Joseph's University: Darius Songaila and Craig Brackins, acquired in last week's trade with New Orleans for Willie Green and Jason Smith, sat out this morning's session because Green's physical was holding up the deal's completion. In the last few minutes of the morning session, the Sixers confirmed that the deal has been completed and said an "undisclosed amendment" seal the trade. Later, a source confirmed that the "amendment" was giving the Hornets the right to swap second-round picks in the 2011 NBA Draft. Songaila and Brackins will practice tonight.
Also on the injury front, veteran big man Tony Battie did not practice due to right knee synovitis. Sixers fans may remember that Allen Iverson suffered from the same injury during the middle of last season. No word on when Battie will get back on the court. In addition, forward Andres Nocioni, who sprained his ankle with the Argentinian national team this summer, participated in the first part of practice but was held out of the second half.
So, of the 17 players in training camp, 13 were available for the entire morning session. After this morning's session (which ran 10 a.m. to about 1 p.m.) coach Doug Collins said he was "adjusting on the fly."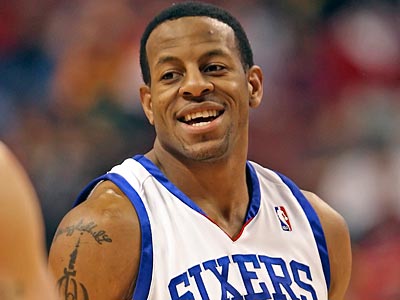 The 76ers held their annual Media Day today at the Wells Fargo Center. Tomorrow at St. Joseph's University, the Sixers start a week of training camp that includes two-a-day practices. In the video player below on the right, you can check out the video of Elton Brand and Andre Iguodala from today's press conference. If you want to follow on Twitter, click here: Deep Sixer.
Today's event was mostly just a glorified photo shoot, but nearly all of the players were made available, including the much-talked-about Iguodala. To keep up to date on the Iguodala-Carmelo Anthony news (scroll to the previous post for details), the latest from two sources is that right now "nothing new" with the trade, although neither source closed the door on the trade's possibility. In Denver, Anthony showed up to the Nuggets' media day and said the following (courtesy of Denver Post beat writer Benjamin Hochman):
"I've been a Nugget for 7 years. This is where I started my career. Tomorrow the ball goes up and we get started ... I've never said I wanted to be traded. I never once said anything about trade talk. I'm leaving my options open. At the end of the season, I'll sit down with my team, I'll sit down with the Nuggets."