Archive: August, 2011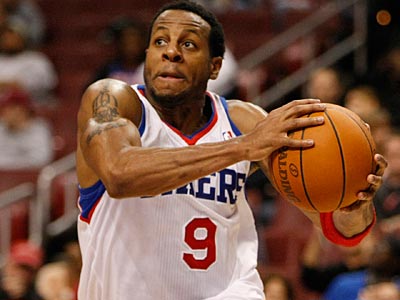 Today's a crucial day for the NBA: key representatives from the player's union and the ownership group will be meeting in New York. This will be only the second meeting since the lockout began on July 1. Because training camps are/should be only a month away, it's imperative that progress is made at this meeting if there's any chance of not missing a chunk of the season. Most in the league already feel at least some time will be missed, but if the sides can move closer together today, then maybe there's hope for only a small amount of missed time. We'll be following today's events in New York and will update later with word once the meeting adjourns.
Yesterday, we caught up with 76ers' swingman Andre Iguodala, who spent the weekend in Los Angeles with seven of his teammates. That full story will run in Thursday's (tomorrow's) edition of the Inquirer, but here's some of what Iguodala had to say. After battling injuries for much of the 2010-11 season, Iguodala said he took off more time than ever in his career (six or seven weeks) after last season. Iguodala also created a smidge of controversy by missing his exit interview, although he did have a doctor's appointment, also, so the whole thing sort of seemed like a bad miscommunication. Before the NBA locked out, Iguodala was being considered in a trade to the Golden State Warriors for guard Monta Ellis. Given his current situation with the team (read: they're open to trading him), it's a mature sign that Iguodala re-arranged a planned trip to Paris in order to make it out to L.A. to train with seven of his teammates: Elton Brand, Jrue Holiday, Lou Williams, Jodie Meeks, Spencer Hawes, Evan Turner, and Craig Brackins.
Iguodala said that, while he thinks it's a longshot that he'd play overseas this coming season (assuming the lockout drags on), he'd listen to any offers. Considering the bulk of his remaining contract, and the cost of insuring that contract against injury, it's unlikely we'll see Iguodala playing overseas if the NBA remains locked out. He's spending most of his off season in Chicago, although he's already made trips to China, Paris, L.A., etc. He doesn't have any remaining big trips planned, but the team is expected to hold a similar gathering/team workout session in Atlanta at the end of September (which might give you an indication of the likelihood that training camp starts on time).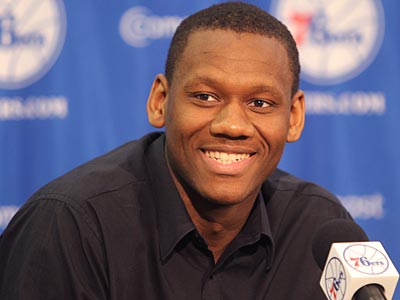 NBA lockout news first: According to a report by the Associated Press this morning, the NBA Player's Association representatives and league owners' reps will meet on Wednesday (tomorrow) in New York City. Expected to be present: commissioner David Stern, deputy Adam Silver, lead owner representative Peter Holt, player's association executive director Billy Hunter, and union president Derek Fisher. Essentially, all of the heavy hitters. Wednesday's meeting will be only the second between the two sides since the beginning of the lockout on July 1. The other meeting came almost exactly a month ago, on Aug. 1. The situation is entering crunch time. Stern has said that if progress isn't made by Labor Day, things will look bleak. And with NBA training camps scheduled to start around the end of Sept. (the 76ers started camp last season on Sept. 28), and with the two sides so far apart that they don't actually seem to be getting down to nitty gritty negotiating yet, it's wishful thinking to believe that this season will begin on time. (Trust me, I still possess this thinking, and when I wonder aloud if maybe training camp will start on time, anyone involved in this process makes it clear that's not happening.)
For the last few weeks, ESPN has been running a full NBA player ranking, but releasing it from the bottom up. If you're a serious Sixers' fan, you probably have seen a few of these lower rankings, but this morning we'll consolidate them into one place because basketball news is -- on this Tuesday morning -- a little limited. Here's the full list so far, if you're interested: Rankings. We're listing Sixers currently under contract or recently drafted (no Jason Kapono, Darius Songaila, etc.). The list is still being revealed, so a good amount of the better Sixers don't have a specific ranking yet. There are 500 players on the list. ESPN asked 91 experts to rank eligible NBA players on a scale of 1-10 in terms of "the current quality of each player." We'll take you through the available rankings and sprinkle in some updates on each player.
No. 500 (1.22): Lavoy Allen, PF, from Temple. The team's second-round draft pick in the 2011 NBA Draft; he's ranked as the NBA's worst player in this ranking.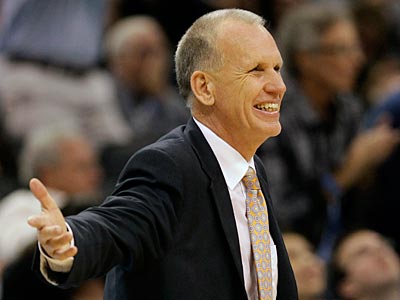 We're in the final days of summer and although NBA basketball should be close to moving to the front burner, there seems to be no indication that's going to happen in a timely fashion, and even fewer indications it'll happen quickly enough for NBA training camps to start on time at the very end of September.
First, an explanation on this blog in the month of August: we made a last-minute decision to get all vacation time out of the way before September hit, so that we'd be prepared if the NBA Player's Association and team owners surprised the world and agreed on a new collective bargaining agreement in time for the 76ers' to start training camp on (or around) Sept. 28. So I apologize for allowing this blog to go without updates for the previous three weeks, but the upshot is that it won't be dark again for some time, even if we have to cobble together updates and analysis while the league is locked out. On that front, the NBAPA and its representatives are tentatively scheduled to meet with league representatives sometime this week in New York City. That's the good news. The bad news is that it will only be the second meeting between the two sides (the first was Aug. 1) since the lockout started on July 1.
Here's what NBA commish David Stern said during an ESPN podcast earlier this month: "If Labor Day comes and goes without us huddled in ready to kiss off our Labor Day weekend to make this deal, then we may be headed to a bad place."