Archive: June, 2012
Video: The 76ers drafted Mo Harkless and traded for Arnett Moultrie at the NBA Draft. The Inquirer's Marc Narducci and CineSport's Noah Coslov recap the NBA Draft from Newark.
Who will the Sixers take with the 15th pick in the NBA draft? The Inquirer's Marc Narducci offers projections for the first round of Thursday's draft. Here is a photo gallery with his assessments.
Looks like all the talk about Rod Thorn being a lame duck was a bit premature.

When asked over a week ago what his role would be in the upcoming draft – right after it was reported that Danny Ferry was the leading candidate to take over his job as Sixers president, Rod Thorn had this to say to The Inquirer regarding Thursday's upcoming talent grab.

The Sixers, who worked out six big men over the weekend, will bring in center prospect Meyers Leonard first thing Tuesday morning.

The NBA draft is this Thursday.

After the Sixers take a look at Kentucky point guard Marquis Teague on Friday at Philadelphia College of Osteopathic Medicine, Saturday will be dedicated to taking a look at guys that this draft is believed to be heavy-leaden with.

Big men.

The Sixers will continue their pre-draft evaluations of prospective draft picks on Friday, bringing in St. John's Mo Harkless and Georgetown's Hollis Thompson.

Harkless, a 6-8 guard/forward, was named Big East Rookie of the Year at the end of the season after averaging 15.5 points and 8.6 rebounds. He started all 32 games last season for St. John's and averaged a team-high 36.1 minutes per game.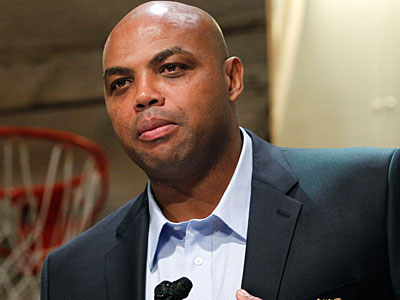 Who's next? Kenny Smith?
Or how about Ernie Johnson?
Now that Charles Barkley is notifying folks via text that he's interested in discussing the 76ers president/general manager job, why shouldn't Smith and Johnson, the only two remaining members of TNT's Inside The NBA crew not yet to have their names mentioned in connection with an NBA front office job, throw their names in the hat?
CHICAGO - Since the question of whether or not the Sixers' Evan Turner is a point guard, shooting guard or small forward is a constant source of discussion, I figured that asking former Ohio State guard Jim Jackson (a veteran of 14 NBA seasons that included a brief stint with the Sixers) to weigh in on what he feels is the best way for the Sixers to maximize Turner's talent was an appropriate question for the never-ending debate.
"The system best suited for Evan is a system that allows him to have the ball in his hands," said Jackson, an analyst for the Big Ten Network. "If Evan is really going to be the player that he wants to be and can be, he needs the ball in his hands. "