Archive: June, 2011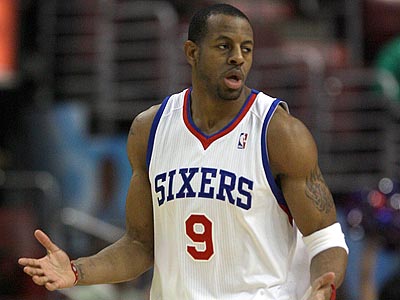 Join the Inquirer's Kate Fagan as she takes your questions on the Sixers and the NBA lockout, beginning Friday at noon.
Click HERE to join the chat and ask a question!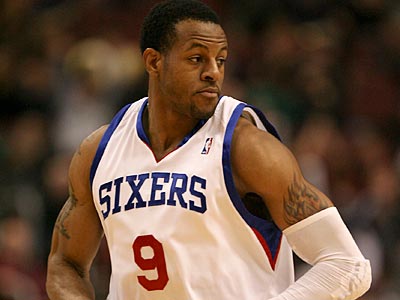 The NBA finished its final meeting today in New York City. The owners representation, commissioner David Stern, and deputy Adam Silver met with player's union chief Billy Hunter and rep Derek Fisher, among others. The two sides met for a few hours in what will be the final bargaining session before the league locks out beginning at 12:01 on Friday morning. There was a slight possibility that the two sides would extend the current collective bargining agreement for a short time in an attempt to avoid a lockout, but neither side is close to an agreement.
The lockout will begin at 12:01 a.m. Players have been informed.
What does this mean for the 76ers? Well, first of all, a variety of factors have conspired to delay a potential trade of Andre Iguodala. The overarching one was the uncertainty of what the next CBA will bring. We've outlined the potential changes to the CBA and how teams are hesitant to make moves without knowing the details of the next CBA. Another factor was the shift in team ownership, which in its own way handcuffed the current front office from making a franchise-changing trade before the new ownership assumed control. Now, in a few hours, there will be a moratorium on all player moves, which will serve to freeze frame the Sixers' roster as it is right now.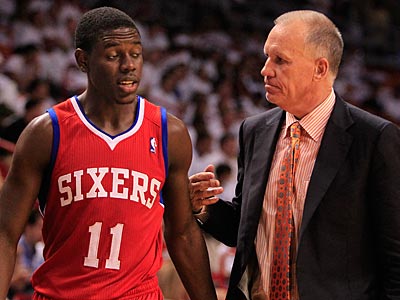 With the NBA now less than 36 hours from a potential lockout, it's important to understand how the 76ers are preparing for such a work stoppage. On Wednesday in Dallas, league owners voted to give their Labor Relations Committee the authority to do whatever it deems necessary in the pursuit of successfully negotiating the next Collective Bargaining Agreement. While that doesn't mean with 100 percent certainty that the league will lock out its 450 players beginning immediately at 12:01 on Friday morning, it does mean that it has the authority to do so. The two sides -- the owners and the NBA player's union -- will meet on Thursday in New York City for another bargaining session.
It's possible the lockout could begin at 12:01 on Friday morning and it's possible that the two sides could agree to extend the current CBA for a short time (through the weekend and into next week) in an effort to continue bargaining before instituting a lockout. And it's possible the two sides could magically come to an agreement, although virtually no one believes this will happen.
The Sixers coaching staff is, for lack of a better term, getting their ducks in a row. Once the lockout begins, players will not have contact with anyone within the organization. We've obviously seen some of this recently with the NFL's current lockout. Since there are national sports business writers out there who do a wonderful job of explaining the ins and outs of the labor dispute, we'll stick to the Sixers stuff on this blog. Sixers head coach Doug Collins and assistant Michael Curry have been traveling around this week meeting with players. They met with Craig Brackins, who has been working out at the Philadelphia College of Osteopathic Medicine. They had dinner with Andre Iguodala in Philly (everything is fine between Iguodala and the coaching staff). They flew to Atlanta to meet first with Thaddeus Young and then Lou Williams. Collins and Curry are flying to Los Angeles today to meet tomorrow with Elton Brand and then with Jrue Holiday. Assistant coach Brian James spent some time with Evan Turner at OSU (Turner is taking summer classes). The purpose of these meetings is to make sure the guys are doing well and that they have all the tools to continue working out this summer. For example, the coaches still want Thad working on his outside shot and they want Lou to add some strength through weight training.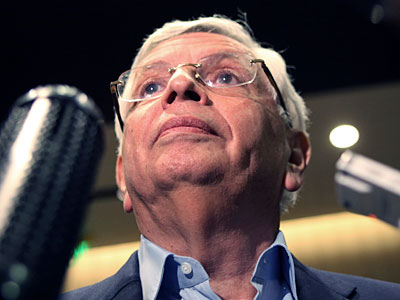 There are probably very few people who haven't, by now, seen or heard about Allen Iverson's cover of SLAM Magazine. You can check out the content and shot here: SLAM.
With the draft behind us, the focus this week is on the looming lockout. The NBA owners will meet and vote in Dallas later today about whether or not to extend the date of the lockout in order to allow for more bargaining. As of right now, the lockout begins midnight Thursday. There could be another bargaining session this week in New York, but right now both sides seem so far apart that even an additional week won't prevent a lockout.
The Sixers coaches are currently traveling around spending some time with players before the lockout goes into effect and they are no longer allowed to work with each of their guys. The coaching staff wants to make sure that each player understands what's needed of him this summer because -- if the lockout continues -- the staff won't have the opportunity to work with some of the younger guys in the rookie league, which is usually a great time to see where guys stand. The lockout will also include a moratorium on player movement, so once Thursday night rolls around, Andre Iguodala trade talk (and all player trade talk) will be on the backburner.
Video: The Inquirer's Marc Narducci analyzes the Sixers' selection of USC center Nikola Vucevic with the No. 16 overall pick in the NBA draft.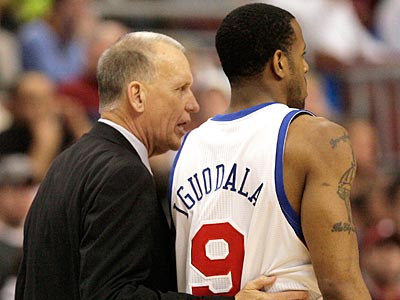 Doug Collins will be meeting with all his players before the potential lockout, which could occur beginning 12:01 a.m. on July 1 if the players and owners don't finalize a new collective bargaining agreement.
There is better chance at this point that Rod Thorn will offer this reporter a tryout than then there is of things getting settled on time.
If a lockout occurs, Collins and any member of the organization is unable to have any contact with the players.
We're pretty sure there will be no shortage of rumors flying as the minutes tick down to tonight's 2011 NBA Draft, which begins at 7 p.m. and will be held at the Prudential Center in Newark, N.J. There have already been some interesting options flying around (pretty sure we've all heard this Andre Iguodala-to-the-Lakers rumor, which, by the way, is not true). The 76ers -- Rod Thorn, Ed Stefanski, Doug Collins, & company -- will be making and fielding calls to see what kind of deal could be made today. Could the Sixers find themselves with a lottery pick? That's unlikely, but like nearly every team in the league, they have inquired with the Minnesota Timberwolves to see what the cost of such a move would be. Whatever happens tonight, it'll happen first on Twitter, so you can follow here: Deep Sixer.
The Sixers will enter tonight's action with the No. 16 and No. 50 picks in the draft. If none of these league calls snowball to something legitimate, the Sixers will walk away from tonight's draft with one solid rotation player and one long-shot addition to the roster.
There are exactly 5 minutes between the 30 first-round selections and exactly 2 minutes between the 30 second-round selections. If my math is correct, and it probably isn't, the Sixers should be on the clock around 8:20 (adding a few extra minutes for typical excess in the beginning of the broadcast). What follows are three scenarios for tonight. Let's caution that, while these scenarios are educated guesses about moves the Sixers are considering/have considered, the team has been very mum (as they should be) with what they might want to do tonight.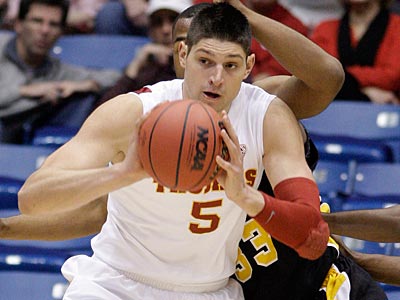 With the No. 16 pick of the 2011 NBA Draft, the 76ers selected USC center Nikola Vucevic. This is the guy the Sixers had targeted all along as they feel he will be a strong pro and be able to contribute immediately in the frontcourt. Vucevic averaged 17.1 points and 10.3 rebounds a game last season with the Trojans.
Believe it or not, as Sixers general manager Ed Stefanski said afterwards, the Sixers actually considered trying to move up a few spots to make sure they'd get their guy. The biggest concern for the Sixers was that the Houston Rockets would ssnag Vucevic with the No. 14 pick. Considering that Houston's center Yao Ming is injured and not under contract for next season, many folks (including the Sixers) were worried that they'd take Vucevic as he's a legitimate 7-footer with solid fundamentals. But because this draft became a little whacky at certain points (Charlotte taking Kemba Walker when most folks had them taking Marcus Morris), Morris was available for the Rockets at No. 14. As soon as Houston selected Marcus Morris, the Sixers front office knew Vucevic would be available. And he was the guy they wanted all along.
"We are incredibly thrilled to draft Nikola Vucevic," Sixers Head Coach Doug Collins said in a statement. "I liked him from the moment I saw him at the Chicago pre-draft camp. He is a hard working, skilled big man with a desire to succeed who gives us more size in the front court, which is a need. He is a player that we are ecstatic to have on our roster and I look forward to coaching him."