Archive: June, 2009
Temple's Dionte Christmas has accepted an invitation from the 76ers to join their summer league team in Orlando. Christmas, who was projected as a second-round pick but went undrafted, will join Sixers pick Jrue Holiday and last year's first-round pick Marreese Speights on the summer league roster.
The Sixers are combining with the New Jersey Nets to form a team for the Orlando Pro Summer League, to be played July 6-10 at the RDV Sportsplex in Orlando, Florida.
--Kate
Jrue Holiday was supposed to be long gone by the time the 76ers selected with the 17th pick of the NBA Draft. At one point, Holiday was rumored to be in contention with the Sacramento Kings at the 4th spot of the Draft. But as tonight's draft progressed, Holiday's name went uncalled and as each pick passed he remained the highest-rated player remaining on the board.
Luckily for the Sixers, the highest-rated player left was also a point guard, a position the Sixers needed to fill.
Holiday will be in Philly tomorrow -- Friday -- at 1 p.m. for a press conference at the Philadelphia College of Osteopathic Medicine.
We'll be keeping this blog live during tonight's NBA Draft, which begins around 7:30, and in which the 76ers have the 17th selection. Since everything that happens above the Sixers impacts their decision, we'll be analyzing the night as it progresses and what it might mean for the Sixers.
--Kate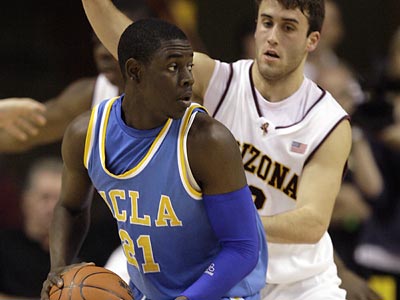 With the 17th pick in the NBA Draft, the 76ers selected Jrue Holiday, a point guard from UCLA.
Most mock drafts had Holiday as a Top 10 selection, but he dropped. Sixers General Manager Ed Stefanski had said all along they would take the highest rated player left on the board. And they did. Holiday -- who played only one season at UCLA and averaged 8.5 points a game -- is considered more of a project than UNC's Ty Lawson.
Here's the running copy of tonight's first 15 picks.
Remember Allen Iverson's infamous rant about being heckled for missing then-coach Larry Brown's practice sessions? There's a very entertaining YouTube video making the rounds that re-mixes AI's comments with Jim Mora, and Joe Namath, and Terrell Owens, and... it's worth a look. (Below)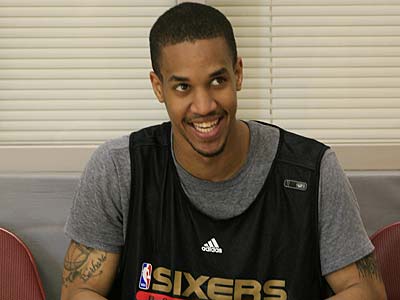 Even with the pre-draft workout on Saturday for Ohio State center B.J. Mullens, it is, of course, much more likely the 76ers will draft a guard in Thursday's NBA Draft.
Here are, in our opinion, the Sixers 3 most likely picks:
1.) Eric Maynor, VCU: When speculation first began, the front-runner was definitely North Carolina's Ty Lawson, but it seems that right now Maynor is a very likely pick. Both Maynor and Lawson are true point guards, but word is that Maynor is one of the most NBA-ready players in the draft. If last year's starting PG, unrestricted free agent Andre Miller, doesn't re-sign, Maynor would at least provide an option.
The 76ers have scheduled a pre-draft workout with Ohio State center B.J. Mullens and Notre Dame guard Ryan Ayers.
The workout will be tomorrow, Saturday, at 10 a.m. at the Philadelphia College of Osteopathic Medicine.
There has been speculation recently about whether the Sixers would schedule a workout with Mullens, the 7-footer with plenty of potential. Ayers, 6-7, averaged 11.1 points a game last year for the Fighting Irish. Mullens averaged 8.8 points a game last season with Ohio State.