Archive: March, 2010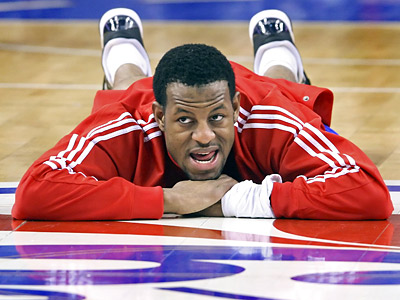 Waiting for a flight to Philly, out of Milwaukee, where last night the 76ers played very well and beat the Milwaukee Bucks. Not too many folks were happy about this victory, of course, because more losses means more ping-pong balls, and more ping-pong balls means better odds in the NBA Draft Lottery, and a lower finish means a better draft pick.
So, with that in mind, let's take a look at where the Sixers currently reside in the race for the bottom. And (roughly estimating), where they'll likely reside on April 15, when this season finally comes to an end. I'm just pulling these numbers, so if there's an error or glitch somewhere, or if I overlooked something, feel free to let me know.
First, here's a glance at the NBA's bottom standings as of this morning (we're not including the fringe playoff teams like the Chicago Bulls and Houston Rockets because they have enough wins -- like 34 or so -- to not be real contenders for some of these bottom spots):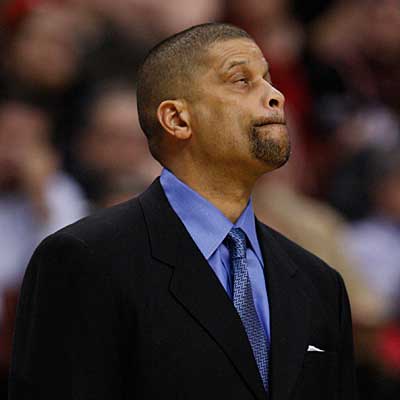 I just received the link to an article in my inbox. It's from ESPNDallas.com; it was posted about an hour ago by Tim MacMahon of ESPNDallas.com. Last night against the Los Angeles Clippers, Dallas Mavericks center Brendan Haywood didn't start, instead coming off the bench.
Just over a month ago, Haywood was traded from the Washington Wizards to the Mavericks. While in Washington, Haywood played under current 76ers coach Eddie Jordan.
After Tuesday night's game -- a Dallas victory in which Haywood ended up playing 30 minutes, scoring 12 points, and grabbing 10 rebounds -- Haywood offered this quote about going to the bench in favor of fellow center Erick Dampier.
In the NBA there are currently only four players who've taken over 200 three pointers this season and are also shooting under 30.0 percent on those three pointers.
I'm assuming that (considering you're reading this blog) it won't come as any surprise who one of those four players is: 76ers swingman Andre Iguodala. Entering tonight's game against the Chicago Bulls (who have lost 10 in a row), Iguodala has attempted 267 three pointers this season. He's made 67, which is good for an average of 1.1 made three pointer a game on 3.9 attempted three pointers a game.
Entering tonight's game, Iguodala is shooting 28.5 percent from beyond the arc. He's made 1 of his last 26 attempts. Iguodala's career percentage from three is 31.6 percent; he shot 30.7 percent from three during the 2008-09 season.
Here's the latest injury update from the Sixers:
* Thaddeus Young suffered a right thumb fracture during last night's loss to the New York Knicks. Young is out for tomorrow night's game against the New Jersey Nets. He's been placed in a removable cast and the Sixers haven't yet set a timetable for his return.
* Marreese Speights, who suffered a right knee sprain on March 10 against the Toronto Raptors, is also out tomorrow night.
These posts are becoming redundant; I feel like we've posted some version of this same post at least 15 times this season.
What post?
The blog post where we discuss a 76ers loss -- this one 107-96 to the Indiana Pacers -- and then the post-game assessment of that same loss. If you'd prefer the hard-and-fast news, click here: Jordan on way out.
Here's the latest from the Air Canada Centre where the 76ers played the Toronto Raptors at noon today.
1.) The Sixers started a lineup of Jrue Holiday, Lou Williams, Andre Iguodala, Thaddeus Young, and Elton Brand. Usual starting center Samuel Dalembert was out of the lineup for disciplinary reasons. Sixers announced the move after Eddie Jordan's pre-game availability, so specifics about the reason for Dalembert's benching will be asked of Jordan sometime after the game. We do know that the Sixers had a team meeting this morning at 8 a.m., but no word on whether that had anything to do with Dalembert's status. Update: Dalembert was penalized for arriving late to this morning's 8 a.m. meeting. Dalembert said he awoke at 6:30 a.m., but then forgot to re-set his alarm and fell asleep again. Dalembert said he was about 10 minutes late to the meeting. Jordan said the benching would only last that one game, he would return Dalembert to the starting lineup on Tuesday against the Indiana Pacers.
Before today's game, spoke with former Sixer forward Reggie Evans, who was traded to the Toronto Raptors for shooter Jason Kapono this past summer. Here's what Evans said about all things Sixers ... from why the team was good after the All-Star break in the past two seasons, about the leadership while he was there, etc ...