Archive: December, 2011
John Mitchell, Inquirer Staff Writer
Not too long ago I talked to a scout from a Western Conference team who has had tremendous success in building one of the preeminent teams in the league for the better part of the last decade and a half.
I asked him for his take on Sixers point guard Jrue Holiday a little over one week ago and he was clear that Holiday has the potential to at least approach the level of elite point guards in the NBA.
However, when I asked him about last year's No. 2 overall pick, Evan Turner, he expressed some reservations that I thought were interesting.
The 76ers said it was a precautionary measure, but Lou Williams and Jrue Holiday both took place in only non-contract drills during Thursday's practice.
Williams is nursing a left hamstring strain and Holiday a left Achilles strain.
Both players said that if there were a game that they could have played.
John Mitchell, Inquirer Staff Writer
Perhaps the most important stat that you're not going to see in the box score as far as Doug Collins is concerned is deflections. Collins has someone on his coaching staff keeping track of every single deflection and he appears to know the total at the end of each and every quarter.
For example, following the Sixers' 101-94 preseason victory over the Wizards – a performance coach was not please with for the most part – he pointed out that the team only had 11 deflections. He wants a minimum of 35 deflections per game. It doesn't matter if they result in a turnover; Collins just wants his players jumping into the passing lanes as often as possible in order to get the fast break started whenever possible.
"We want to get 35 a night, which shows you the activity of our defense, although we did pick it up," he said following the game.
Thaddeus Young has the look of contentment these days. Of course signing a five-year, $43 million would leave many people feeling content, but it's more than the financial security.
Young really liked being on the 76ers and never ascribed by the grass-is-always-greener on the other side theory.
"I am very happy, very relieved and this is always where I wanted to be," Young said. "I didn't want to talk to anybody because I wanted to see what Philadelphia was going to do."
John Mitchell, Inquirer Staff Writer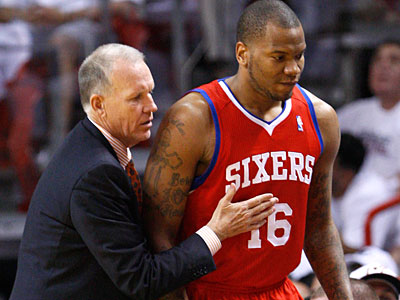 Heard an interesting comment by one of the Washington writers concerning the Marreese Speights. Turns out the writer was in Las Vegas for the summer league a few years back when Speights and JaVale McGee, the Wizards ultra-athletic center, were vying for draft positions prior to the 2008 draft.
His words: "Every time I looked up Speights was having his way against JaVale," he said, at one point mimicking a baseline dunk Speights threw down over the runner-up in last February's dunk contest. "He was killing him. I wonder what happened to him?"
McGee hasn't set the world on fire but the 18th pick in that draft has established himself as the team's starter. Meanwhile, Speights, drafted two places ahead of McGee, has to shed some weight quickly if he's going to be a viable reserve for the Sixers. He's also got to be able to provide some defense because he really is a talented offensive player.
This will be one of the more difficult blog posts to write because I have nothing but great things to say about my three-plus seasons on the 76ers beat.
Tomorrow, Wednesday, will be my last day at the Inquirer and my last day covering the Sixers. As of tomorrow, this blog -- Deep Sixer -- will belong to John Mitchell, who will be taking over the beat for the Inquirer. John will also take over the Twitter handle of @DeepSixer3. Because I'm leaving for a new job at ESPN (one not involving much NBA coverage), I'll be keeping my Twitter account, but changing the username. (That's still undecided, but if you follow me now, you'll follow me when I change the username!)
I just wanted to thank everyone for all of their correspondence -- both complimentary, constructive, and critical -- throughout the last three years. Although there were many difficult times, there were just as many great moments.
For all of this info instantly, please follow on Twitter: Deep Sixer.
76ers center Spencer Hawes has tentatively agreed to sign the Sixers' $4.1 million qualifying offer for the 2011-12 season. Hawes is expected to be in Philly tonight. Signing the qualifying offer means that Hawes, who was a restricted free agent this off-season, will become an unrestricted free agent in the summer of 2012.
Hawes started 81 games last season for the Sixers, his first with the club. He averaged 7.2 points and 5.7 rebounds a game. Hawes, 23, is a 7-foot center expected to compete for the Sixers' starting spot at center.
The 76ers have said for days -- and even as far back as last year -- that bringing back forward Thaddeus Young was a priority for them.
They proved that this evening by agreeing to terms with Young, a restricted free agent; the deal is worth approximately $43 million over five years, a source has confirmed. The fifth year of the deal is optional, with the option belonging to Young.
Young did not participate in the team's first practice this evening at the Philadelphia College of Osteopathic Medicine, but he will be back with the team for tomorrow (Saturday) afternoon's session.
The 76ers are in the process of negotiating a deal to bring back forward Thaddeus Young.
Young is a restricted free agent, meaning he can sign an offer sheet with another team, which the Sixers would then have three days to match.
But instead of waiting for another team's offer sheet, the two sides have moved together to try to get a deal done and get Young into training camp.
The 76ers have re-signed center Tony Battie to a 1-year deal, an NBA source has confirmed.
Battie played the 2010-11 season with the Sixers, getting backup minutes behind starting center Spencer Hawes. Battie, 35, played in 38 games last season for the Sixers, averaging 2.6 points and 2.6 rebounds a game.
The Sixers now have 12 players under contract for the opening of training camp tonight at 4 p.m. at St Joseph's University.