Archive: November, 2012
Andrew Bynum hasn't shown up on the court, and he is a no-show on 5th Avenue as well.
The NBA on Wednesday released the list of its top-selling individual and team jerseys and LeBron James, who led the Miami Heat to the NBA championship this past season, and the New York Knicks – who haven't won a championship in decades – are the winners.
The list is made up of the top 15 selling individual players and the top 10 teams. The list is based on the sales at the NBA Store on Fifth Avenue and on NBAStore.com from April 2012 through Nov. 26.
Even thought he was vilified for leaving Cleveland to sign with the Miami Heat almost three summers ago, James, No. 4 on the list the last time it was released, now that he's won a title, isn't seen as the villain he once was. The Knicks, who haven't won a championship since 1973, still have a strong fan base, and they play in the country's largest market. Last year they were second on the list behind Chicago.
One might think that after the Sixers acquired Bynum in that massive four-team, 12-player deal that there might have been a spike in Sixers jersey sales – and there could have been, but the league doesn't release player numbers outside of the top 15 and team sales outside of the top 10.
I dare say that the Sixers and Bynum would have seen a huge jump in those sales – even though he didn't become a Sixer until August – if he were out there playing and not hurt. Putting a healthy Bynum with numbers even remotely close to the ones he put up last season would probably have the Sixers atop the Atlantic Division or, in my opinion, at least tied with New York for the division lead.
Here's a link to the story:
http://www.nba.com/2012/news/11/28/lebron-james-leads-top-selling-jerseys-list/index.html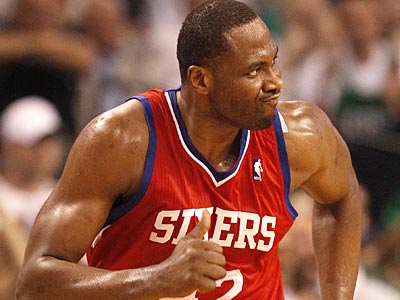 Former 76er Elton Brand has fond memories of the four years he played in Philly, and even though the team parted ways with Brand by using the amnesty clause on him, Brand, who now plays for Dallas, has no hard feelings.
"They are great players, great coaches and, even more important, they are great people," Brand said this morning at the Mavericks' shootaround in preparation for Tuesday's game at Wells Fargo Center against the Sixers. "And you hope that doesn't change because that could bring a team down."
"But as long as they have great guys who are willing to grow, willing to get better and willing to listen the franchise will be alright," said Brand, who averaged 13.3 points and 7.4 rebounds in four seasons with the Sixers. "I still root for the franchise and I want them to do well – but not tonight," laughed Brand.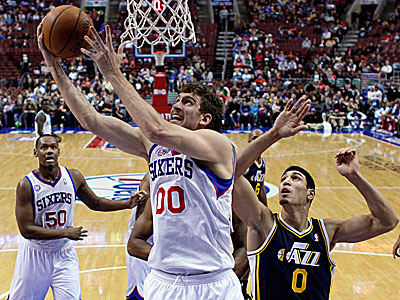 The good thing about having shooters on the floor is that there is always the threat that the 76ers (7-5), who host Oklahoma City (9-4) on Saturday, will be able to make their outside shots.
But that sometimes causes an overreliance on the jumper, and that's something the Sixers have at times found themselves doing. For a comparison, this season the Sixers have already attempted 20+ 3-pointers six times this season. During all of last season, the Sixers attempted 20 or more 3-pointers just three times.
Despite being more willing to shoot from long range, Sixers coach Doug Collins wants his team to get the ball into the post more than it has in order to get big men such as Kwame Brown, Spencer Hawes and Lavoy Allen more involved.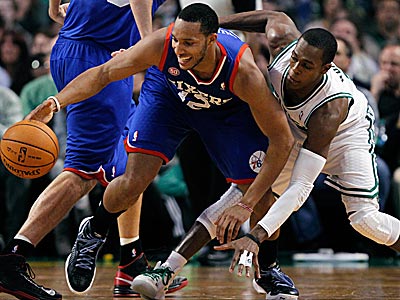 For Evan Turner, the time is now to start being more consistent in his play – and no one knows that any better than Turner.
"It's the key," Turner said at the 76ers' shootaround this morning at Wells Fargo Center before tonight's game with Toronto (3-7). "I think consistency over greatness is the best thing right now."
Turner wants to put an end to the wide-ranging types of games he's had and really start to show consistency in his third season.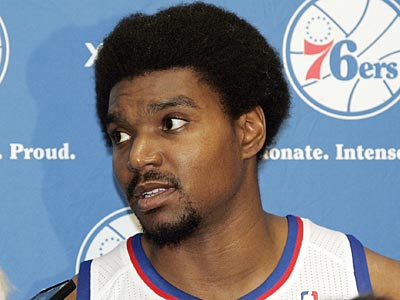 Philadelphia 76ers center Andrew Bynum admitted before Sunday's game with the Cleveland Cavaliers that he might have injured his left knee bowling one week ago Saturday.
"It's the same exact injury, mirror images of the knee; I think it happened bowling, to be honest," Bynum said.
On Friday Bynum, who has been trying to rehabilitate his right knee (bone bruise) told reporters that a trip to see Dr. David W. Altchek in New York revealed that he also has a bone bruise on his left knee and that the cartilage in both knees are in a weakened state.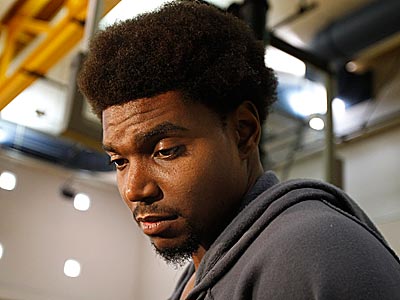 Did 76ers center Andrew Bynum cause further damage - including a new bone bruise and cartilage damage – to his knees while bowling?
According to a report on ESPN.com, this might be the case. Citing multiple sources, ESPN.com reported that Bynum, who has yet to play for the Sixers, may have caused himself further damage while bowling.
There are several activities that are prohibited in standard NBA player contracts, but bowling is not one of them. Bynum is known to enjoy bowling, ESPN.com reported.
Andrew Bynum, who says he has never had any cartilage issues, says he has them now, in both knees.
About an hour before the 76ers were scheduled to play the Utah Jazz at Wells Fargo Center, Bynum revealed that he has suffered a setback – experiencing swelling in both of his knees – as he tries to make it back to the court by middle of January. Despite acknowledging the setback, he says he is still on schedule.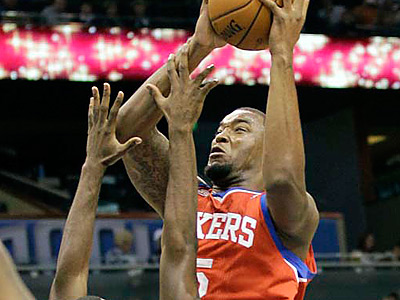 When the 76ers face the Detroit Pistons Wednesday at Wells Fargo Center they hope to have center Kwame Brown back in the lineup, according to coach Doug Collins.
"I'm hoping that Kwame will be able to give us some minutes tomorrow," Collins said following practice on Tuesday.
Brown has missed the last four games due to a calf strain – the same calf strain that forced him out of the first two games of the season – and he has only appeared in one game with the Sixers. But with big men Lavoy Allen and Spencer not providing the Sixers with much consistency, Collins needs Brown on the floor.