Archive: November, 2009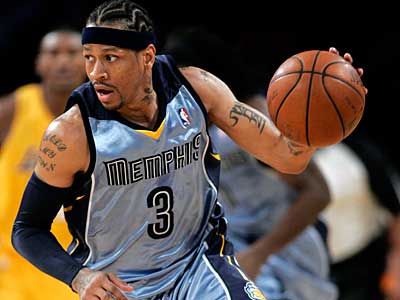 Video addition: Just spoke with Eddie Jordan here in Dallas. Jordan said the meeting with Iverson was "intriguing," said he liked what he heard, and that Iverson would bring an aggressive scoring mentality. You can check out the first 90 seconds of Jordan's press conference in the Deep Sixer video player below on the right.
Update: According to David Aldridge, Sixers management has given the basketball side the go-ahead to sign Iverson if it wants. Team owner Ed Snider has signed off on Iverson's return, if that's what the basketball side of things determines is best.
76ers head coach Eddie Jordan and General Manager Ed Stefanski met with Allen Iverson in Dallas early this afternoon, this according to a source close to the situation. The Sixers, very soon, should be releasing a statement to this effect.
Here's the latest news concerning the 76ers and former star point guard Allen Iverson, or rather, the latest suspension in news. We're here in San Antonio -- the Sixers play the Spurs in about 35 minutes -- and just left the Sixers locker room. The discussion, obviously, centered around yesterday's news that the team is considering Iverson as a replacement for starting point guard Lou Williams, who is out 8 weeks with a broken jaw.
Sixers coach Eddie Jordan said that he had no plans to fly to Atlanta to meet with Iverson, which had been speculated in various news outlets. Jordan said he had no knowledge of Iverson coming to where the Sixers are, to meet with them, either. Jordan made it clear Iverson, while clearly "intriguing" was just one of a handful of potential free-agents the team is considering. Jordan said the team has also talked about Antonio Daniels, as previously reported, and Jerry Stackhouse.
"He's intriguing to talk about in the media, with friends, with fans, with your mom, with your sister. Right now we're concentrating on playing tonight. I have not been oversaturated with Allen Iverson in my mind or in conversation with our front office. It's like any other free agent out there, we've talked about a number of people. I know he's the most intriguing one. But there's equal responsibility and doing your due diligence with anybody that's out there -- if we feel fit to bring someone in. Right now there hasn't been a button that we've pushed to bring someone in."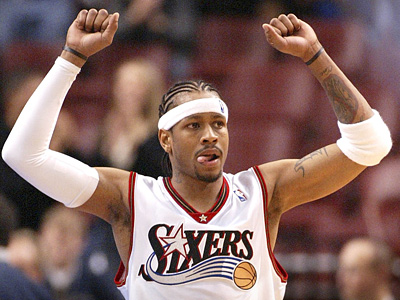 The 76ers are considering bringing back Allen Iverson, this according to a source with knowledge of the situation. It's not a done deal, but the team has changed its stance from 0 percent possibility as of last year to considering bringing back the team's all-star point guard from the 90's and early 2000's.
The Sixers have had Iverson on their radar this entire year, but when point guard Lou Williams injured his jaw, requiring surgery and 8 weeks sidelined, the issue became more pressing. According to the source, the team is in the process of seeing if they can make an Iverson deal work.
FoxSports.com has reported that Sixers coach Eddie Jordan might make a trip to Atlanta -- Iverson's home -- after this weekend's two-game swing to San Antonio and Dallas. That piece of information, according to the source, is advanced where the two parties are, but it is a possibility that Iverson could be a Sixer within a week. Early this coming week, Iverson is supposedly meeting with his former Georgetown coach, John Thompson, who reportedly will try talking Iverson out of the retirement he announced on Thursday.
Poll: Do the Sixers need Iverson?

(4137 votes)
76ers point guard Lou Williams saw the doctors today in Philadelphia and then immediately underwent jaw surgery, where he had his upper and lower jaw wired together. Williams will be out 8 weeks.
In the coming days, he will consult with a nutrionist about a liquid diet to help him maintain his weight.
Williams broke the jaw early in the first quarter of the Sixers loss to the Washington Wizards on Tuesday night. With the injury, he scored 26 points.
The following statement is directly from the official site of Stephen A. Smith. It is Allen Iverson's retirement statement:
"NOV. 25, 2009
TO ALL OF MY FANS:
I would like to announce my plans to retire from the National Basketball Association. I always thought that when I left the game, it would be because I couldn't help my team the way that I was accustomed to. However, that is not the case.
I still have tremendous love for the game, the desire to play, and a whole lot left in my tank. I feel strongly that I can still compete at the highest level.
Stepping away from the game will allow me to spend quality time with my wife and kids. This is a reward that far exceeds anything that I've ever achieved on the basketball court. I have prayed for this day and I see it as my greatest gift.
I want to thank the people of Reebok International Ltd., for always allowing me to be me and for supporting me my whole career through all the ups and downs. I have enjoyed 13 wonderful seasons in the NBA, and I am grateful.
I want to first acknowledge my fans everywhere, who have been with me throughout my entire career. Without you, there would be no me. You should all know that I appreciate your support from the bottom of my heart. Thank you!
To Michael Jordan, Magic Johnson, Isiah Thomas, Charles Barkley and Larry Bird, you guys gave me the vision to play the game that will be forever in my heart.
To my Mom, who encouraged and inspired me to play every day, and to all of my family and friends who stood by me from the beginning. Thank you!
To my high school coach, Michael Bailey, Coach John Thompson at Georgetown University, Coach Larry Brown and to all of my other coaches, teammates, administrators, owners and staff who've been a part of my career, Thank you as well!
I'd like to give a special thanks to the people of Memphis. I never played a home game for your beloved Grizzlies, but I want you to know how much I appreciate the opportunity given me by a great owner in Michael Heisley, and the support of the city. I wish the Memphis Grizzlies' organization all of the success that the game has to offer.
And finally, to the city of Philadelphia: I have wonderful memories of my days in a Sixers' uniform. To Philly fans, thank you. Your voice will always be music to my ears.
God Bless all of you,
ALLEN IVERSON"
Tonight against the Boston Celtics, the 76ers will start a lineup of rookie Jrue Holiday, Andre Iguodala, Thaddeus Young, Jason Smith, and Samuel Dalembert.
Holiday is starting for point guard Lou Williams, out indefinitely with a broken jaw. Smith is starting for power forward Elton Brand, who is sitting tonight because of a sore, tight right hamstring. Brand sat the final 16 minutes, 14 seconds of last night's 108-107 loss to the Washington Wizards. Brand was listed as a game-time decision as well as day-to-day. No change in his status (except, obviously, the game-time decision has been made).
Just left the Sixers locker room where we spoke to Williams. I posted the video of Lou in the Deep Sixer video player below on the right. Williams talks about when the injury happened, how he played through it, how he couldn't sleep last night, and how he went in to see the trainer today hoping for something to numb the pain. If you have a minute, check it out. Also, most of this info is up on Twitter within seconds of knowing it. Click here if you want to follow: Deep Sixer.
*A quick addition here from the Garden: just read this Tweet from Marc Spears' of Yahoo! Sports: "AI's personal mgr Gary Moore tells Y! Sports AI is retiring." -- so take that for what it's worth.

And here's the news on Lou:
76ers point guard Lou Williams will miss tonight's game against the Boston Celtics because of a fracture to his jaw. Williams caught an elbow in last night's loss to the Washington Wizards, although it was unknown he was injured during the game -- or after the game. Williams received an X-ray today, revealing the injury.
At the buzzer tonight, 76ers point guard Lou Williams missed a step-back jumper that would have given the 76ers the win. Instead, it rimmed out and the Sixers (5-9) lost to the Washington Wizards (4-9), 108-107. The Sixers had the final possession, but it kept getting chopped down, first by a foul that made them take it out of bounds again. Williams said the play was for him to run off a high on-ball screen, but in the final 11.5 seconds, he decided not to use the on-ball screen.
Williams said that at first, the Sixers wanted to take the best, quickest shot to leave them some time, but that once it got down to 11, Williams figured they should hold for the last shot.
Check out the Deep Sixer video -- in the player below on the right -- of Williams talking about the shot in the locker room after tonight's game.