Archive: October, 2012
Did you see Andre Iguodala's letter to Sixers fans on his website? You can read it here.
"I would like to take the time to thank you and all your devoted sports fans for the passion, loyalty and spirit that you gave to me during eight seasons with the Philadelphia 76ers," Iguodala wrote. "Tonight I begin a new chapter in my career but I will always share my accomplishments with the city and the organization and I thank you both for all that you have done for me."
Say what you want to about Iguodala, but the guy has always carried himself with dignity and class – and this is a perfect example. It's always good to see the unfiltered writing of an athlete and this comes off as sincere.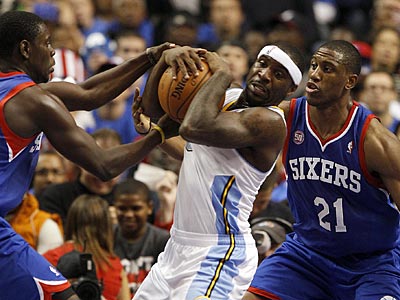 The 76ers shot 35.3 percent, committed 16 turnovers, missed 18 three pointers, were outrebounded by seven and still beat visting Denver, 84-75 in the opening game for both teams.
In short, the Sixers played less than their best and were still able to come out with a win.
"This was a grind it out win to say the least," Sixers coach Doug Collins said.
The Denver Nuggets will be without two frontcourt performers for tonight's opener at the Wells Fargo Center against the 76ers.
Forward Danilo Gallinari is out with a left ankle sprain and center Timofey Mozgov is sidelined with a left knee strain. Both are listed as day to day.
Gallinari went through the shootarond today but is still not able to cut comfortably, according to the team.
Jrue Holiday is looking for an extension by tonight's midnight deadline. Maybe he should have former teammate Andre Iguodala put in a good word for him.
Speaking after today's shootaround before his Denver Nuggets face the 76ers in tonight's opener for both teams at the Wells Fargo Center, Iguodala had high praise for Holiday.
"I have always been a huge fan of his and always said he will be one of the elite point guards," Iguodala said. "He is almost there, right there and playing with a lot of confidence."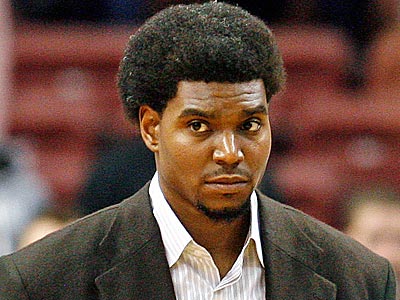 The 76ers officially ruled out Andrew Bynum's participation in Wednesday's home opener against Denver during an evening practice at Wells Fargo Center on the eve of their season. Additionally, the Sixers said there is no timeframe for Bynum's return.
"While Andrew and the 76ers are both eager for him to resume game play as soon as possible, given the long regular season and the playoffs, the team intends to act with caution as to the date of his return," read a statement issued by the team.
"Andrew has already commenced low-impact conditioning," the statement continued, "and will be re-evaluated by medical personnel on a continuous basis."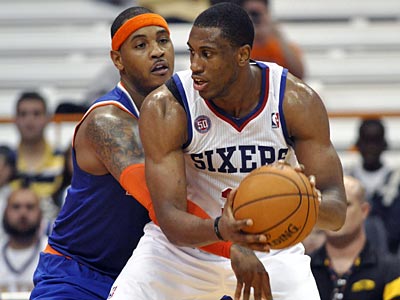 Thaddeus Young has started a total of two games over the previous two years but it looks like he will be in the starting lineup when the Sixers open their season Wednesday against the Denver Nuggets at the Wells Fargo Center.
In an email response today coach Doug Collins said as things stand now, the starters will be Jrue Holiday, Evan Turner, Jason Richardson, Young and Lavoy Allen.
While Young has provided so much energy and offense off the bench, the Sixers have a number of players who can fill that role, specifically Nick Young and Dorell Wright.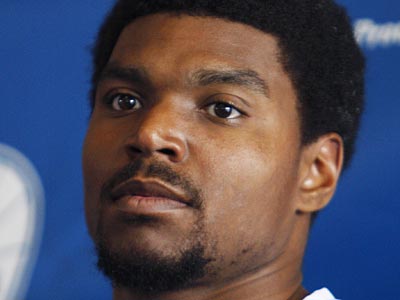 Andrew Bynum, who was expected to practice for the first time with the 76ers on Wednesday, did not take part in today's workout at the Philadelphia College of Osteopathic Medicine.
Bynum sat out with right knee discomfort.
"Andrew is out until he is pain-free," 76ers general manager Tony DiLeo said after today's practice.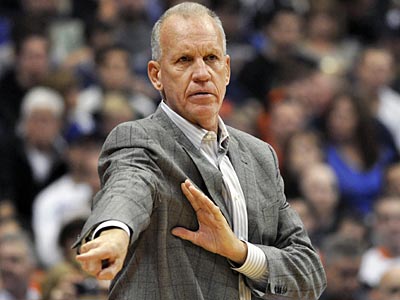 What else was coach Doug Collins supposed to say?
Of course he is disappointed that Andrew Bynum isn't available to practice due to right knee discomfort.
But the Sixers had to play the entire preseason schedule without him and who knows when he returns in the regular season?