Archive: October, 2010
The 76ers will be playing the Boston Celtics tonight in Manchester, N.H. It's the second game of a preseason back-to-back that began on Tuesday night with a loss to the New Jersey Nets. Tonight's game is the Celtics' preseason opener. The Sixers announced earlier today that forward Thaddeus Young, who suffered a corneal abrasion in the second quarter against the Nets, would be available for tonight's game.
Collins said on Tuesday that both Andre Iguodala and Elton Brand would rest tonight, but things could change given how many minutes the second unit played against the Nets.
Since this game isn't on TV or the radio, we'll be running another Live Tweet. If you want instant updates during the game, follow along in the window below. It's possible we dropped too many Tweets for last night's game, so we'll probably limit it to a few a quarter (plus, there's a baseball game tonight that most folks are probably interested in).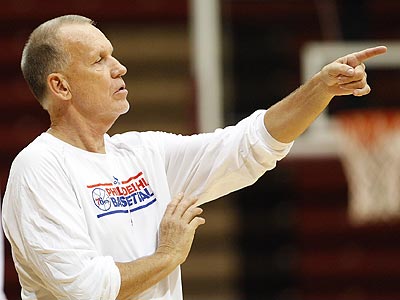 Last week on ESPN.com, John Hollinger released his predictions for all NBA teams. His take on the 76ers? Not bad at all: Hollinger predicted the Sixers would finish the 2010-11 season with a record of 43-39.
Here's a quick snippet of Hollinger's thinking:
"I'm far more optimistic about the Sixers than most; in fact I, expect them to make the playoffs. Before you petition ESPN to have me committed, allow me to explain. Two factors in particular have me bullish on Philly. First, Collins will make the team dramatically better on defense than it was a year ago, simply by adding a level of accountability and preparation that didn't exist previously.
Second, the Sixers have an underrated store of young talent and I suspect they're capable of fairly rapid improvement. Holiday, in particular, should make strong progress from a year ago, but Young (22), Hawes (22), Speights (23), Williams (24), Brackins (23) and even Iguodala (26) all are capable of taking their games up another notch or two.
I made Philly's projection with fairly modest estimates for Turner and Holiday, but if Turner has a Rookie of the Year-caliber season, it would provide another reason to believe in a mini-renaissance by the Sixers. Brackins could be another positive, especially if he adds a desperately-needed shooter to the rotation."
To read all of Hollinger's take, you can find it here:
ESPN
.
With the Sixers opening their preseason schedule tonight here in Roanoke, VA, against the New Jersey Nets, it seems like the time to discuss exactly how good (or bad) this team might be this season. Before seeing any sort of finished product put on the court, we're predicting a final record of 42-40 for the 2010-11 season.
Why?
Dedication feels like a mindset this season. The season before last -- we all know what went down last year -- the team finished 41-41. Even then, the big talk at the end of the season was a "lack of accountability." It makes you wonder what that team might have accomplished (perhaps an opening round victory over the Magic) if each player had been onboard with what was happening. It seems the Sixers will have no such issues this year. Whatever ounce of effort and detail Collins can squeeze out of this group, he will. That means the Sixers aren't in danger of underachieving. Perhaps if we didn't expect a little upswing, a little overachieving, from this team, the prediction would be 38-44, but with everything this team is saying and doing you have to expect a few extra wins here and there.
Hollinger: 43-39; Deep Sixer: 42-40; Baseline Record: 38-44.
Hollinger also takes the time to go through his statistical analysis of each player on the Sixers -- he's a numbers guy at heart. What follows are some interesting bits from his post. You can find the entire article here:
Hollinger
.
Some interesting takeaways:
*Young is remarkably more effective, from a statistical perspective, as a power forward. (Collins has him penciled in as the team's starting small forward.)
*Hollinger basically tears apart Jason Kapono's game, saying that he's only worth playing time if he's making 40 percent or above on threes (he made 36.8 percent last season).
*Last season, Holiday placed 69th out of 71 point guards in turnover ratio, but Hollinger considers this a positive because there's a history of point guards developing more quickly when exposed in their rookie seasons.
*"Statistically, Evan Turner looks like a can't-miss prospect."
*And here's this quote from Hollinger regarding Brand: "While he seems reluctant to embrace life as the fourth option, that's what he's become."
That doesn't seem like support for a 43-39 prediction, but there's plenty of good in there too: Iguodala's effect on a game, Lou Williams growing efficiency, Holiday's all-world defensive talent, the insta-offense of Speights, and the potential of Jodie Meeks as a zone-buster.
We'll have more after tonight's first game: Sixers vs. New Jersey Nets. If you want to follow in live time on Twitter, click here:
Deep Sixer
.
--Kate
Since tonight's game from Roanoke, VA doesn't appear to exist anywhere else on the internet, thought we should get this info up ASAP. The Sixers lost to New Jersey, 103-96, at the Roanoke Civic Center.
Here are some numbers from the Sixers: Marreese Speights 19 points on 4 for 14 shooting from field, 11 for 14 from the line, with 9 rebounds and 2 turnovers. Elton Brand had 15 points on 4 for 7 from the field and 7 for 10 from the line. Thaddeus Young left the game in the second quarter with a corneal abrasion to his left eye. It's not expected to be serious. Andre Iguodala had 4 points on 0 for 5 shooting, 4 for 4 from the line, with 2 rebounds and 3 assists. Jrue Holiday had 10 points on 4 for 9 shooting, 5 rebounds, 4 assists. Evan Turner had 12 points on 2 for 6 shooting, 10 for 12 from the line, with 7 rebounds, 1 assist and 1 turnover. Turner played 25 minutes. Lou Williams had 10 points, Jodie Meeks played the entire second half and had 9 points on 4 for 7 shooting. Craig Brackins played 20 minutes and had 5 points and 5 rebounds. Jason Kapono had 2 points on 1 for 4 shooting in 15 minutes.
Nets shot 50.7 percent from the floor, Sixers shot 37.5 percent; Nets shot 8 for 12 from beyond the arc, Sixers shot 2 for 18 (um, yikes, scary); Nets outrebounded the Sixers, 48-29; Sixers scored 22 fast-break points while the Nets only scored 5.
76ers are out on the court warming up here at the Roanoke Civic Center. Tonight they play the New Jersey Nets; the game tips off at 7 p.m. There is no TV broadcast of the game, but if you can follow along with updates on Twitter.
On a mobile phone? Click HERE.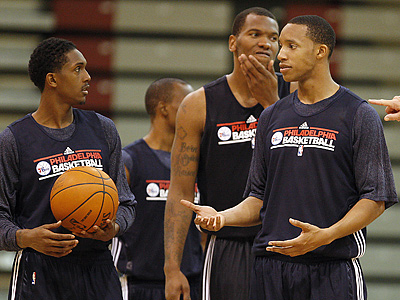 76ers practiced today at the Philadelphia College of Osteopathic Medicine before flying to Roanoke, VA. for the first of back-to-back preseason games against the New Jersey Nets and then, in Manchester, N.H., the Boston Celtics. Sixers play New Jersey tomorrow night at the Roanoke Civic Center. If you want to follow Deep Sixer on Twitter, click here: Deep Sixer.
Although it's not definitive, Sixers coach Doug Collins will likely start a lineup of Jrue Holiday, Andre Iguodala, Thaddeus Young, Elton Brand, and Spencer Hawes. Collins said rookie Evan Turner will play primarily as a backup point guard and said "that's where he's comfortable." As for today's practice, Tony Battie (right knee) did not practice, James Florence (hamstring), did not practice, Andres Nocioni (left ankle) was limited to non-contact drills, and Jrue Holiday (under the weather) was held out of contact drills/scrimmaging.
Collins said he wouldn't dress Battie or Nocioni tomorrow, although he seems hopeful that by Friday of this week Nocioni would be cleared to begin scrimmaging.
76ers' training camp is over and it ended with a scrimmage in front of season ticket holders inside Hagan Arena at St. Joseph's University. The team's second practice of the day began with stretching, a shooting drill, 5-on-0, and it ended with two 12-minute quarters of scrimmaging.
Sixers coach Doug Collins addressed the crowd before the start of practice and finished by turning to his team and saying, "Guys, let's get out there and show them that things are going to be different this year." It does seem the team feels it's genuinely important to shed the embarrassment of last season.
Also of note, this team is filled with players who have something to prove. Jrue Holiday should be focused on having a breakout season, Andre Iguodala wants to be an all-star, Thaddeus Young needs to play well after last season and with his first negotiated contract looming, Spencer Hawes has an opportunity to reinvent himself after being (somewhat) disappointing in Sacramento, Jodie Meeks will get a chance to prove he belongs in the NBA, Evan Turner wants to perform for obvious reasons, Elton Brand has a shoulder-load of doubters … the list is pretty extensive. Last year, you couldn't say that so dramatically, across the board, about the players on this team.
Now, the scrimmage. The breakdown of teams, which was somewhat interesting, was as follows:
Blue Team: Jrue Holiday, Evan Turner, Jason Kapono, Elton Brand, Marreese Speights, Jodie Meeks, and Darius Songaila.
White Team: Lou Williams, Andre Iguodala, Thaddeus Young, Craig Brackins, Spencer Hawes, Chris Quinn, and Trent Plaisted.
(Andres Nocioni (ankle), Tony Battie (knee), and James Florence (hamstring) did not participate.)
The "somewhat interesting" part was regarding Collins using a Holiday/Turner backcourt. We'd been hearing so much about how well Turner was playing with Lou that it seemed that would be a backcourt pairing. Instead, we got to see Holiday and Turner playing together; more on that below.
Scrimmage result: White Team wins by about 12 points.
What follows are a few observations from the scrimmage; I know everyone who attended will have their own thoughts on certain guys, the style of play, what they liked, what they didn't like, etc. If I'm missing something glaring, feel free to point it out.
*A general observation about the offense: it's simple and allows the players to make their own reads. At no point during the scrimmage did you see a guy out past the three-point line, stuck, unable to initiate the offense. There were a few occasions when a team had to settle for a bad shot (I remember Hawes having to take a long three), but for the most part each team was creating things offensively, which is good for a team with so many creative offensive players.
*Thaddeus Young played extremely well. The knock on him has been that he doesn't rebound well enough to be a power forward and he doesn't handle well enough to be a small forward. Since Collins has said, for now at least, that he only wants Young at the small forward spot, we'll have to assess his improvement in the ball-handling category.
Collins is putting Young in a good position; he's almost always curling off that cluster set towards the hoop, or spaced out in the corner for a long jumper. He was very rarely expected to create off a pick-and-roll (kind of a scary thought, huh?). So right there, Collins has eliminated many of the mistakes Young made last year, most caused by over dribbling. There were two plays in particular that make you believe Young has improved his ball handling. The first came early in the scrimmage when Young caught a long outlet pass over the top. As he jumped to catch the pass, Holiday was right there – the blue team's only defender – ready to strip Young when Young came down with the ball. As Young caught it, and before he landed, he brought it around his back in mid-air and dropped it off for his right hand, away from Holiday. Young dribbled once and then had a wide-open slam dunk in transition. Maybe we'll be proven wrong, but that doesn't seem like a play Young could make last season. He would have come down with the ball and had it immediately stripped by the waiting defender. Later in the scrimmage, Young had the ball on the right wing in a delayed transition scenario. He penetrated right and dished the ball off to Plaisted for an easy bucket. In past years, you knew Young would always finish well around the rim, would jump quickly for tip ins, and would make the occasional three pointer, but this year it looks like he's ready to add at least some of these other elements to his game. And maybe not all the time, but even if Young has the ability to make these plays occasionally, he'll be that much more effective.
*Back to the aforementioned backcourt of Holiday/Turner. In theory, this combo is exciting. But so far, it's just not happening out there on the court. For any season-ticket holders at the scrimmage who beg to differ, please do so, we want to be convinced otherwise. Holiday looked good in moments (he had a fantastic finish in the lane early in the scrimmage), but at no point in the scrimmage – not once – did he and Turner connect. Turner took a total of (I believe) three shots: two pull-up jumpers that he missed and a layup in transition that he made. One pull-up jumper came off a hesitation move in the half-court, the other came when he pushed the ball in transition and stopped just inside the foul line. At one point, Turner ran a nice pick-and-roll with Songaila.
Surprisingly, the problem with ball dominance (both Holiday and Turner need the ball to make plays happen) is actually not being overplayed. Set after set, we watched Holiday run the point and watched Turner try to get himself open off the cluster screen. He wasn't getting open. And when you consider that waiting for a fruitless cut turns the play clock from 18 seconds (we have time for anything) to 12 seconds (we better get going), it becomes an issue.
And a few more quick-hit items:
*Iguodala, the man who is not supposed to take so many three-pointers, took two within the first few possessions of the scrimmage. Those threes were the last he took all night, (and the second was a must-take off of perfect ball rotation).
*If I'm a Sixers fan watching Spencer Hawes, I'm excited and worried at the same time. First he makes a three pointer without it seeming like anything out of the ordinary, and then he throws down a monster jam on Evan Turner. I'd be remiss not to mention this moment in the scrimmage. It was in transition and it was just Turner and Hawes. And Hawes just absolutely tomahawk slammed the ball on Turner. Turner kind of turned and shrugged like, 'Wow, what can you do?' Hawes let out a roar. But for the remainder of the scrimmage, Hawes was relatively absent. It kind of left you wondering where the first Hawes – the one jacked up about his slam – went for the second quarter of the scrimmage.
*Meeks shot the ball well. He made two long three pointers. He's looking more and more like a guy who has to play at least a few minutes every game. He plays aggressively on defense, too, and seems to be able to stay in front of whomever he's guarding.
*The jury is still out on what Brackins' impact might be this season. He can definitely spread defenses with his shooting touch, but he just doesn't play like he's 6-foot-10. He plays like he's 6-foot-6.
That's it for now.
--Kate
The 76ers training camp at St. Joseph's is in its final day. This morning, the Sixers held their non-contact session, which was mostly running through plays, 5-on-0, shooting drills, etc. Tonight from 6 p.m. to 8 p.m., the Sixers will practice/scrimmage in a session that is open to the media and season ticket holders. It will be our first opportunity to assess a number of topics: Is Jrue Holiday really up to the hype? What role might Evan Turner play on this team? Where is Andre Iguodala's game? And how will all the new guys fit in?
If you want live updates from tonight's scrimmage, you can follow on Twitter: Deep Sixer. I'll also post some analysis by Sunday morning, so if you have time while prepping for the Eagles/Redskins game, that'll be online. From this morning, there should be two videos in the video player below (and hopefully one embedded in this post). One is Doug Collins talking about Thaddeus Young's play, the other is Jrue Holiday talking about his ambidexterity (yeah, he can even brush his teeth left-landed).
Before tonight's on-court session, here are three topics coming from camp today: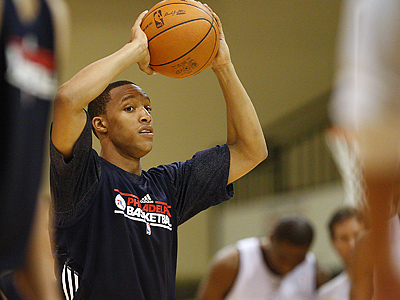 76ers are nearing the end of this season's training camp at St. Joseph's University. Their morning session ended about 11:45 inside Hagan Arena. They'll practice tonight and then twice tomorrow before wrapping up what will be a 5-day training camp.
Here's the injury update: Tony Battie (right knee synovitis) and Andre Nocioni (ankle sprain) practiced, guard James Florence (hamstring) and Darius Songaila (lower back stiffness) did not practice. This morning's session was non-contact, so likely both Battie and Nocioni will be limited tonight when the team does more competitive drills and scrimmages. As a reminder, Saturday night's session from 6 p.m. to 8 p.m. is open to the media and to season-ticket holders so hopefully we'll have a long blog post after watching a full practice.
After this morning's session, a lot of the questions still centered around the progress of rookie guard Evan Turner. Sixers coach Doug Collins discussed Turner's progress and we talked to Turner himself. It's difficult at this point to really get a feel for Turner's role, but we'll let everyone read into Collins' quotes. You can also watch the video of Collins, which should be embedded at the bottom of this post.