Archive: November, 2008
I just received this announcement from the 76ers. It seems in this tough economic environment, this would be information most would like me to pass along.
The Sixers are offering $10 mezzanine-level tickets for all the remaining November and Decembert home games at the Wachovia Center. The Sixers said there will be 2,000 of these specially-priced $10 tickets available for each game.
The Sixers are able to make this offer because of presenting sponsors: Revolution Card (November) and Taco Bell and KFC (December).
From 2-5 to an unlikely 4-5 (unlikely after 12 minutes of play in last night's win over the Indiana Pacers.)
Here's the breakdown of the season through nine games: Toronto Raptors (L), New York Knicks (W), Atlanta Hawks (L), Sacramento Kings (W), Miami Heat (L), Orlando Magic (L), Utah Jazz (L), Toronto Raptors (W), Indiana Pacers (W).
Eastern Conference Atlantic Division Standings: Boston Celtics (8-2), New York Knicks (6-3), Toronto Raptors (4-4), 76ers (4-5), New Jersey (3-5).
Who'd have thought it? Not I. Not when the score was 38-13. Certainly not then. Not even when it was 78-71, to be honest. I had listened when Sixers coach Maurice Cheeks said it took so much energy just to get back into a game after trailing by so much. I thought, well, they've spent all their energy getting back into this, just like Cheeks said.
I was wrong. And perhaps, watching on Comcast from home, you didn't think it would happen, either.
But it did. And afterward, everyone said a similar thing: This game was won by the Sixers' second unit -- Willie Green, Royal Ivey, Reggie Evans, Lou Williams, Kareem Rush -- with the energy they brought in the second quarter.
Finally, on Wednesday night in Toronto, the 76ers (3-5) played like everyone thought they would play. Elton Brand had 25 points, Andre Iguodala was one rebound short of a triple-double, Andre Miller drove to the hoop and finished, consistently. Willie Green came off the bench and scored 17 points and had nine -- NINE -- assists.
Even with the win, there were pieces missing. Thaddeus Young scored only seven points, Samuel Dalembert had only two points. Lou Williams, who routinely scores in double figures, was in the single digits.
Yesterday, the Sixers canceled their practice that was supposed to be held something like 40 minutes outside of Toronto and flew to Indianapolis.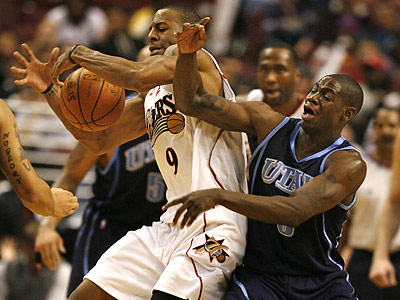 After last night's loss -- the fifth of the season -- swingman Andre Iguodala said of the 76ers' stumbling offense: "Everybody's a little uncomfortable."
I think that's also an appropriate description for everyone watching the Sixers.
The Sixers (2-5) lost 93-80 to the Utah Jazz (6-1) at the Wachovia Center. Aside from a 10-minute stretch in the third quarter where the Sixers actually looked like the team most thought they would be, this was another "uncomfortable" performance. The Sixers outscored the Jazz 30-14 in the third: That number was reversed in Utah's favor during the fourth.
Within the visitor's locker room inside Air Canada Centre on the streets of downtown Toronto, Andre Miller sat watching as the game film of the 76ers opening game against the Raptors flickered across a screen in the corner.
The taped game, the season opener, ended with Toronto walking out of the Wachovia Center, 95-84 winners. That was on Oct. 29. In the two weeks since, the Sixers have, somehow, managed to look worse than they did on that opening night.
Would it be to the Sixers advantage to be playing the Raptors again, and so soon? No. Not really. Had Miller found anything on the game tape that might help? No. Not really.