Archive: October, 2008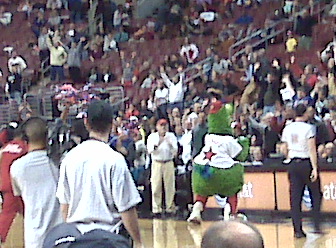 First Quarter: Cleveland 31, Sixers 24
Sixers Starters: Andre Miller, Andre Iguodala, Thaddeus Young, Elton Brand, and Theo Ratliff.
Cavaliers Starters: Sasha Pavlovic, Mo Williams, LeBron James, Ben Wallace, and Zydrunas Ilgauskas.
Back from L.A. ... Phillies are in the World Series ... but this blog has been dormant. I do apologize, but starting tomorrow it will be revived.
I'll blog again tomorrow morning, but we're going to try to set up a Live Chat for 3 p.m. in anticipation of tomorrow night's preseason home game against the Cavaliers.
Here's the news coming out of the Sixers today:
"The 76ers have trimmed their roster to 15.
Sixers President and General Manager Ed Stefanski announced today that the team has waived 6-foot-8 forward Antywane Robinson.
The Sixers signed Robinson in the week leading to training camp: Robinson appeared in three preseason games, totaling 15 minutes.
The Sixers have 14 guaranteed contracts, including center Jason Smith, who will spend the season on the inactive list after tearing the anterior cruciate ligament in his left knee. Currently, the last roster spot is being held by center Jared Reiner, whom the Sixers also signed in the week before camp.
Robinson played his college basketball at Temple University, where he earned Atlantic-10 Second Team honors after his senior season."
It's a long season, so I hope the lull of the last nine days won't kill the flow (too much).
Until tomorrow ...
-- Kate
In a standard move, the 76ers and General Manager Ed Stefanski announced today they will exercise the third-year options on the contracts of Jason Smith and Thaddeus Young.
Both Smith and Young were first-round selections in the 2007 NBA Draft. Young was the Sixers' pick, 12 overall, while Smith was originally selected by Miami at 20th overall.
The Sixers acquired Smith in exchange for Daequan Cook – their 21st overall pick – a future second round pick and cash considerations.
Young, who is currently the Sixers starting small forward, averaged 8.2 points and 4.2 rebounds last season, his rookie year.
Smith tore the anterior cruciate ligament in his left knee and will miss this season after having the knee surgically repaired.
Smith averaged 4.5 points and 3.0 rebounds last season.
-- Kate
It's a good thing we all know, and discussed, how meaningless preseason scores are; Because losing to the New York Knicks is not a good thing. But anyone who watched last night's game knows that when it counted, when it was 76ers' first team vs. Knicks first team, the Sixers looked better.
Elton Brand looked especially good. After Wednesday's game against the Celtics, Brand said he was "satisfied," but knew he needed to do better. We saw that 'better' last night. Not only did Brand score, but the offense looked much smoother than it has at any previous time this preseason.
Brand finished with 24 points. But, more importantly, like we've talked about for the past three weeks, he affected the rest of the offense. When the Sixers ran the pick-and-roll with Brand and Miller, the defense had to worry about both options: The drive and Brand's roll-out.
What starter didn't look good? Okay, Thaddeus Young didn't play how he's capable.
(By the way, Young, who suffered an eye injury in the third quarter, will be fine for tomorrow night's game at Toronto. Lou Williams, who had three stitches, will also be fine.)
But the rest of the starters? Andre Miller played like Andre Miller. He had a couple of fantastic passes. Andre Iguodala looked a lot like he did during the regular season last year, plus he hit a couple of outside shots. Always encouraging. Sam Dalembert? I thought he played well. He rebounded and started fast breaks. He had that very nice drive from the top of the key.
After the game, head coach Maurice Cheeks seemed pleased with the effort of his first team.
"They played the way we know they're capable of playing," Cheeks said.
As for the second-quarter meltdown, as we'll call it, Cheeks said, "We had a lot of young guys out there."
And the Sixers did. The Knicks and Mike D'Antoni kept their starters on the floor, while Cheeks went with a lineup of Lou Williams, Royal Ivey, Kareem Rush, Reggie Evans, and Marreese Speights (for a majority of the time).
Cheeks said he wants to see a "more aggressive attitude" from this second unit.
But let's get back to Brand. He was 10 for 13. He wasn't playing against Kevin Garnett, so we have to keep that in mind, but nonetheless, he was the player the Sixers felt they acquired back in July.
"He's always played like that," Cheeks said after the game. "He's a very effective player, that's why we got him, that's the way we envisioned him playing."
After the game, Brand sat in front of his locker and said, in his usual low-key manner that he wanted to show the Sixers' fans who he was. Brand said the team, led by Cheeks' choices on the rotation, "played reserved."
Cheeks mentioned he considered putting a few of the starters back in the game at various points, but didn't want to risk injury.
Willie Green and Theo Ratliff. I don't think we can read too much into either player's evening on the bench, especially not Ratliff's. Green played a lot of minutes against Boston, so it's impossible to tell the meaning behind last night's DNP.
1.)Marreese Speights continues to impress. He picked up two weak fouls when he first checked in last night, but his night progressively improved.
2.)Kareem Rush missed all of his outside shots. I don't think we can worry too much about this. Rush had been out for three days with a left-ankle sprain. His shot is still money.
3.)Lou Williams. How about that near-dunk he had? When he drove to the hoop and just elevated? He's an exciting player.
4.)The defense. Not exactly where Cheeks wants it, I'm sure, even for this early juncture of the season. The first team held the Knicks to 22 points in the first quarter, that was a strong defensive effort. But the final tally, not so impressive.
The Sixers watched film this morning, then had a light shooting workout and lifting session.
Deep Sixer will not be quite so deep for the next five days. I am flying to Los Angeles to join the coverage of the NLCS. I'm still going to post as often as I can, but considering I'll be on the other coast …. You get the picture.
Be back soon …
The Knicks are in town with their new brand of Mike D'Antoni fast-breaking basketball, but more importantly for Philly, the 76ers are in the Wachovia Center for the first time this season. Knicks vs. Sixers, tonight, 7. If you're going, watch out for Phillies' (you know how they're playing in the NLCS?) traffic.
It's the second preseason game for each team. Knicks lost at Toronto, 113-111, on Wednesday. On the same night, the Sixers beat Boston, 98-92.
The Knicks are a team in transition -- literally and figuratively. D'Antoni, formerly of the run-and-gun Suns, is instituting that offensive philosophy in NYC. Also, Stephon Marbury appears to have taken a backseat to free-agent pickup Chris Duhon. With the Sixers also looking to play pressure, aggressive defense and push the basketball, this should be a free-wheelin' type of game.
FINAL SCORE: Knicks 110, Sixers 104.
Not much running play-by-play in the second half as deadine approached, but a couple of things: Marreese Speights looked good again in his minutes. He started poorly, but gained momentum. Royal Ivey hit a few outside shots. Kareem Rush missed all his outside shots. When the Sixers' starters faced the Knicks' starters, the Sixers outplayed them.
HALFTIME: Knicks 60, Sixers 51. The Knicks continued to play their starters in the second quarter while the Sixers' Elton Brand, Andre Miller, Andre Iguodala, and Sam Dalembert sat.
There's about 30 minutes left on the clock and the Knicks and Sixers are warming up here at the Wachovia Center. The doors opened about 30 minutes ago. Tonight's game, scheduled to start around 7 o'clock, is the second preseason game for both these teams.
I spoke to head coach Maurice Cheeks, Jason Smith, and Royal Ivey before the game.
We spoke at length about Cheeks' philosophy on outside shooters, as well as Kareem Rush.