Archive: January, 2011
The 76ers are off today, with most of them doing exactly what most of you will be doing: watching the Eagles. Sixers will be back on the practice floor tomorrow at PCOM. Here are a couple of links to today's content. First, Sunday's Inside the Sixers can be found here: Next step for Sixers. Last night's blog post about the difficult loss to the Detroit Pistons can be found here: Ouch. And the latest "On the Road" video, this one from Detroit, should be embedded below.
And finally, I'm signing off Deep Sixer for the next seven days. During that time, Marc Narducci will be manning the fort (so to speak) and updating here with any pertinent information and observations about these Sixers.
Until next week,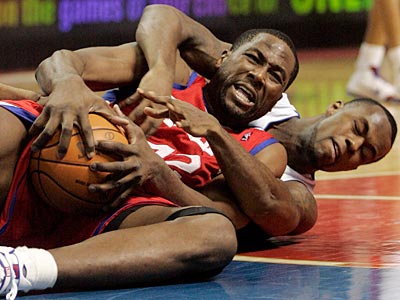 Each one is painful in its own right, but tonight's 112-109 loss to the Detroit Pistons -- a game that never should have been lost -- seems even more painful for Sixers' fans because it's been about a month since the last gut-wrenching loss of this kind. It had just been so long since it went down like this. Those two Washington Wizards losses were in November and the really bad one to the Atlanta Hawks was on Dec. 3.
The quick-hit recap of how it was lost: the Sixers let Detroit hang around all game, Lou Williams missed two free throws with 6.2 seconds left that would have iced the game, Detroit's Austin Daye made a game-tying three pointer with 3.5 seconds left in regulation, and then the Pistons scored the first eight points of overtime. The good from tonight's game: the Sixers are so improved that they actually are in a position to "let Detroit hang around," whereas earlier in the year simply beating Detroit would have been a triumph. Evan Turner played very well, although continuing to rely on his mid-range jump shot doesn't look like the permanent solution. Getting inside 15 feet seems like a much higher percentage for him. The bad: your go-to guy (which Williams sometimes is) missing two free throws is really tough to swallow and the Sixers looked overmatched on the glass. Looking at the minutes, the glaring statistic is Spencer Hawes only playing 17:46, although he didn't look all that effective in the paint, during his minutes, either.
The overarching good: after the game, the Sixers locker room was a very different place than it has been after previous losses of this kind. After those earlier-season losses, the feel was kind of like "Oh, no, here we go again." But tonight, that wasn't the case. Doug Collins was already showing a few of the guys some tape of that final defensive possession at the end of regulation -- trying to glean some knowledge and experience from the moment instead of letting everyone think too much about what had just happened. Guys weren't hanging their heads, but they weren't too upbeat, either -- which would be equally worrisome. It felt like a locker room for a team that knows what it is, knows what it can be, and isn't going to get sidetracked by a couple of missed free throws.
Best win of the season? No doubt about that.
On Friday night at the Wells Fargo Center, the 76ers defeated the Chicago Bulls, 105-99, only two weeks after getting beat by 45 points by the Bulls in Chicago. After that loss, Doug Collins and the team maintained that the loss was in no way indicative of the team's play, that it was a total anomaly, that sometimes it just happens. Hard to argue with that now, considering how the team played tonight.
If you watched the game, then you know there are plenty of topics to mention, but none more pressing than the play of shooting guard Jodie Meeks. Just when you're starting to consider whether or not this guy will stay in the starting lineup, a game like tonight happens. He scores 24 points, shoots 8 for 11 from the field and 4 for 7 from three (including a trio of three pointers that basically handed the Sixers the game in the third quarter), and commands defensive attention. Since we've all seen this before (he had similar games at the Miami Heat and at home against the Charlotte Bobcats), we know the most important thing will be watching how Meeks plays tomorrow night and one week from now. He doesn't need to score 24 points tomorrow night, or 24 points next week, he just can't be 1 for 7 for the next month. The team needs a little balance, a little more predictable contribution from that spot. But considering tonight's win, perhaps we're getting ahead of ourselves in looking to a month from now. Tonight, Meeks was phenomenal. Without him, the Sixers don't win this game. It wasn't just his made shots, it was the team's possessions after his made shots. In the third quarter, on the possession following the third of Meeks' three threes in the quarter (tough sentence right there), the Sixers gave the ball to Elton Brand and put him on the same side of the floor as Meeks. Not surprisingly, Meeks' defender didn't move more than two inches away from Meeks, staring at him the entire time, and Brand was allowed to work without interruption. He scored on the play.
It certainly wasn't a defensive battle, but the tired Sixers outlasted the Washington Wizards, who are still without a road victory. The Inquirer's Marc Narducci reports from the Wells Fargo Center.
---
Each week, Kate Fagan will check in from the road and answer fan questions about the Sixers. Click here to ask Kate a question or e-mail her at kfagan@phillynews.com.
Download our new iPhone/Android app for all of Kate's Sixers coverage, plus app-exclusive analysis and videos.

Video: CineSport's Noah Coslov and Kate Fagan of the Inquirer wrap up the Sixers' eight-game road trip, and look ahead to the biggest stretch of the season.
---
Each week, Kate will check in from the road and answer fan questions about the Sixers. Click here to ask Kate a question or e-mail her at kfagan@phillynews.com.
Download our new iPhone/Android app for all of Kate's Sixers coverage, plus app-exclusive analysis and videos.

This was one of the stanger games the 76ers have played this season. You could sense that Doug Collins knew it would be difficult to keep his team focused for 48 minutes (without Spencer Hawes and Andre Iguodala and on the final game of a long road trip), and he didn't call as many timeouts as he usually would, or engage his backcourt as routinely as normal. It was a good move, for the most part, to let his team either figure out a way to win, or not. Micromanaging the game wasn't really going to have a great impact, because every one of his players was on his last ounce of focus and effort before getting on the plane back to Philly.
Collins seemed to understand that his team wouldn't be able to absorb too many turnovers or too many poor shots, so when you saw one of the two happen, it was usually followed by some contained frustration from Collins. The Sixers weren't going to shoot 55 percent from the floor tonight. If they were going to win, it was going to take lots of offensive rebounds, very few turnovers, and strong shot selection.
The Sixers did a nice job in all of those categories (save a few bad shots), but it still wasn't enough to combat some pretty horrible shooting in the final three quarters. The Sixers started the game 11 for 22 from the field and finished the game 19 for 66 from the field.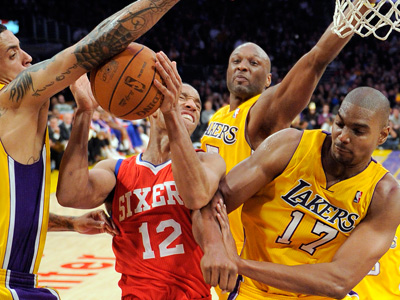 Update: Tonight against the Hornets the Sixers will be without center Spencer Hawes, who tweaked his back during pre-game warmups. In place of Hawes, Doug Collins will start Marreese Speights. This back injury is supposed to be different than the back injury that kept Hawes out for two weeks of preseason.
Happy New Year to everyone from here in New Orleans. It seems we've been following around the BCS games: first the Rose Bowl in Los Angeles (TCU fans were based at the Marriott across from the Staples Center) and now the Sugar Bowl here in New Orleans with Arkansas and Ohio State fans filling the streets.
Tonight at the New Orleans Arena, the 76ers (13-20) will conclude this road trip against the New Orleans Hornets (20-14). So far this trip, the Sixers have defeated the Orlando Magic, Denver Nuggets, and Phoenix Suns and lost to the Boston Celtics, Chicago Bulls, Golden State Warriors, and Los Angeles Lakers. The Sixers are 3-4 through seven of the eight games. When the Sixers left Philly, they were 10-16.
Here's an interesting perspective on all of this, as pointed out at this morning's shootaround by Doug Collins: after tonight's game, the Sixers will have played almost exactly half of their road schedule (20 of their 41 road games) and much less of their home schedule (14 of their 41 games). If the Sixers win tonight, they will have finished this road trip 4-4 (.500), which means they'll have left Philly exactly six games under .500 and returned exacty six games under .500, with seven extra home games in front of them. That is to say, the team has actually put itself in a decent position as we approach the halfway mark of this season.
Here's how Collins put it (although it now seems easier to understand in person rather than in transcribed quote form): "When we left Philadelphia, six under .500, if we could come back six under .500 with this trip and then we have [seven] more home games then we have road. Tonight, we finish up half of our road schedule because this is our 20th road game … even though we're under, I feel like this game is a great chance for our guys to finish out this trip."
After tonight, the Sixers return home to the following schedule: vs the Washington Wizards (8-24), vs. the Chicago Bulls (22-10), at the Detroit Pistons (11-22), vs. the Indiana Pacers (14-18), vs. the Milwaukee Bucks (13-18), vs. the Charlotte Bobcats (11-20). Not hard to find four, maybe even five victories in that stretch. By Jan. 17 (that's the Charlotte game), we'll have a pretty clear picture of where this season is headed.
This is by no means saying tonight's game is crucial, or desperately important, only to say that it would be a nice little jumping pad into the next two weeks of games.
One other thing before we sign off until later tonight. A little more on rookie Evan Turner, who's hanging out in New Orleans with thousands of Ohio State fans. Has he been recognized here yet? "Some people, and some people are like, 'You look familiar,'" Turner said, joking. "It's the older people, sometimes they don't remember me."
It's going to be fun watching Turner tonight. Against the Lakers, he missed a few key jumpers that really would have put the Sixers in position to win the game. The good thing, Turner said, is that he feels like that was crucial experience. Those were his first important, end-of-game shots, and they came against the defending NBA champs and inside a sold out Staples Center on New Year's Eve. Turner said the experience broke him in for "future moments."
Tonight's game tips off at 8 p.m. EST.
--Kate
---
Each week, Kate will check in from the road and answer fan questions about the Sixers. Click here to ask Kate a question or e-mail her at kfagan@phillynews.com.
Download our new iPhone/Android app for all of Kate's Sixers coverage, plus app-exclusive analysis and videos.