Archive: April, 2012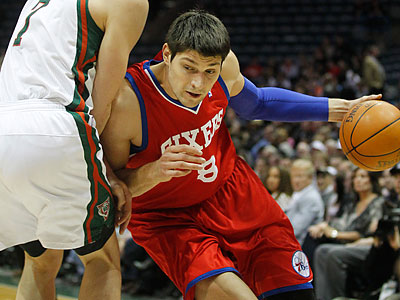 You've got to like the way that rookie Nik Vucevic has responded to the responsibility of taking over for Spencer Hawes as the 76ers starting center.
Sixers coach Doug Collins said he knew shortly after the Sixers' 103-79 loss to Boston that the 21-year old center was going to be a starter in the team's next game at New Jersey after he checked in with 14 points, 13 boards and a pair of blocks in 29 minutes.
Over the last three games, Vucevic, the starter in consecutive wins at New Jersey and Toronto, has averaged 10 points per game and 8.6 rebounds. He is shooting the ball well from the field (he shoots it well with either hand, which is nice) as well, making 13 of 24 (54.1 percent) of his field goals over the last three games.
If Jodie Meeks is ever going to earn some respect from fans of the 76ers, tonight, in Toronto, with the 76ers in a must-win position, would be the perfect time to start.
Meeks and Nik Vucevic are back in the starting lineup in favor of Evan Turner and Spencer Hawes after coach Doug Collins made the switch before the Sixers' 107-88 victory over New Jersey ended their four-game losing streak.
Perhaps my last post left the impression that I'm of the belief that the 76ers players are the sole custodians of this rapidly disintegrating season that at one point set you aflutter with visions of basketball at Wells Fargo Center weeks and maybe even a month after the conclusion of the regular season.
Oh, no. Quite to the contrary. This continuously evolving tragedy includes more than a few mistakes by coach Doug Collins as well, the biggest being the handling/mishandling of Evan Turner.
In an effort to salvage the season, Collins last Saturday openly speculated on the possibility of changing the starting lineup after the starters shot 13-for-44 from the field to help Orlando end a five-game losing streak.
NEWARK - About 45 minutes before the 76ers were set to play a crucial game against the New Jersey Nets Tuesday at the Prudential Center, Sixers coach Doug Collins announced that he was removing guard Evan Turner and center Spencer Hawes from the starting lineup and replacing them with Jodie Meeks and rookie Nik Vucevic, respectively.

"We are going to change the lineup. As I said before that lineup has not been playing well together and it's not anybody's fault," Collins said. "When I changed it before, Jodie had not done anything. But we had lost some games and I changed it to see how it was going to work. I said after the Orlando game that if I didn't like what I was seeing I was going to just make some changes.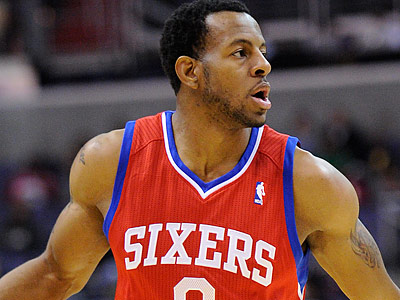 It's kind of hard for me to get this notion out of my head that the 76ers have bailed on coach Doug Collins and tuned him out.
Let's back up for a minute. Wasn't this the case when Eddie Jordan was here? Didn't this team – with virtually the same core of players – start dropping hints that Jordan and his "Princeton offense" were bad fits here?
I wasn't here then, but that's how the story has been related to me on numerous occasions.
Video: Elton Brand and the struggling 76ers discuss their 88-82 loss to the Orlando Magic on Saturday night. John Mitchell of the Inquirer reports from the Wells Fargo Center.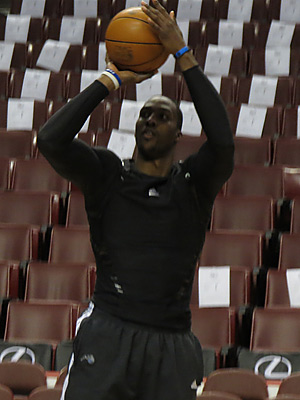 When the 76ers host the Orlando Magic tonight, it will not only be a case of two teams desperate for a win, but both trying to overcome off-court drama.
A day after Sixers coach Doug Collins gave no credence to a blog post that suggested he had lost his team, the dysfunctional Magic strolled into town after one of the most absurd situations in NBA history.
That occurred on Thursday when Magic coach Stan Van Gundy disclosed that all-star center Dwight Howard wanted him fired.
The starters have been put on hold. Doug Collins said he would give his starters one more chance before looking into making changes.
He referred to the 76ers slow starts in the first and third quarters of Saturday's 88-82 loss to the Orlando Magic as evidence that the starting units aren't cutting it.
So Collins has told the starters – perform in Boston, or else.