Archive: April, 2010
The 76ers confirmed today that forward Thaddeus Young (fractured right thumb) will miss the remainder of the 2009-2010 season, which ends a week from today at the Orlando Magic.
The Sixers took an x-ray last night and said the injury hadn't sufficiently healed to allow Young to return.
"While Thaddeus did everything asked of him in an attempt to return to action this season, we feel it necessary to take the appropriate precautions to allow this injury to heal properly," said Sixers President and General Manager Ed Stefanski in a statement.
After tonight's 124-103 loss to the Detroit Pistons, 76ers coach Eddie Jordan did not claim his team played well, or played with energy. He said it was a bad performance, plain and simple.
On that count, Jordan offered some actual analysis from the game, analysis that actually reflected the game. But on another count, he called out a couple of his players that didn't seem to have played particularly poorly, and certainly didn't play very much. We've said on this blog for the last two months that Jordan has lost this team.
Tonight, asked straightforwardly if Jordan has lost this team, on the record, center Samuel Dalembert said, "I don't know, you should ask him."
During tonight's pre-game availability, it sounded a lot like forward Thaddeus Young would be done for the rest of the season, which, granted, is only one more week. The Sixers finish the regular season next Wednesday at the Orlando Magic.
Tonight at the Wachovia Center, the Sixers (26-50) play the Detroit Pistons (23-53).
About 90 minutes before the game, Sixers coach Eddie Jordan said Young (fractured right thumb) would be out for tonight's game. When asked how Young's thumb has healed and if he might be out for the season, Jordan said: "I don't think he is [healing quickly]. I don't want to predict anything, he might be. But the crack in his thumb hasn't healed as quickly as we would like."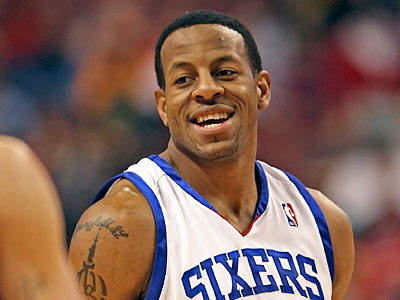 The 76ers practiced today at the Philadelphia College of Osteopathic Medicine. Obviously, in recent weeks, the Sixers have been down to rosters of 10 and 9 players because of injury. Here's the latest in advance of tomorrow night's game against the Detroit Pistons:

Both Andre Iguodala (plantar fasciitis) and Samuel Dalembert did not practice today, but are expected to play tomorrow night. Thaddeus Young (right thumb) participated in non-contact drills today and is listed as a game-time decision tomorrow. Rodney Carney (sore right foot) practiced, but is still listed as a game-time decision. Lou Williams (lower back) practiced and said he's totally fine going forward.

The main topic today at practice was ... Donovan McNabb. You can check out the two videos below right in the Deep Sixer video player. The first is Eddie Jordan talking about Philly fans and the second is Iguodala talking about his injury and a little bit on McNabb's trade.

Here's what Iguodala had to say about the trade: "You heard about it a little bit the last couple of weeks. It's one of those things you don't believe it until it happens … I think people saw it coming and hopefully he continues to have a great career."

When asked if the McNabb trade had similarities to Allen Iverson being traded, Iguodala said they were "different dynamics with different types of personalities."

Here's what Jordan said (he's from the D.C. area): "I really haven't thought much about it. It's excitement, I guess, for the Redskins and we'll go from there."

Asked about Philly fans and their passion, Jordan said, "You don't really know it until you're in it. And now I know it ..."

And?

"I'm trying to get better at it," Jordan said. "There's a passion and everyone has an opinion and that's fans everywhere. I said it coming in, it's certainly a special place because it is so passionate and they want to see championships. And if you're not a champion, you're going to hear it."

And here's what Lou Williams said about the McNabb trade: "It's unfortunate, you hate to see a guy who's been in the city for so long continue his career somewhere else, that's the only thing I really feel about it; I feel it's unfortunate."

As for the Sixers themselves: They have six games left and a record of 26-50. Currently, that's "good enough" for the 7th worst record in the NBA, better than the Nets, Timberwolves, Wizards, Pistons, Warriors, and Kings. And that's really what these last few days of the season are about: where the Sixers will position themselves in the NBA Draft Lottery (we've been talking about it for the last month, too, so ...). If you look at the record, 7th worst is about the "best" the Sixers can do, unless one of those teams below them wins most of its games and the Sixers lose all of theirs.

After we figure out the Sixers draft status, attention will turn to the elephant in the room after next week's final game against the Orlando Magic: Eddie Jordan's dismissal and the future of general manager Ed Stefanski. But until then, watching rookie Jrue Holiday is about the only thing that keeps the future looking manageable.

--Kate