Archive: March, 2012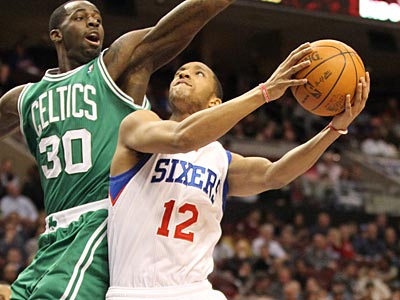 The Sixers had a chance Wednesday to run, and they did. They ran the Celtics out of the Wells Fargo Center, 103-71.
Boston played on tired legs, coming off consecutive overtime wins -- both at home. It was clear from early in the game the Celtics weren't in a running mood. They weren't pushing the ball to the basket. Sixers coach Doug Collins credited his defense with keeping Boston out of the paint. Let's say it was a combination of the two.
The 76ers were in a slump coming into the game, so they ran their way out of it for one night in South Philly. Evan Turner started his second straight game and played point guard ... pause to consider Jrue Holiday's new role on the team should this continue ... with a pace Boston had no interest contesting.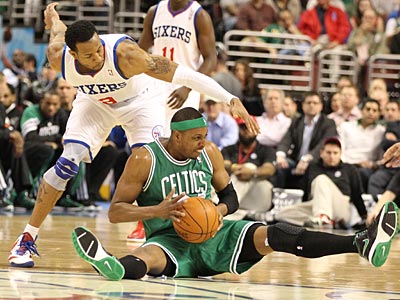 Here's what we learned Wednesday night: The Atlantic Division is still very much in the 76ers' hands.
It's not that the Sixers are the best team. They may be, they may not. Better than the Celtics of Garnett, Allen, Pierce and Rondo? Too close to call really, especially since it would be tough to name a fifth Celtics player in 5 seconds or less.
But this season has shown the Atlantic to be up for grabs, and the Sixers have done by far the most grabbing so far. And while it's no certainty they'll finish the job, it's a complete certainty that their chief rivals -- the Celtics and Knicks -- are in no way ready to overtake them.
John Mitchell, Inquirer Staff Writer
There is no athlete more mythologized than Wilt Chamberlain is in his hometown. He could palm a 16-pound bowling ball. He could grab money off of the top of a backboard.
Here's a fact: He was and still is the greatest statistical athlete in the history of any team sport in North American history.
Here's another one: He is not better than Michael Jordan. Not in this era, that era or any other era yet to come.
The Sixers couldn't close out a win at the end in a neck-and-neck battle against the Chicago Bulls. Derrick Rose scored 35 points as the 76ers fell, 96-91. The Inquirer's John N. Mitchell reports from the Wells Fargo Center
Video: Lou Williams, Elton Brand and Andre Iguodala led the Sixers to a 105-83 victory over the Warriors on Friday night. John Mitchell of the Inquirer reports from the Wells Fargo Center.
John Mitchell, Inquirer Staff Writer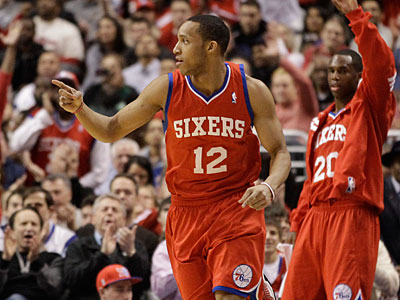 One-time super-agent David Falk has been conspicuous in his presence around the 76ers locker room in recent days, but don't read too much into this.
Falk, who has represented Michael Jordan and Allen Iverson in the past, just represents a few players these days, and two of them, Elton Brand and Evan Turner, happen to be Sixers.
With Turner struggling and his minutes on the wan over the last month, there was speculation that Falk – who takes up residence in suburban Washington – was in town to attempt to do a little arm-twisting with coach Doug Collins to get Turner more time and perhaps in the starting lineup.
It has become more than just a passing trend. The 76ers are 2-10 in games that have been decided by seven or fewer points following Wednesday's 92-88 loss to the Oklahoma City Thunder.
What is interesting is that of those 12 games, 10 came against teams that entered Thursday with a .500 or better record. The only exceptions were a 102-99 loss at Utah and a 97-90 overtime defeat to the visiting New Jersey Nets. So it shows the Sixers have been competitive, but now they need to take the next step.
Here is the breakdown.