Archive: February, 2012
When Boxer Floyd Mayweather wrote on his Twitter account Monday that 'Jeremy Lin is a good player but all the hype is because he's Asian,' and then later followed up with a tweet saying, 'I'm speaking my mind on behalf of other NBA players. They are programmed to be politically correct and will be penalized if they speak up,' I thought it made sense to ask some of the 76ers what they felt about Mayweather's comments rather than let him speak for them.
All-Star forward Andre Iguodala said that Lin's race - he's Taiwanese - does factor in to the attention he's receiving. Without detracting from Lin, Iguodala said that because the league is majority African-American, if Lin were black it would not create a similar stir.
"When you see the majority doing it you say, 'ah, he's been doing it since he was a kid. It's in his blood, whatever,'" Iguodala said. "You see him doing it and you say, 'you're serious?' It's kind of like seeing a black hockey player doing well. Race does play a role in it but at the same time you have to respect it, that's how I feel. You have to respect it whether you like it or not. It's a feel-good story."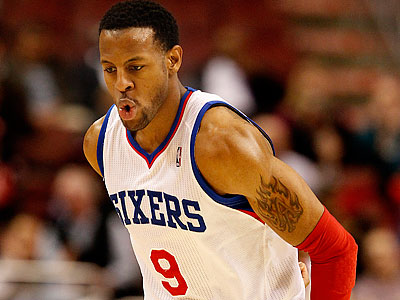 The 76ers are just one of four NBA teams - New Orleans, Charlotte and Memphis are the others – that have not had a 30-point scorer this season. In fact, the Sixers have gone more than a full year without a player on their roster scoring at least 30 in a game. Elton Brand last did it when he went for 33 against the New York Knicks on Feb. 4, 2011.
So what's the deal? Why is this so?
"It means that we're well-rounded," said all-star Andre Iguodala. "I think we have multiple guys who are capable of scoring 30, but our offense is set up really to make everyone a threat on the floor. We have many different options."
CLEVELAND - Following their relatively easy win over the Cleveland Cavaliers Saturday, Sixers coach Doug Collins revealed that in order for the Sixers to have a successful start to the season – which is now more than 1/3 over - the Sixers had to reach 20 wins before they suffered their ninth loss.
Spencer Hawes will again miss tonight's game against the visiting Los Angeles Clippers with a sore left Achilles tendon. This will be the 12th game that Hawes has missed in the last 14.
After tonight, the Sixers embark on a three-game road trip against Cleveland, Charlotte and Orlando.
"If Spencer can't play we won't take him on the trip," Collins said after this morning's shootaround. "He can stay back and get treatment. We will make a decision after the game whether he comes with us on the road."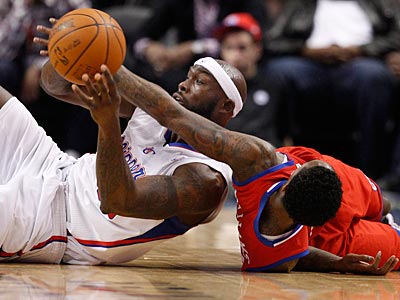 Yes, Chris Paul was spectacular, hitting the game-winning shot that Andre Iguodala said he almost blocked, but a major factor in the 76ers' 78-77 loss to the Los Angeles Clippers was the play of somebody who failed to score and took just one shot.
That would be former Sixer Reggie Evans, who provided 10 rebounds, five on both the offensive and defensive glass, in a little over 19 minutes.
Evans and Kenyon Martin each had three rebounds in the fourth quarter in which the Clippers outscored the Sixers 18-16 and outrebounded them 12-6.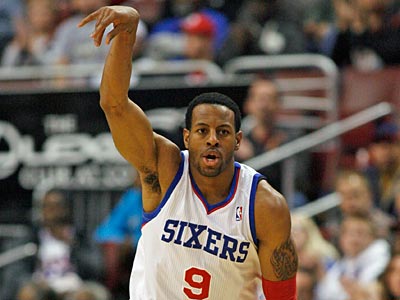 Andre Iguodala was trying to play it cool, attempting to brace himself from possible disappointment, but it's clear that tonight's all-star announcement is a big deal, no matter how much he tries to downplay matters.
Iguodala has the best shot to be named to the all-star team in his eight-year career. The Eastern Conference reserves will be announced tonight on TNT, prior to the game between the Los Angeles Lakers and Boston Celtics.
Fans picked the starters and the Eastern Conference coaches choose the reserves. A coach can't select his own player.
The Eastern Conference coaches spoke loud and clear their message was simple – winning matters.
And that played a major role in earning Andre Iguodala his first all-star selection. This is the fourth straight season that Iguodala's scoring has dipped. He's averaging 13 points per game.
Yet the Sixers 18-8 record and Iguodala's all-around game, made the coaches to notice him. The fact that he is among the top defenders, surely helped his cause.
As reported in the Inquirer this morning, the 76ers have assigned second-year forward Craig Brackins to their NBA Development League affiliate, the Maine Red Claws. Brackins had appeared in eight games this season.
"He actually asked for that; I respected that a lot," Sixers coach Doug Collins said. "He just said, 'You know, I've made a position change and we're winning and there's really no place for me to play, and I'd like to go down and play.' I was proud of Craig. He wants to play and he wants to be in this league and there just weren't any minutes there for him this year."
Collins hopes that Brackins will be used at small forward, which is where the Sixers envision him at the NBA level. However, Collins thinks they will probably play Brackins at power forward.