Archive: December, 2009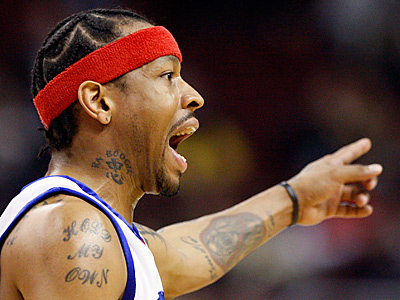 There's some new news with Allen Iverson's knee, although if he misses anymore games is TBD.
76ers coach Eddie Jordan said before tonight's game that Iverson, who did not make the trip to play the Boston Celtics tonight, would be out tomorrow night against the Los Angeles Clippers, might play on Tuesday at the Washington Wizards, and definitely back at the Utah Jazz on Dec. 26.
Upon further inquiry into the subject, the AI "health situation" is as follows: He will be evaluated by team doctors tomorrow. He may or may not play tomorrow night against the Clippers, that will be dependent on how his left knee arthritis is responding to treatment. There is some thought process within the Sixers to possibly give Iverson a week's rest if the knee is still hurting, meaning he would be back at the Jazz on the 26th. But there is also the possibility that he'll be feeling better and he'll get the clearance to play tomorrow night.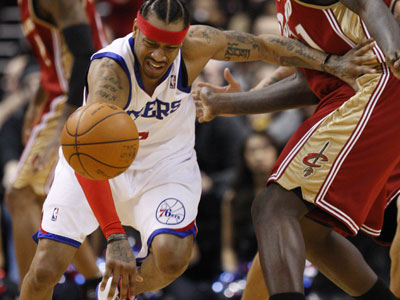 Sixers guard Allen Iverson will not play in Friday's game against Boston after an MRI today revealed he had arthritis in his left knee. He also has a left shoulder contusion, the team announced.

Iverson will not make the trip to Boston and is expected to be ready for Saturday night's home game against the Los Angeles Clippers.

Iverson scored 16 points in 34 minutes of Wednesday's 108-101 loss at home to Cleveland. Guard Lou Williams practiced today but will not play Friday.
Here's an update from Inquirer contributor Pat Leonard from practice today:
Meanwhile, point guard Lou Williams practiced with the team at the Philadelphia College of Osteopathic Medicine, one day after having wires removed from a broken jaw that has caused him to miss three weeks.

Video: Check out the video of LeBron James in the Deep Sixer player below on the right. James spoke before tonight's game about Allen Iverson, Shaq, and his movement to get Michael Jordan's No. 23 retired from the entire NBA. Also, if you want any of this info right away, follow on Twitter. I'm about 5 tweeps short of my 1k goal: Deep Sixer.
Just spoke to 76ers coach Eddie Jordan in advance of tonight's game against the Cleveland Cavaliers. Jordan will start the same lineup as Wednesday: Allen Iverson, Jrue Holiday, Andre Iguodala, Thaddeus Young, and Samuel Dalembert. Both AI and AI2 did not practice yesterday, but, obviously, both are a go. Also of note, of course, is that Elton Brand will continue to come off the bench. There's no surprise to this: Jordan is moving towards a faster lineup. And Brand does not fit those plans.
Also, center Marreese Speights will play tonight. He's been out since tearing the MCL in his left knee against the Chicago Bulls on Nov. 14. Speights has practiced the previous 4 days. The Sixers repeatedly said there was no change to his return timetable -- he was listed as out 6 to 8 weeks from Nov. 14 -- but now he's playing tonight. Jordan said he expects Speights to be good for the few couple of minutes, but then probably get very tired. Speights said his wind was the major concern. I'd look for Speights to play about 10-15 minutes.
The 76ers stopped their 12-game losing streak tonight, beating the Golden State Warriors.
Couple of interesting things post-game. First, the video of Sixers coach Eddie Jordan talking after tonight's win. You can check it out in the Deep Sixer video player below on the right. A lot of the press conference is about power forward Elton Brand. Jordan benched Brand, starting rookie Jrue Holiday instead.
Jordan alludes to their being other reasons -- other than matchups -- for not starting Brand.
The 76ers, losers of 12 straight, play the Golden State Warriors tonight.
Realistically (as we all need to be following these Sixers), if they don't win tonight, the losing streak will likely reach 15 games. The Warriors are 7-16, the second-worst team in the Western Conference. The Sixers are 5-18, second-worst team in the Eastern Conference. After tonight's game, the Sixers host the Cleveland Cavaliers on Wednesday and play at the Boston Celtics on Friday. So ...
I'd love to offer a prediction on tonight's game, but chances are good that 1.) It would only be seen by about 7 people considering this Halladay news going down and 2.) I have yet to understand exactly what the Sixers are doing from one game to another (or one quarter to another), so any sort of prediction would be meaningless.
We're a few minutes from tonight's tip off here at the Wachovia Center: 76ers vs. Houston Rockets.
Sixers have lost 11 in a row, are 5-17, and haven't won since Nov. 18.
Here's the latest from the Sixers. First the good, then the bad (although the bad might also be good depending on how you feel).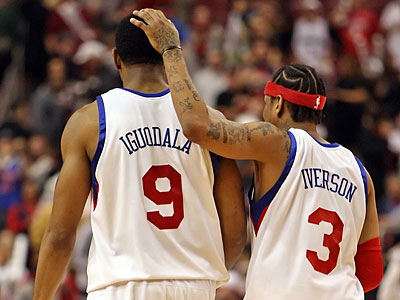 It doesn't look like the 76ers will have a player represented at the 2010 NBA All-Star game in Dallas. Today, the NBA released the early ballot results.
Sixers forward Andre Iguodala is 7th among Eastern Conference forwards with 75,146 votes.
Sixers center Samuel Dalembert is 12th among Eastern Conference centers with 13,969 votes.
For the last 10 days, the actual woes of the 76ers have been overshadowed by news the team was considering Allen Iverson, then by the news they had signed him, then on Monday, his "return debut."
Tonight still has a little juice left because the Sixers are playing the Detroit Pistons, one of his former teams, but we're getting awfully close to returning to reality: The Sixers are 5-16 and have lost 10 straight. And, maybe starting tonight, it will be time to address exactly why this team is where it shouldn't be, at the bottom of the Eastern Conference.
Tonight, though, the focus is still on Iverson. He has a game behind him. He has had another practice and another shoot around. It's not much, but it'll be interesting to see -- in a more controlled setting than Monday night's craziness -- how Iverson fits in with the Sixers and how the team plays. On Monday night, it seemed the Sixers were improved since they were hanging with a very good Denver Nuggets team. Last night, Denver went to Charlotte and lost to the Bobcats. So the reality of it is that the Nuggets haven't started off their East Coast road trip playing very good basketball.