Archive: November, 2012
A statement by the 76ers this morning at the conclusion of their shootaround indicated that center Andrew Bynum could be available to make his debut with the team at some point between the third week of December and the middle of January.
"We know that Sixers fans are eager to see Andrew Bynum play and shine in a 76ers uniform," Sixers general manager Tony DiLeo said in the statement. "We also know that no one is more eager to see Andrew play for the Sixers than Andrew himself. He fully realizes the key contribution he can make to the team. Hopefully, that day is coming soon."
Recovering from a bone bruise to his knee, Bynum has not played for the Sixers, who acquired him in August in a four-team deal.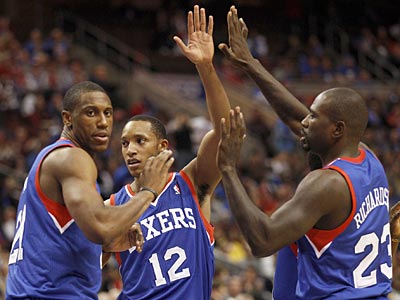 Even though 76ers coach Doug Collins had to play some guys extended minutes against the Celtics on Friday, the Toronto Raptors, tonight's opponent, is the perfect foe for the Sixers to be facing under the circumstances.
The Sixers have won four of their last five meetings with the Raptors, and they have won two straight at Air Canada Centre.
Sixers coach Doug Collins was a little bit miffed that he had to play Jrue Holiday, Evan Turner and Thaddeus Young all 41 minutes or more to get the 106-100 win over the Celtics, which is understandable.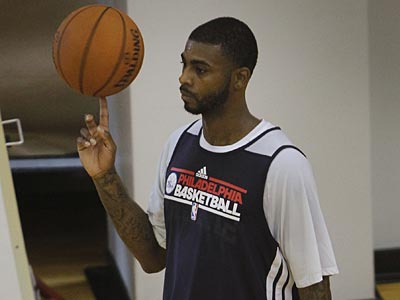 BOSTON – Despite making just 29.8 percent of his field goals through four games, 76ers coach Doug Collins doesn't appear too worried about Dorell Wright eventually finding his range.
"The one thing I've learned is that you don't talk to a shooter if he's struggling," Collins said at the team's morning shootaround prior to tonight's game against the Boston Celtics. "If he's struggling or not shooting the ball well, that only magnifies things."
Wright has been thrust into the starting shooting guard role as a result of Jason Richardson's sprained left ankle. Richardson could be back as early as Monday.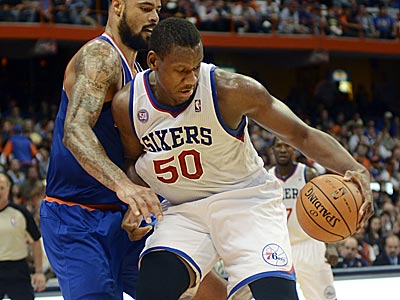 NEW ORLEANS – Lavoy Allen returns to the starting lineup Wednesday night when the Sixers attempt to even their record against the New Orleans Hornets.
Without swingman Jason Richardson (ankle) and center Kwame Brown (calf), not to mention the continued absence of center Andrew Bynum (knees), the Sixers will be both short and short-handed for the game against the Hornets, but will be facing a team missing some pieces as well.
For the second straight game, the Hornets will be playing without No. 1 draft pick Anthony Davis, who suffered a mild concussion against the Utah Jazz last week, sat out a Hornets game in Chicago on Saturday and has not been cleared by the NBA procedures for returning to action. The Hornets will also be without guard Eric Gordon, who has a sore left knee, and guard Austin River, who has a sprained left index finger.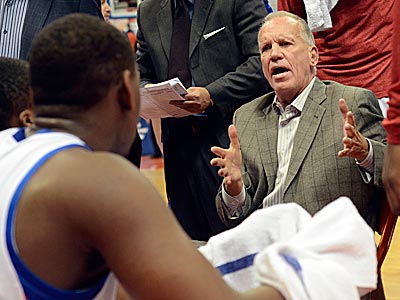 NEW YORK – Just about 30 minutes before game time here in the Garden, and 76ers coach Doug Collins is concerned about defending the three-pointer, something I touched on this morning in the paper.
What Collins wants the Sixers – off since the played their last game on Wednesday – to do is prevent the Knicks from setting up and getting comfortable taking that long shot. In their season-opening 104-84 rout of NBA defending champion Miami on Friday, the Knicks connected on 19 of 36 three-pointers (52.8 percent).
"We went back and looked at the film and what we saw was that 17 of those threes were catch-and-shoot threes," Collins said, "so it just demonstrates that we have to defend their shooters. We've got to do a good job of jumping out there and defending those shots."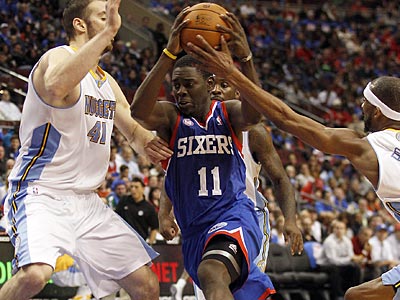 While holding Denver to 75 points in the opener was impressive – the Nuggets averaged a league-high 104.1 points last season – there were some interesting items of note that came out of the Sixers' win.
Sure, it's only one game, but it was nice to see the Sixers go 17 for 21 from the free throw line. Meanwhile, Denver was just 5 of 11.
What's so special about this? Well, again, it's just one game. So there's no reason to act like it's a trend or anything like that. But last season the Nuggets led the NBA in FTA differential (+6.2). They also averaged a league-high 26.7 free throw attempts.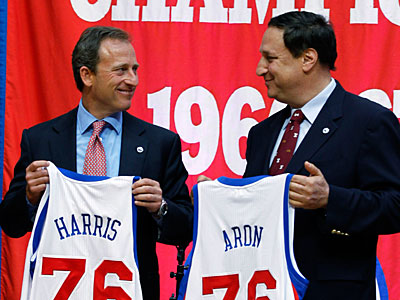 The 76ers announced today that they have named Aaron Barzilai as their director of basketball analytics. Barzilai was previously the basketball analytics consultant dating back to April, 2009.
In his role with the Grizzlies, Barzilai was the sole advanced analytics consultant for the team and reported directly to general manager Chris Wallace. He assessed potential transactions, including trades, free agent signings and draft picks.
Barzilai is the founder of BasketballValue.com, a website which presents adjusted and unadjusted plus/minus for players and units to illustrate the impact a player has on the court as well as on a team's offensive and defensive efficiency. He has also contributed content to 82games.com.