Archive: November, 2009
*Official starting lineups just released and the Wizards will start Gilbert Arenas, Nick Young, Antawn Jamison, Fabricio Oberto, and Brendan Haywood. Caron Butler out with a sore right ankle.
Here at the Verizon Center for tonight's 76ers game against the Washington Wizards. Earlier today, the Washington Wizards longtime owner Abe Pollin died at the age of 85. Pollin suffered from a rare brain disorder. Pollin first purchased the Baltimore Bullets in 1964 and was the NBA's longest-tenured owner. Pollin's death, combined with the return to D.C. of their former coach, Eddie Jordan, makes tonight's game an emotional one for the Wizards and a dangerous one for the Sixers.
Before the game, Jordan had this to say about the death of Pollin and its impact on the game:
A Monday always feels like a good day to take a step back and get the lay of the land. And what is the lay of the land with the Sixers? They're 5-8 after a pretty easy opening schedule. Starting tomorrow at the Washington Wizards, the Sixers begin a pretty legit stretch of games that could very easily leave them reeling. Let's take a look at it: At the Washington Wizards (3-9), at the Boston Celtics, vs. the Atlanta Hawks, at the San Antonio Spurs, at the Dallas Mavericks, at the Oklahoma City Thunder, at the Charlotte Bobcats.
There are some definite winnable games in there, but it's also a very competitive stretch with 4 of the 7 games against some of the NBA's best teams (I'm still considering the Spurs one of the best teams even though their record is a little weak so far). We know that Sixers coach Eddie Jordan is not looking at this stretch as a whole, because he's the head coach and that's his job to "take it one game at a time", but we can look at this stretch as a whole. When it's over, the Sixers will be 20 games into their season. That's a quarter through. It'll be done being "too early to tell." And if you look at that stretch of games, it's not inconceivable to think they'll come back from Charlotte with a 7-13 record, possibly even worse considering the Wizards are a talented team and the Bobcats nearly stole one at the Wachovia Center last week.
Maybe I was too positive while watching the Cleveland Cavaliers game on Saturday. Maybe because Cleveland looked like it was going to completely dominate (the game started 20-4), that I was overly impressed with the Sixers ability to come back and stay in the game until the end of the fourth quarter. Anyone watching knew that, more than likely, the Cavaliers were going to win the game. Regardless of the 6-point lead the Sixers built, you knew Cleveland would be too much at the end of the game. Who on the Sixers was going to stop LeBron James down the stretch? Regardless, after the game, you started hearing the same things you heard after other losses: We played hard, we just didn't make shots down the stretch. And walking away from that, I realized that, even with the addition of Jason Kapono, that's really the issue here again. The Sixers struggle to consistently make shots.
Maybe last night, 76ers coach Eddie Jordan saw how his team has been playing for the first time. Or maybe last night, he finally decided to say something about how he's been seeing his team. Either way, last night, Jordan seemed frustrated and angry for the first time this season.
I think most fans have already noticed how much the Sixers are struggling. Last night just happened to be the first time Jordan verbalized what most fans have already seen: his team is out of sync, has little rhythm, and doesn't look fully committed to what needs to happen.
So far, the Sixers had slipped past these types of games, barely beating the New Jersey Nets, winning in overtime against the New York Knicks, and defeating the Charlotte Bobcats in a game much closer than it needed to be. The Sixers won all those games, but they looked bad doing it. In an 82-game NBA season, you tend to ignore a win, regardless of the opponent, regardless of how bad the Sixers might have looked getting the win. You accept there are going to be ugly wins.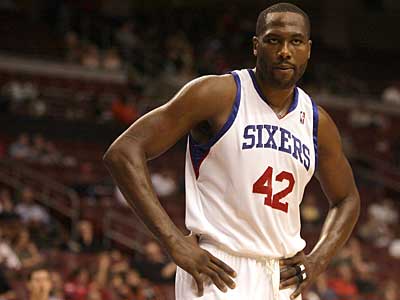 That has to be the 76ers motto through 11 games this season, since they are still looking for a defining victory. Tonight's game against the Memphis Grizzlies isn't an opportunity for one of those, either. Maybe tomorrow against the Cleveland Cavaliers.
If you've heard a lot about Elton Brand not being "100 percent", check out the video in the Deep Sixers player below on the right. In the pre-season, Brand showed the difference between his left calf and his right calf -- due to the torn Achillies he suffered two seasons ago. If you watch the video, which is of Brand doing line jumps before tonight's game, you'll be able to see how much smaller his left calf is than his right. Maybe it will offer a better understanding of why Brand is still working on regaining explosion. Two years and there is still a visible difference between left and right.
Although the Grizzlies are 3-8, they have been dominating on the boards, while the Sixers have, um, well, not exactly been dominating on the boards. Keep an eye on how much this affects the game.
Rodney Carney only participated in non-contact drills today during the 76ers practice at the Philadelphia College of Osteopathic Medicine. In last night's last-second win over the Charlotte Bobcats, Carney sprained his right wrist. Sixers are calling him probable for tomorrow night's game against the Memphis Grizzlies at the Wachovia Center. After practice, Carney seemed like he thought he would play, but did say the injury is painful and makes it difficult for him to snap his wrist down when he shoots. Considering last night he played 31 minutes and had 10 points and 7 rebounds, the Sixers would probably like him to be able to snap his wrist when he shoots. Look for Carney to continue to play more minutes (if that wrist is OK).
*If you want immediate Sixers info/hits, follow Deep Sixer on Twitter, click here: Deep Sixer. That's where it's easiest and fastest to first post info. And having read the comments, sometimes I notice someone will post "Does Twitter pay your salary?" These comments make little sense (and other than the "zzzzzzzzz's" that always get posted, most Sixer comments tend to be insightful). Obviously Twitter does not, it's just a forum to release information quicker. So, feel free to follow.
*There's also three new videos in the Deep Sixer player below on the right. There's one of Sixers coach Eddie Jordan talking about how athletic the Sixers were last night. There's one of Carney talking about how he was injured and one of Carney talking about how productive he thought his minutes were last night.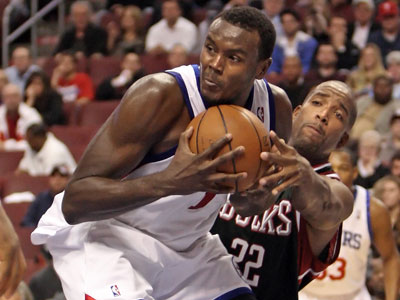 * A couple of additions ... after a few more phone calls, it looks like this deal is not near happening. So rest on it. It certainly won't be happening today. But don't think Dalembert is content being a Sixer. His party is actively looking for a new home for the Sixers' center.
Also, I give a 50-50 chance that tomorrow night's starting lineup against the Charlotte Bobcats will be Lou Williams, Andre Iguodala, Rodney Carney, Thaddeus Young, and Samuel Dalembert. If you missed yesterday's post on this issue, scroll down.
And here's the earlier post: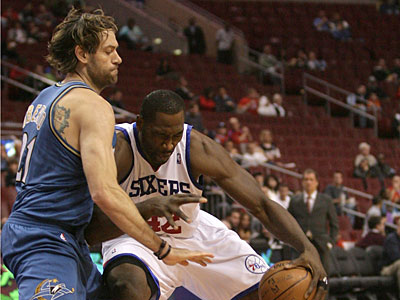 It seems the knee injury to reserve center Marreese Speights might spark a number of changes. Just sitting down after 76ers practice today at the Philadelphia College of Osteopathic Medicine. If you were following Deep Sixer on Twitter, you would have had some of this info about an hour ago, click here: Deep Sixer.
It's not a 100 percent, but if you read between the lines, it seems probable that Sixers coach Eddie Jordan might go with a different starting lineup on Wednesday night against the Charlotte Bobcats. And it seems power forward Elton Brand will be out of the lineup. There are a few options for who might be in (all speculation, really, on what the changed lineup might be).
But we just spoke to Jordan. When the Sixers lifted the curtain on practice, they were running through 5-on-0 sets and Brand was working with the second team, Jason Smith with the first team. Rodney Carney was also with the first team, Willie Green with the second. It's tough to tell exactly what this stuff means because it might have been the first time all practice Brand was with the second team, so we had to ask Brand and Jordan. First we asked Jordan about the changes that will be made because of Speights' injury (partially torn MCL, to miss 6 to 8 weeks). Jordan said, "We went through a normal practice today and we always change our lineups in practice. Certainly Jason Smith will get more time at center. Elton will get some time at center and Primoz will be activated so we think we're pretty well covered."
76ers second-year big man Marreese Speights could miss up to two months with a partial tear of the medial collateral ligament in his left knee.
With 9 minutes, 38 seconds left in the fourth quarter of last night's game against the Chicago Bulls, Speights grimaced and grabbed his left knee. It was on a defensive possession. Speights went back to the locker room with the Sixers trainer and did not return.
After the game, the Sixers said Speights would be evaluated further today. That further evaluation -- an MRI this morning -- revealed the partial tear. Sixers team doctor, Jack McPhilemy, said Speights will be out approximately six to eight weeks.